Cost To Install A Walk-In Cooler
Food and beverage storage needs in a restaurant, bar, or patisserie are much more complex than those in a normal kitchen. Consequently, the owners and administrators of such public catering establishments are aware that they must invest in HoReCa equipment of the best quality.
Walk-in refrigerators are the symbol of commercial refrigerators. These are essential for most restaurants and other commercial settings because they allow you to store most of your inventory and keep it cold. You can choose between different sizes, from 6 square meters to others that are built to order and have no size limitations. Since you are able to get into the freezer, you can be very organized with your stock.
How Much Does It Cost To Install A Walk-In Cooler?
It is pretty hard to get a price for a walk-in cooler because there is a wide variety of sizing options. However, according to the experts, the costs of a walk-in cooler start at around $1,000 and can go up to $10,000 or even more.
There are several factors that will influence the costs of a walk-in cooler such as the size of the cooled area, the design of the building where the unit is installed, the number of updates necessary to the electrical system and hardware including plumbing upgrades, the potential for heavy-duty wiring, new transformers and more breakers.
In the table below you will find the average costs expected for installing a walk-in cooler used for commercial or personal purposes.
| | |
| --- | --- |
| Item | Cost |
| Cooler | $1,000-$10,000 |
| Labor Cost (installation) | $2,000-$5,000 |
| Total Cost | $3,000-$15,000 |
Cost considerations
The cost will also be affected by the power and size of the refrigeration system as the more powerful walk-in coolers with a higher horsepower system require more in terms of power requirements and large outlay.
You might also like our articles on the cost of a refrigerator, double oven, or ice cream truck.
The cost estimates presented above will not include the expenses with the permits. In some areas, a range of permits is required, including those from both health and building departments.
What are the additional costs?
The extra costs may come from the addition of saddle mount systems, side-mounted systems which remain low to the ceiling, remote systems which allow heat to be released outside the building, and others.
The costs may also be increased by the upgrades you would like to have done to the door. For instance, you can keep the air temperature regulated with automatic door closers, but these come at a premium cost.
Another expense to consider is the delivery. Regardless of whether the walk-in cooler has to be assembled or is turnkey, there is a significant number of components that make the delivery an important project, which should be managed by the firm that is responsible for the installation as well.
How can I save money?
You may be able to save on the price of a walk-in cooler installation if you choose to install the unit outdoor and save on the costs of the structural updates. Though a concrete slab must already be installed or you have to install one. Also, the structure will need to be protected against harsh conditions, winter weather, and rain.
You can save money in the long term by opting for flooring. However, it is essential to sanitize the floor periodically.
DIY considerations
You could never install a walk-in refrigerator by yourself. The operability and safety of the unit are affected by far too many factors. Even though many turnkeys and/or prefab options are available on the market, a professional in plumbing, electricity, and HVAC will always be needed for installation.
Choosing a walk-in cooler model that meets your needs
Here are some helpful tips to keep in mind when shopping for your refrigerator equipment.
Trust in the best brands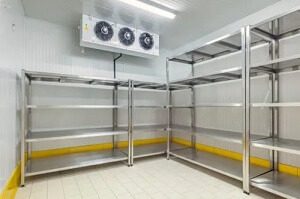 As you would with any other product you buy, you want to compare the brand names to each other and see which one is best for you. There are many refrigerator manufacturers, so it is very important to look around and find the one best for you and as opposed to going for one company you can rely on.
Every company has its strengths and weaknesses. The main objective of some companies is to produce high-quality units. Others will lower their quality to be the cheapest on the market. Your best bet is to check out Delfield, True, and Turbo Air.
Take a look at the warranty
Most refrigerator brands offer 3-year warranties on their products, which cover labor and replacement charges. Oftentimes, you'll be backed by a vast network of certified technicians who are on hand and ready to get your restaurant refrigerator fixed and running as soon as possible.
Choose a size
Walk-in coolers come in all sizes and shapes. Depending on the type of commercial refrigerator model you need, you will need to measure the space you have for the cooler and work from there. Remember to measure and make sure there is enough space in your building for your refrigeration equipment to open and close.
Now that you have ensured that you have the space for your walk-in cooler, you need to take a look at the interior dimensions. How much food do you want to keep? Do you know how much storage space you need? Some cooling units may have the same external dimensions but will vary greatly internally due to different designs. Consider what kind of food you will regularly store inside it and choose the best unit that will meet your needs.
https://www.thepricer.org/wp-content/uploads/2022/08/cold-room-from-above.png
380
610
Alec Pow
https://www.thepricer.org/wp-content/uploads/2023/04/thepricerlogobig.png
Alec Pow
2022-08-06 08:54:13
2022-08-06 08:54:25
Cost To Install A Walk-In Cooler