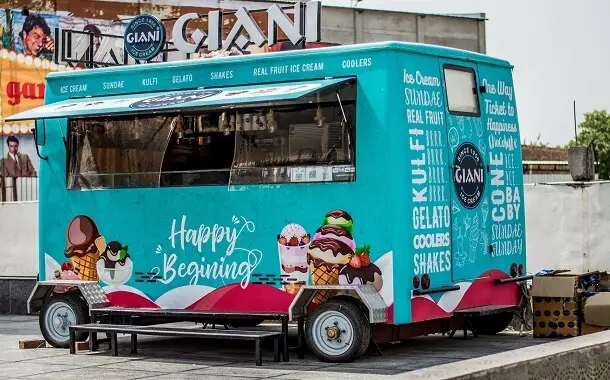 Ice cream trucks are an iconic American childhood memory. They're typically seen on the side of roads, in parks, and other public areas during summer months as they offer a sweet reprieve from hot days. Perhaps what sets them apart most is their signature ice cream truck melody that everyone knows all too well
The most important part — if you wanted to start a business in this particular niche— would be the truck itself.
How much does an ice cream truck cost?
On average, ice cream trucks cost anywhere from $10,000 (this will usually only get you a used truck with high mileage and some wear and tear) to as much as $100,000. However, these prices depend on whether they are new or used and the brand of truck you purchase. Most purchases for a used high-mileage vehicle will be in the range of $10k – $25k whereas if one is looking for something newer with lower mileage it can go up to $100K+.
You might also like our articles about the cost of car wrap, Plasti Dip, or car chassis repair.
The cost of buying a truck, similar to that of purchasing a car, will depend on the type and condition. Buying a used one that already has a freezer installed on it is always recommendable as it saves money but if you just have some extra cash lying around then go ahead and purchase new.
The table below includes prices for varying makes/types of trucks that could be used in an ice cream business:
| TRUCK MODEL | ITS COST |
| --- | --- |
| Ford Eco Van 1986 | $4,300 |
| 2004 Dodge Sprinter base standard cargo van w/ 300,000 miles | $4,800 |
| 1996 Chevy novelty truck | $5,300 |
| 1997 GMC Conversion Sierra w/ 155,000 miles | $6,300 |
| 1993 Ford Econoline Van | $7,500 |
| 2003 Dodge Ram 3500 high top | $7,900 |
| Chevrolet G20 cargo van w/ 165,000 miles | $8,500 |
| 1988 GMC Vandura 3500 mini school bus, | $8,900 |
| 1993 Ford Econo Van Conversion E350 | $9,500 |
| 1979 Chevy Step Van ice cream truck w/ 57,000 miles | $13,000 |
| 2008 Ford E-350 Shuttle bus converted w/ 50,000 miles | $13,900 |
| 1988 GMC P3500 Step Van | $14,000 |
| 1992 Chevy P30 Step Van Truck | $16,500 |
| 1986 Chevy Grumman Curb Master soft ice cream truck | $20,000 |
| 2010 Sprinter Diesel Ice cream truck w/ 282,000 miles | $23,000 |
| 1999 Work Horse w/ 99,000 miles | $27,500 |
As an example, if you go on eBay.com, you will notice that it has hundreds of auctions ranging anywhere from $8,000 to more than $70,000 and SmartMotorGuide.com somewhere around 350 listings at the time of this writing with prices as little as $3200 for 1990 Ford and up to about $80k for a brand new Utilimaster Step Van.
A recent survey of 35 ice cream truck vendors found that the average cost to start an ice cream truck is $10,000-$20,000. But this doesn't include items like vehicle wrapping and customizing or freezers for keeping your inventory cool.
Any extra costs to consider?
It's not uncommon for an ice truck to require a new paint job. An old, worn-out design or color scheme can be replaced with something more modern and eye-catching in order to attract customers. Depending on the size of the wrap, the design you go for, and the vehicle, the costs can be anywhere from $2,000 to $5,000.
The price of a freezer that is made to be placed in a truck can range from $200 to more than $1,500. The size and where you purchase it from will play a huge role in the final cost.
Purchasing an ice cream truck is just the beginning of your business expenses. Once you've purchased it, there are several other factors to consider. This will include gas and insurance ($1,000/year). You need a permit that will cost around $50 – $200 depending on where you will choose to sell your ice cream, as well as some inventory, which will cost about $500~. Labor can be costly too, around $12 per hour, so keep that in mind when thinking about how much this could potentially end up costing.
Is there any way to spend less?
Converting a step van into an ice cream truck can be cheaper than buying one that is already customized to sell sweet treats. If you want to do the work yourself, it may save money in the long run.
As when buying any other car, it is very important to be thorough and do your due diligence, to ensure that you get the best truck for the money.
https://www.thepricer.org/wp-content/uploads/2021/05/icecream-truck-cost.jpeg
380
610
Alec Pow
https://www.thepricer.org/wp-content/uploads/2022/01/thePricer.png
Alec Pow
2021-05-30 22:09:33
2021-05-30 22:09:33
Ice Cream Truck Cost