How Much Does it Cost to Plasti Dip a Car?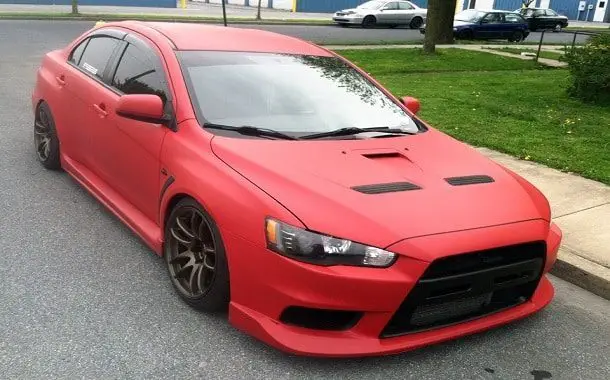 So, you've been considering plasti-dipping your car. It's a process where people coat their vehicle with Plasti Dip®; this is an inexpensive way to get the look of a new color without going through the hassle of painting the car.
The term "dip" means that this coating will act as another layer on top of your original finish while also protecting from wear and tear caused by everyday driving. When applied correctly, dipping can be used for many purposes – not just changing colors. You could use a dip in order to make minor repairs or even customize any part of your ride like an air freshener holder.
Coming in both spray-on or brushable forms as well as a bunch of different colors (black, dark green, red, and more) this product can be applied by anyone with little more than some patience and attention to detail.
How much does it cost to Plasti Dip® a car?
There are many factors that can affect the price of a Plasti Dip car paint job. What type of materials and tools do you already have? Do you plan on doing it yourself or hiring someone else to do it for you, and where will they be working from? Lastly, how big is your vehicle and what percent of it is going to be coated in dip – if not all over, then what parts need dipping more than others? The colors chosen also play into pricing as this dictates the amount needed.
If you are looking to save money, it is best to buy supplies separately and do the job yourself. If you have a paint sprayer already available at home then all that you should purchase would be three gallons of color for about $150 which will help to cover one medium-sized car.
The full DIY job cost to Plasti Dip a car will usually fall between $150 and $325 for all the materials needed. Another option, though, that would usually mean more upfront costs but less hassle will be to purchase full kits from DipYourCar – they offer packages starting at around $300. A premium color will usually mean around $15 for every gallon added to the final bill.
When hiring a professional to dip your car, the costs depend on things like where you live and what kind of vehicle you are dipping. Prices will range from $750-$1,300 for an average job that includes everything, even the rims.
You might also like our articles about the cost to paint a whole car, to paint just the hood of the car, or to wrap your car.
If you only want your car rims to be dipped, both DipYourCar.com and Amazon.com have the top products you will need. These sites provide customers with an 11-ounce container of paint that they can use on the wheels themselves; these products will vary in price depending on where you live but are generally around $5 per jar.
The AVERAGE reported professional costs
Average Coupe
$550
Compact Car
$520
Full-Sized Sedan
$599
Mid-Sized Sedan
$550
Mid-Sized SUV
$650
Small SUV
$625
Full-Sized SUV
$850
+ add rims
$275, regardless of size
+ add emblems/badges
$40-$65 per badge
+ add grill
$150
+ add stain finish
$175
+ add a semi-gloss finish
$225
+ add a glossy finish
$275
+ add two-tone style
$120
+ add micro flake
$160
One member on Reddit.com, for instance, claimed he was quoted $1,400 for his Honda Accord at a local shop. ABC13 reported that the average cost of car repaint jobs could be about $600 which is much less than an average $3,000 paint job. This is because there's no need to sand it down before painting over top with new color coats again and again until you get something worth looking at in your driveway or parking space.
As an example, AT Candy Dipped Cars is a company located in Roanoke, Virginia with prices ranging from $600 for a compact car to as much as $750 for a full-sized truck. Adding a satin finish or semi-gloss could increase costs by another $150 to $225 respectively.
What exactly is Plasti Dip®?
Plasti Dip® is a versatile and durable coating that protects items from any moisture, abrasion, acids, rust, or corrosion. It's also able to stretch over time in almost all temperatures (-30°F-200°F). Plasti dip coats various surfaces with an air-dry rubberized layer for protection against the elements.
It can be removed easily without leaving behind a sticky residue on your paint job.
How should you Plasti Dip?
According to the company, car owners will have to use Plasti Dip in a well-ventilated area and the paint should be mixed properly before use. Before painting, all surfaces must be cleaned of any dirt, oil, or grease – this will ensure you get great results! Plasti Dip® can only be applied with an electric turbine style spray system or HVLP tool with pressure pot systems. Make sure to mix thoroughly before each application for the best coat coverage.
Spraying Plasti Dip 10-12 inches from the surface, each coat will overlap with another so that they dry in between sessions. At least 5 coats are recommended for best performance and easy removal, allowing at least 4 hours to cure after completion of a single session. At one mil thickness per coating, five layers make up 5mil of coating, which is an optimal film; Plasti Dip® states that this will be necessary for optimum results.
The available color options
The Basic
The one-gallon containers are designed to be portable and perfect for automotive needs. You can find all colors including red, black, white, metal grey, and flex blue among others.
Other Automobile Colors
The company offers a variety of colors for you to choose from. In addition to the standard, they have hunter green, fluorescent yellow, and violet, along with some other unusual colors.
Camo
One of the most popular colors to match nature is camo, which can be found in many different shades. Camo-blown and tan are often used together for more urban settings while blacks and greens work great with natural environments such as forests or fields.
A rough guideline for the amount of Plasti Dip required
Sub-Compact — 2 Gallons
Compact — 2-3 Gallons
Mid-Sized — 3-4 Gallons
Full-Sized — 4 Gallons
SUV/Mini-Van — 5 Gallons
Large SUV — 6 Gallons
Rims – About 3-4 11-ounce cans
Interesting facts to remember about the cost to Plasti Dip
If you're using this product for personal reasons, it cannot be sold or used in the following states: Rhode Island, California, Arizona, and Tennessee. However, if you are a professional user of this product and use it as part of your job, then it is worth mentioning that the product cannot be used or sold in states like Wisconsin, Michigan, Illinois, Massachusetts, Maryland, Delaware, Tennesee, Rhode Island, California, Arizona, New Jersey, Indiana, Texas, and Utah.
One of the best features of this type of paint is that it can last up to three years on a variety of surfaces. When you apply Plasti Dip correctly, not only will your entire car be covered in an attractive coating but you'll also enjoy its durability and long-lasting properties – which means no more expensive touch-ups.
https://www.thepricer.org/wp-content/uploads/2021/04/Plasti-dip-cost.jpg
380
610
Alec Pow
https://www.thepricer.org/wp-content/uploads/2023/04/thepricerlogobig.png
Alec Pow
2021-04-21 10:46:02
2023-05-13 08:34:58
How Much Does it Cost to Plasti Dip a Car?