Car Hood Paint Job Cost – At MAACO and Other Car Shops
Last Updated on November 12, 2023 | Written by CPA Alec Pow
First Published on December 28, 2020 | Content Reviewed by

CFA Alexander Popivker
Different people need to have their car hoods painted for different reasons.
Regardless of why they might need to get a car hood paint job, car owners will usually have one of these two approaches available for repair work: going for something known as a spot painting approach or a total paint job.
To make sure that the paint will match the rest of the vehicle, many car owners will choose to have their whole auto repainted instead of going for a spot painting job. When it comes to prices, though, spot painting is less expensive. The downside is that only particular areas will be painted and the paint might not match the initial paint color of the car.
How much does it cost to paint a car hood?
The cost of a car hood paint job is anywhere between $100 and $2,000 or more, but the actual bill will be based on several different factors. Among the most important factors are the paint shop or professional who will do the work, the make and model of the car, as well as the kind of paint you go for. Expect to pay between $100 and $500 for smaller jobs, while bigger ones will likely cost $1,000 to $2,000 or more.
You might also like our articles about the cost to paint your car, wrapping a car, and fixing a dent without paint.
The car hood paint job will cost between $200 and $1,000 according to CarsDirect.
A professional car painter from Fat Daddy Customs posted online that they would charge $275 per panel when going for a spot painting approach. The products you will need for the job are not included in these rates.
1 Day Paint and Body Centers, which is another car paint shop, offers several painting packages with costs between $449 and $1,000.
Members on the AnandTech forum noted you will probably spend somewhere between $300 and $500 on painting just the hood. The same thread had a member talk about the costs charged by a local dealership, which, according to them, was around $1,300 for a new car hood.
On e90post.com, a BMW message board, a couple of members discussed what they had paid to paint their hoods. According to a member, they were given a quote of $800 at a BMW licensed collision center, whereas a different member stated that a basic detail shop would charge about $300.
More popular brands, such as MAACO, provide spot painting services at prices of around $100 to $500, while full vehicle painting services can cost $250 to $1,000. A basic but high-quality paint job can cost around $1,000 to $2,500.
How much does it cost to paint the car hood at MAACO?
As a general rule of thumb, you can expect to pay between $100 and $500 to have your hood painted at Maaco.
Here is a breakdown of the different paint packages that Maaco offers:
Value Package: This is the most basic paint package and starts at around $100. It includes a single coat of single-stage paint and a one-year warranty.
MaacoPlus Package: This package includes a two-coat paint job with basecoat and clear coat, as well as a two-year warranty. It starts at around $1,000.
UltraMaaco Package: This is the highest-quality paint package that Maaco offers. It includes a three-coat paint job with basecoat, clear coat, and a second coat of clear coat. It also comes with a three-year warranty. This package starts at around $2,000.
If you need any additional services, such as body repair or dent removal, Maaco will provide you with an estimate for those services as well.
Factors affecting the car hood paint job price
Paint brand
Like painting a house or even a room, there are different kinds of paints you can buy and use on your car. Trinity 1945 and Sherwin Williams are two of the most popular paints used for basic paint jobs, while higher quality projects will require paint brands like DIamont, PPG, or DuPont.
Products
Aside from the paint, the job will require other products, like clear coverings and primer, that the owner will have to pay for. The quality of the products will differ and so will their costs.
The cost of labor
The labor cost for a car hood paint hob will differ considerably from one location to another based on how popular a place is, its reviews, experience, expertise, and work quality. Quick hood paint jobs that cost less than $500 might not include any prep work and the paint application might look less than professional. On the other hand, professional paint jobs with impressive results will mean higher costs.
Overview of hiring a professional to paint a car
The first step will normally mean preparing the surface for the painting procedure. A common paint job requires sanding the surface area, fixing damages (if there are any), using a primer, and then, as a final step, applying the matching paint. The whole process, the exact steps, and how much each of them taxes will depend on the car shop or the painter. While some choose to do extensive preparation work to ensure the quality of the final result, others might rush through the preparation stage.
What are the additional expenses?
Some car shops choose to charge a fixed rate of around $75 per panel for the preparation of the surface area, others might charge a percent of the final bill.
Damage and ding repair work, if required, might also add extra costs. Some shops/painters charge by the hour or the amount of damage for this specific service.
Paint upgrades, such as when picking paint with much better quality or if additional layers of paint are required, might increase the final bill.
Tips to keep in mind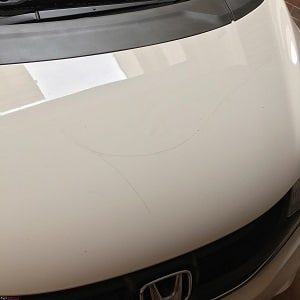 Even reputable body shops aren't always upfront about other expenses you might have to consider. Be sure you ask beforehand if they charge additionally for sanding, masking, and baking treatments. A great shop must provide you with a detailed bill showing you what your deposit will cover.
Be sure to ask about the warranty you'll get. Poor paint jobs are known to last less than 3 years. Some professionals provide a full service warranty and will cover any flaws within a particular period, while others prorate theirs, which means that you will have to pay a percentage of the full price to get a warranty.
Quality paint jobs are most likely performed in paint cubicles to ensure a dust-free, clean environment. Check out different body shops and ask to see recent paint job pictures to check the quality of their work.
Questions you should ask the professional:
Do you offer a free quote for the job? If not, how much will it cost to get a price quote?
How much do you charge on labor per hour?
How long do you think it will take to finish the paint job? Will the car have to stay in your shop? And if so, for how much time?
Will additional services be charged extra? Like preparing the car for the painting of the hood?
If I am not pleased with the paint job, will I have to return to the body shop where I had it painted, or can I have it redone in other locations you operate?
Do you have paint cubicles and ovens?
How can you save some money?
Think about getting the job done yourself. If you purchase paint touch-up materials, you might only have to spend around $50 or less and a couple of hours for the whole job. Naturally, all situations will differ, however, a touch-up pen, for instance, would be perfect for small scratches on the surface. There are numerous videos online that can aid you with the process.
Look for ongoing promos. Some body shops provide a rewards system for recommendations while others provide as much as a 50% discount on deductibles to clients who bring their insurance claims.
Search and compare quotes from various painters/body shops to get the very best price. It's always best to get at least 3 quotes before deciding on who to work with.
In many cases, it might be less expensive to buy an aftermarket hood that matches your vehicle's current color. Think about having a look at a couple of scrap yards or talk with a collision store to explore your alternatives.
https://www.thepricer.org/wp-content/uploads/2020/12/car-hood-paint-cost.jpeg
380
610
Alec Pow
https://www.thepricer.org/wp-content/uploads/2023/04/thepricerlogobig.png
Alec Pow
2020-12-28 13:15:14
2023-11-12 22:46:10
Car Hood Paint Job Cost – At MAACO and Other Car Shops