How Much Does it Cost To Paint A Car?
You might need to get your car painted for a number of reasons. Regardless of whether you've been involved in a car accident, you just bought a second-hand car, or simply want a new car look, you might be asking yourself "how much does it cost to paint a car?"
When trying to determine the costs of painting a car, there will be many factors that can impact the final price. The most important aspects to be considered are the size of your car, the level of labor involved, the quality of the paint, and the painter you opt for.
To get an idea of how much painting a car will cost, consider these:

The Car Painting Process
In general, if the work done is of quality, the process will start with the washing of the car. This will make the painting process easier by removing mud, dust particles, or any other foreign bodies from the car's surface.
After this part, the original paint will be sanded down and the workers may repair parts that are uneven on the surface of the car if any of them are visible.
Some garages choose to cover the windows and chromes as the next process, but the more expensive and professional shops could even remove them completely.
Then, after the car preparation for the painting is completed, it is time for the colorless primers to be applied, to make the paint last longer. It's then time for the painters to apply the paint by using spray tools. Next will be applied a protective cover, that is transparent in general.
You must understand that some body shops will follow these steps and add some more, while cheap painters might avoid most if not all of the steps above.
Cost of Paint and Other Materials
There will be a lot of materials and equipment required when painting a car. The first thing you'll have to buy is the actual car paint, after that comes the cost of the primer, and the price of the clear coatings. All of these will cost about $200 for the cheapest quality and can go over $5,000 for top-shelf products.
As an average, these products can cost you anywhere between $1,000 and $1,500 for a decent job.
You will need different types of paint for different types of cars and this will also be affected by the type of finish, shades, patterns, and all of the metallic qualities.
If your needs and budget can handle it, you can use one of the most commonly known types of car paint, described below.
Check Out This Detailed Article on The Price of Reupholstering a Car
Enamel Paint
Although they are not easy to apply, after they dry into a hard shell, synthetic enamel paints are tougher than lacquer paints. In addition to the paint, many enamel colors will need a two-stage process where a clear top coat of paint is applied.
There are some enamel paints that will only require a single step, so ask before you pay. You will spend around $50 for a gallon of enamel auto paint.
Acrylic Lacquer
One of the cheaper options you'll have will be the acrylic lacquer auto paint. It will chip easier but it also costs less.
Because of the fact that they aren't resistant to chemicals, you may have to apply regular coats over the car. Their average cost is between $30 and $40 for every gallon.
Urethane-Based Paints
The good paints that have qualities from both synthetic enamel and acrylic lacquer paints are Urethane-Based ones. They will be as strong as enamel paints but easier to apply.
The ugly part is that urethane-based paints need three other products to be used for a complete finish. These three will be the color, the catalyst, and the reducer. All of these cost between $70 to $90 per gallon.
Water-Based Paints
Water-based paints are gaining popularity in the market, although they are considered new car paints. They can be used on primer, on existing paintwork, and on metal, which makes them very versatile.
You won't have a lot of color choices and they will be more expensive, at around $120 per gallon.
Will Your Car Also Need a Tune-Up? This is How Much Tune-Ups Cost
Labor Costs
If you're looking for unskilled or unprofessional manual work, then you should get a team of painters that charge around $300 or less.
However, at that price, the paintwork will most likely be sloppy and uneven, with no preparation to start with.
Most average-price garages will charge between $1,500 and $3,000 for decent manual work. Some things that will determine the final cost of manual labor will be the quality of the work, the need for bodywork, the size of the car, and the level of preparation.
So how much it costs to paint a car?
Expect prices that range from a few hundred to many tens of thousands, as the total costs for painting your car, the materials, and manual labor.
Low-End Prices
For a regular-sized vehicle, there are a lot of national chains that will offer prices as low as $200 for a basic paint job.
Typical service of an inexpensive paint job will involve cleaning the surface of the car to remove any dirt and old paint, masking some areas to reduce the chances of overspray, and providing a heat-cured finish. Another great part is that they will typically offer a one-year warranty even though they'd offer a cheap paint job.
Mid Range Prices
Any mid-range car paint job costs $1,000 to $5,000, but they will use better materials and a lot more preparation and finishing.
A quality paint job can involve interior painting and areas near the engine getting re-painted at the same price. They generally offer a warranty of 2 to 5 years for the job.
High-End Prices
Professional paint jobs reach prices of $4,000 to $10,000 although they can even go as high as $80,000 for really specialized services.
The higher quality paints that will be used in the process have prices that can reach hundreds of dollars for every quart.
Before the sanding begins, these garages will remove the windows, mirrors, bumpers, and headlights, for better results.
After the paintwork is finished, the process will involve buffing and wet-sanding, long-lasting results. A high-quality paint job can even have a lifetime guarantee.
For Other Similar Articles, Check Out Our Auto Category
How Much Does It Cost to Paint Your Car Yourself?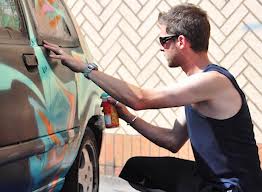 By doing this job yourself, you can greatly decrease the costs of the painting. You must understand that this work will take a lot of time and may require investment in equipment.
You will have to get spray tools that will set you back $200 to $800 and sanding materials that can cost anywhere from $50 to $200.
You can choose to use more environmental-friendly or green products for the job and reduce your carbon footprint by doing it yourself, which can be a great reward for your hard work.
Don't try to cut corners! You might choose to paint over problems like rust or damaged surfaces as a way of making the job cheaper, but this might cause you to have to spend more in the future.
https://www.thepricer.org/wp-content/uploads/2014/06/cost-to-paint-a-car.jpg
380
610
Alec Pow
https://www.thepricer.org/wp-content/uploads/2023/04/thepricerlogobig.png
Alec Pow
2014-06-10 15:17:59
2023-02-06 08:17:17
How Much Does it Cost To Paint A Car?