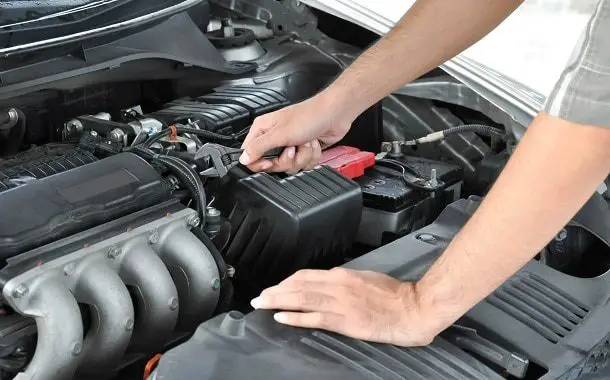 A car tune-up is a maintenance done to a vehicle periodically, to ensure it works within optimal parameters. It is usually done at least once every year. Depending on the type of car, the mileage and age and the vehicle's make and model, the tune-up might vary, but you will usually have to replace the air filter, check and if necessary change parts like spark plugs, and wires, fuel filter, and other engine parts and also run full computer diagnostics.
How much will a tune-up cost?
On a normal tune-up, you'll spend a minimum of $50-$100, but depending on the problems you'll encounter, you could end up spending $800 or even more. For the minimum price, you'll usually only get a general check-up and sometimes the replacement of the spark plugs and wires. If your tune-up will cost more, for $300 to $900 you'll get a lot more, like the replacement of the fuel filter, distributor cap, spark plugs and wires, air filter and PVC valve, and rotor, along with full computer diagnosis or inspection, testing of the emission and ignition systems, adjustment of the dwell and any other tweaks that need to be taken care of. The final costs will depend on the hourly labor rate (You'll spend around $40-$90 per hour for labor in repair shops and $75 to $200 at dealerships) and on the parts that need to be changed or fixed.
Normal Tune-Ups Could Include An Oil Change. Here's How Much It Will Cost You Just To Change Your Car's Oil.
If you have an older car, with a mileage of 90,000 – 120,000, you will spend more for a tune-up, at least $500 to $1,200, if not more.
You should always shop around and compare multiple shops before deciding on where you want to take your car for its next tune-up. When you call a mechanic and ask about the price quote, make sure you also ask about the exact services you will pay for. Don't be shy and ask about any ongoing deals or available discounts, since most shops, and especially the bigger ones, always have coupons or other incentive programs, especially for newcomers.
You can try to save some money by doing some of the basic parts of a tune-up at home. It will help to know that most of the newer cars will have some kind of onboard diagnostic system that you can check for different misfire codes which will point toward spark plugs being fouled or worn out. You won't be able to check up on these codes without a scan tool, but as long as you have this tool, it will be a lot cheaper to do basic maintenance related to air filters and spark plugs at home, without professional help.
What are some signs your car needs a tune-up?
You should be able to identify some of the signs that the car you are driving needs to get an immediate tune-up, although you should try to get this done at least once every year. It will be time to schedule a tune-up as soon as possible when you notice that your car's average gas mileage has dropped visibly. Among other very common signs of a tune-up being necessary are a general lack of performance while driving, knocking noises that come from the engine, frequent stalling, or the Check Engine light being lit.
Here are a few tips for your next tune-up:
First off remember to check the owner's manual for your car, because you'll find there a list of everything that needs to be checked and changed on your car by make and model. If you're going to the mechanic, he'll usually have a manual for most car makes and models. All vehicles have mandatory and recommended maintenance scheduled depending on the mileage, and not every tune-up will have the same mandatory and recommended checks.
Once you get to your mechanic, be prepared to leave your car there for at least two to three hours, because that's the shortest time for a proper basic tune-up.
Keep in mind that not all car parts will have to be replaced during the yearly car tune-up, as some can last 30,000 miles or even more. A great example of this is the platinum spark plugs that can easily last between 30,000 and 100,000 miles, depending on the manufacturer. Information about this can be found in your car's manual as it might differ from one car's make and model to another.
You shouldn't wait for the "check engine" or "service engine" lights to tell you when it is time for a tune-up. Aside from doing this periodically, also get this done as soon as you notice that the engine won't stop when you stop the ignition, "knocking" sounds coming from the engine, a considerable loss of power, or weird sounds accompanied by the engine stalling at a stop. Any professional mechanic should also be able to tell you if a tune-up is what you need to fix your problem or if it's related to the computerized part of the car. You can also get a computer diagnostic test to get a better idea of what the exact problem is.
Want To Stay Safe On The Road During the Winter Season? Here's The Cost of Snow Tires
Cheaper is not always better when it comes to your car. Don't take it to the cheapest mechanic for the tune-up, because they might not know how to properly run a diagnostics test, especially if you have a highly computerized car system. If you're thinking of doing the tune-up yourself, then you need to know that the materials you'll use will cost you around $50-$150. We won't encourage you to do the tune-up yourself just to bring down the costs, especially if you don't have any training or skills as a mechanic.
Before taking your car to a mechanic or dealership, be sure to check all local offers for coupons or discounts.
Always ask what will be included in the tune-up services, because you might find that a more expensive mechanic might do extra checks and add extra services for the money.
Should the average working Joe get periodic tune-ups?
Although it might seem expensive to go through tune-ups at least once every year, it will all be worth it. Some parts need to be changed to ensure the car works in optimal parameters, while other parts will be changed to make sure your car is safe on the road. Changing cheaper parts with your tune-up will keep other more expensive parts from breaking down. In the end, spending some money on a tune-up will be cheaper than fixing a broken engine.
https://www.thepricer.org/wp-content/uploads/2016/08/car-tune-up-cost.jpg
380
610
Alec Pow
https://www.thepricer.org/wp-content/uploads/2022/01/thePricer.png
Alec Pow
2016-08-22 00:18:53
2022-10-26 11:28:56
Car Tune-up Cost