How Much Does it Cost to Reupholster a Car?
Last Updated on February 5, 2023 | Written by CPA Alec Pow
First Published on November 12, 2014 | Content Reviewed by

CFA Alexander Popivker
You might have noticed the interior and exterior of your car deteriorating in time. Constant driving of your car will make it accumulate grease, dirt, dust, and grime.
This will slowly but surely damage it as time passes by. Among the parts that should be reupholstered if badly damaged, are the interior, exterior, the engine of the car, and the seats.
If you think about reupholstering your car, you must be wondering how much will this cost.
The final cost will greatly depend on the upholsterer you choose to work with and the car parts that need to be fixed. If you opt for reupholstering of the seats, they will most likely be replaced and repaired and the cushions changed. So how much will it cost to reupholster your car?
For the whole interior of your car to be reupholstered, expect to pay a minimum of $1,000, while the maximum price could reach thousands of dollars.
The material that you want to use and the upholsterer are the things that can influence the price drastically. An approximate price for the reupholstering of a classic car can be $4,500 or more, with the cost of the material and the labor included in the price. This is an average price, that you could reduce or increase, by changing some of the factors below:
How Much Does it Cost to Reupholster a Car?
Contracting
The first thing that will affect the final cost is whether or not you are contracting a skilled upholsterer. If you have the necessary funds and you want the best results, it is vital that you hire a professional for the job.
If you don't know any professional upholsterers, a good idea would be to ask the local car parts dealers. They can usually recommend the best ones around. Car tunning specialists may also know professionals that could help you.
When you find a car reupholsterer that has some nice recommendations, ask for his work portfolio. Usually, they should be able to offer you pictures of their previous works. Before you hire someone for such a job it's best to see results with your own eyes, don't just rely on other people's recommendations or reviews.
Reupholstering costs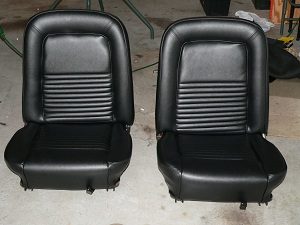 As soon as you've found a skilled upholsterer, it is time to talk about prices. Expect to pay around $1,000 for a common car model. A few factors can change the final price, one of them being the size of your car. If you think about it, it's easy to understand why the reupholstering of a small Hyundai could be cheaper than for a minivan.
The make and model of vehicle is another factor that can increase the final cost of a car reupholstering. This is why an old Ferrari will be harder to reupholster, which means a higher cost for the job.
The material you want to use is another factor that can increase or reduce the final cost. For example, new fabric costs around $10/yard to $80/yard, while leather or other materials considered to be luxurious or stain-resistant can cost way more.
One way to reduce the final cost is to use normal fabric material and treat it with vinyl, to give it a genuine leather look.
 Reupholstering the dashboard
One of the parts that wear and crack in time is the dashboard of your car. To fix this kind of problem you can get a spray can of vinyl paint from any local auto shop, which will set you back around $200.
Reupholstering Only the Car Seats
The concern of whether you ought to get your car seats reupholstered isn't always a quick decision. There are lots of aspects to have in mind: whether you truly need it, whether you can afford to have it done, and whether it is really worth the financial investment.
It is essential to understand these aspects and what goes into safety seat reupholstery. Being well-informed about it and having some general idea of prices will aid in addressing whether you have or need to get reupholstery for your car seats. Also, it is as crucial to know all other possible alternatives available out there for you.
This article should help you figure out if car seat reupholstery is best for you, while also offering you some details about choosing custom-made slip-over seat covers as another option.
How Much Does it Cost to Reupholster Car Seats?
There is no cut-and-dry response when it pertains to prices for car seat reupholstery. Every case is unique in its own way.
If you're seeking to get an accurate price for car seat reupholstery customized for your car, you should get in touch with a couple of local upholstery stores and ask for a quote. You'll need to provide the year, make, and design and elaborate on how broken your seat(s) are. They might ask for images or ask that you go there so they can take a look at the car seat issues.
To offer you a ballpark quote of what reupholstery costs, we called a number of car upholstery stores asking for basic details. For the most part, they requested more info about the vehicle, for us to call them, or go see them at the store.
Nevertheless, we had the possibility to get a couple of quotes. Now, this does differ based upon area and store, however here are a couple of significant cities that we got some basic price info from. We should stress that these are only price quotes and must not be considered the bottom line for vehicle upholstery repair work.
Here are a couple of examples of possible rates:
San Diego, California: Starting rate is $375 for one seat.
New York City, New York: The price for front and rear leather is approximated at around $1300.
Los Angeles, California: Leather repair work for one panel with foam repair work will cost around $375 approx.
We also discovered some handy resources online that offer a couple more examples of prospective expenses. Typically you can pay between $200 and $750 per seat or $500 – $2,000 for 2 bucket seats. So as you can see prices can differ from location to location.
What Goes Into Reupholstering Car Seats?
To make it easily understandable, we are not going to get into comprehensive information. When you work with an expert to reupholster car seats, you're going to be paying the automotive upholstery shop for products and labor. Products consist of the material chosen to replace the existing upholstery, foam, and batting as needed.
The labor consists of the removal of the current upholstery, including the foam and batting from damaged locations, and possible spring repair work.
Then when it's all done, there comes the actual reupholstering of the seats with the fabric and the required tools and supplies to hold the fabric in a fixed position.
That's only a short description of what it means to reupholster a car seat, however, it can be rather time-consuming. You need to not only remove the existing upholstery but hog ring the brand-new one on and make sure that it remains in location and will not move in time.
One response on Quora provides another reason you may wish to get your car's seats reupholstered: Burn marks. The responses describe the process of reupholstering and what goes into repair of a very small area of a seat:
" If one area requires repair work they cut the length they need of the material, refoam the location, and sew it back in. It's generally one whole area of the seat, not a small area."
Also read our articles about the average cost to reupholster a couch, a chair, or a boat.
When Do You Really Need to Reupholster Your Car Seats?
Anyone can get their car seats reupholstered if they wished to. It is one way to renew your old car's interior and improve the aesthetic appeal if you're dissatisfied with the existing upholstery, but most of the time, it is to fix damaged car seats.
The level of damage on your seats will play into whether you in fact need repair work and reupholstery, or not. If you consider what goes into the real procedure of vehicle upholstery, then you'll get a better idea of whether you really want it.
For example, do you have big pieces of foam missing? Is the real shape of your seat badly damaged? Are there some locations where fabric is missing (not only rips)?
There are some cases where the only choice is car seat reupholstery, but be sure to do your research first on local vehicle upholstery stores that do car seat repair work.
More About Leather Seat Repair Work and Reupholstery
We'll start by mentioning that any leather replacement package isn't inexpensive so be prepared to get rid of some high money.
Leather car seat repair work is much more costly since of the expense of vehicle-type leather. You can acquire reupholstery kits online.
Based on an e-mail question where we asked for some standard info from one online business, we were given an estimate for front and rear seats around $1,500 plus tax for a single color or around $1,800 plus tax for a custom-made color mix.
Something else to understand is that some online companies offering leather sets work with licensed automobile stores that will set up the seat covers for you (in many cases at no extra expense). Nevertheless, if your seats are missing portions of foam or need any sort of repair work, they might ask for images as they need to examine the degree of vehicle seat damage and offer you the price of repairing it.
Car Upholstery Repair Work is Pricey – There's Another Alternative
Now we are not saying to not get your car seat reupholstered, since sometimes there isn't actually any other option. We are noting that there is an alternative, one more budget-friendly that will conceal the damage, keep it from becoming worse, and give your entire car a renewed look.
Think about talking with a local vehicle upholstery shop to request your custom quote for changing or fixing the seat upholstery, then compare it to the price of getting custom-made seat covers for your car. The more info you have, the simpler it will be to decide.
I Do not Wish To Get My Car Seats Reupholstered, What Can I Do?
While the retro car interior may be interesting for some, others may wish to update or alter the appearance of their old car's interior. Seat covers can be a cheaper option.
The price of reupholstering your car seats can in some cases be too difficult to take in. While in some severe cases, there is no option, there is frequently a more budget-friendly choice for car owners.
One alternative, in particular, that might save you a bunch of money is custom-made seat covers. While we note that these can be a fix for all upholstery damage, it truly depends on the level of it (just like the price variation).
KEEP IN MIND: This short part goes over custom-made covers and not universal ones.
There are a couple of situations where customized seat covers can be of help.
Stop Any Further Damage From Happening
" The seats in my car have a great deal of wear with some reasonable bit of damage (including leather upholstery)".
All's not lost when you own an older car with damaged upholstery. As pointed out above, your seats need to be quite terribly damaged with portions of foam missing when you actually have to think about reupholstery. Custom-made seat covers are an amazing alternative to cover old, used seats.
While that horrible look may be trending in fashion, it absolutely does not look that great in your car, nor is it all that comfortable. Split leather or vinyl is awful!
Installing covers is an efficient method to cover wear and tear even if there is a good amount of it.
Here are a bunch of seat cover material alternatives to give you an idea. You can get covers in:
Neoprene and Neo-Supreme
Cordura, and Strong Canvas
Velour
Poly-Cotton and Polyester
Suede
Nylon
Mesh
Saddle Blanket
Vinyl
Camouflages like Genuine Tree, Moonshine, Mossy Oak
Hawaiian
Replica Leather/Genuine Leather
Replica Sheepskin/Genuine Sheepskin
There are lots of options out there. It's not our place to suggest one over the other or make you pick one company over the other. Do your research and you'll be able to find something that fits our requirements.
Rates differ from business to business and depend upon the fabric choice. For example, you can pay around $150 – $200 for a set of Neo-Supreme ones from one business, while another may charge you $250 – $350. The differences in rate are mainly due to the different brand names of Neo-Supreme covers out there.
RESEARCH SUGGESTION: Look for testimonials about specific fabrics on the site of the seat cover company you like. Hearing it from consumers themselves is really useful and will aid you to decide not just what kind of product is ideal for your needs, but also which company is best for you.
What if I have leather seats?
If you have leather upholstery in your car, you can hand over that very high $1,400 – $1,800 and get your car reupholstered (which as we said before may be the only alternative for severe cases) or you can look for a car part shop that offers leather covers.
Purchasing authentic leather covers is one choice when you have leather upholstery. Doing a fast Google search for Genuine Leather Seat Covers brings in numerous businesses that sell them. Where once again, prices differ considerably, but to offer you an approximation, you can pay anywhere from $340 – $630 for each set.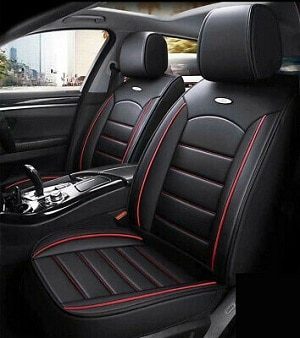 There's also the alternative of going for Replica Leather covers, also referred to as Leatherette. These have the very same look as leather, and you can expect to pay around $260 – $315 for a set of Replica Leather covers. Keep in mind, this depends on the brand name of the covers you choose.
Genuine leather seats look amazing, however, they are very tough to maintain. Light-colored upholstery is most likely to show stains, dirt, and basic wear and tear.
I just recently bought a used car and the interior is stained and ripped, what to do?
So you got an amazing offer on a used car. It has good mileage, an excellent history, and runs excellent. The only issue is the interior does not look that great. It is possible that the previous owner smoked and there are holes in the upholstery.
Or possibly they were simply untidy coffee drinkers and there are spots all over. These are only 2 examples of how customized seat covers can be a budget-friendly option to conceal undesirable discolorations, holes, or small rips that may come with the purchase of an older car.
There are lots of different alternatives out there for you to pick from that are cost-effective and still conform and wrap around the shapes of your seat, giving it a brand-new look without the cost of reupholstery (which we now know might set you back a fair bit).
In some cases when you're only trying to conceal a couple of blemishes on the car's upholstery, you may wish to keep the initial appearance of the upholstery. One alternative for this is OEM slip-over seat covers. These are still covers that you set up on top of the upholstery but have a similar look to the material you have in your car.
KEEP IN MIND: When you are looking into OEM seat covers, be sure you know whether you're buying slip-over seat covers or ones that require you to uninstall the initial upholstery. Both choices are readily available online, so make sure to check out the descriptions thoroughly. And it never ever hurts to call the seat cover company and confirm. It's better to be safe than sorry – because you're purchasing a customized item.
Prevent Damage from Happening to your Car Seats
Just purchased a brand-new car? Prevent car repair related to upholstery entirely.
If you start by setting up covers at the very beginning when you first buy the car, then you're going to save future-you the headache of disputing whether car upholstery is needed or not. Covers over seat frames prevent damage, spots, and rips from ever happening to car seat material.
Imagine this: If you have 2 similar individuals with similar vehicles that have both been driven the exact same amount of miles, with the exact same driving practices, and are similarly kept and the only variable is that one car has seat covers and the other one does not. Which car do you think will cost more?
Even if you're the cleanest individual ever who never ever eats or drinks something in your car, gradually your seats are going to accumulate some wear and tear, simply from using them. Seat covers will substantially lower this and when it is time to bid farewell to your car, the seats are going to look well-kept.
Not going to lie, seat covers are a financial investment (much like car seat reupholstery), but so is your car. And it is worth keeping your car as resellable as possible. The state of your car seats when selling your car in the future might make you lose money or even worse – might be the offer breaker to a potential purchaser.
Would the average working Joe afford a car reupholstering?
Usually, this type of work is very costly, especially for someone working on an average wage. We wouldn't recommend spending too much money on your car reupholstering unless it is in a state in which it would cause you too much discomfort or put you or other people in danger.
https://www.thepricer.org/wp-content/uploads/2014/11/cost-to-reupholster-a-car.jpg
380
610
Alec Pow
https://www.thepricer.org/wp-content/uploads/2023/04/thepricerlogobig.png
Alec Pow
2014-11-12 01:35:07
2023-02-05 21:30:45
How Much Does it Cost to Reupholster a Car?