How much does boat upholstery repair cost?
Last Updated on March 3, 2023 | Written by CPA Alec Pow
First Published on August 22, 2020 | Content Reviewed by

CFA Alexander Popivker
When talking about boat upholstery work, many boat owners refer to the material that the seats of the boat are covered with. People that buy secondhand boats and notice that the old seats are in a bad shape, as well as those that use their new boats to the point that the upholstery gets in really bad shape, might consider getting the seats reupholstered, as a way of reviving the look of the boat. In most situations, it will be a lot cheaper to reupholster the seats rather than purchase new ones.
Of course, a lot of people find themselves asking how much would it cost to reupholster boat seats.
This isn't an easy-to-answer question as it will likely depend on several factors. This article will go over this subject as thoroughly as possible so that you can understand how you should budget for this job and what are the best materials to consider.
How much does boat upholstery cost?
The boat seat reupholstering price will usually depend on factors like the number of seats needing to be fixed, the fabric or material being used, as well as where you live, and the expert or professional upholstery shop you choose to work with.
As a general rule, you should expect to pay between $140 and $500+ to fix a single seat cushion. Most companies will also have a minimum hourly price. This can be anywhere between $60 and $175 per hour, or even more.
You are most likely to spend around $340 for a 24″ x 96″ seat/back, while a 24″ x 24″ seat/back will cost around $120.
The expected rate will go up as more work will be needed for a certain task aside from changing the set cover. Discussions of online forums, for example, revealed that members have spent between $1,200 and $2,400 on upholstery jobs that involved the fixing of 2 small back cushions, a seat back, a leaning post seat, and two small back cushions.
Discussions on the iBoats.com forum on the other hand showed that a member had four-seat bottoms the bench back and the sun deck reupholstered by a professional and was charged $1,100.
Some family-owned boat upholstery services we managed to interview have given us price quotes of around $350 for layback seat panels having the same seat frames, hardware, and foam, as long as they are still in good condition. One of their examples involves an upholstery job for layback seats that include brand-new frames, although it uses the existing seat box and hardware, which was priced at $335.
You can check out the list below to see what these jobs might cost you.
Part of the Boat and its Average Cost
| | |
| --- | --- |
| Part of the Boat | Average Price |
| pontoon deck replacement | $1,000 |
| lounge seat | $550 per seat |
| jet ski seats | $600 |
| front sleeper lounge | $180 |
| flip flop seat back | $100 |
| engine cover | $350 |
| captains chair with or without arms, | $700 |
| captains chair with arms | $500 |
| bolster seat | $450 |
| bass boat pedestal seat without/with back | $100 |
| bass boat full-width seat back | $400 |
| bass boat deck pad | $400 |
| arm rest with cup holder | $130 |
| 24″ x 96″ seat/back | $400 |
| 24″ x 8 or 8.5 foot rear deck pad | $250 per piece |
| 24″ x 60″ seat/back | $280 |
| 24″ x 48″ seat/back | $240 |
| 24″ x 36″ seat/back | $175 |
| 24″ x 24″ sink base | $240 |
| 24″ x 24″ seat/back | $120 |
So let's talk more about these numbers. How much would reupholster cost for a 20-foot boat for example? Well, although the table above might seem enough for a clear answer, things are a little more complicated than that. It will all depend on the level of wear and tear for each individual piece that you will reupholster, as well as the professional you want to work with.
Also read about the cost to reupholster a car, a couch, and a chair.
Details on boat upholstery repair work
You will usually get everything from materials, fabric and the cost of labor included in the rates given in the table above. A lot of businesses will require a downpayment of around 50% to 85% of the full amount to start working on your project, although this sum will be applied to the final bill. Be sure you go over all details, including the style you're going with or, the carpet, material, and colors before the work starts so you're not hit by any surprises later on.
Most professionals will also offer you an "hour guarantee against Ultraviolet resistance when reupholstering your boat fabric. Bigger numbers in this regard will mean longer times for a fabric to withstand the damage of the Sun UV rays. You should expect the fabric being used to have at least 1,000 hours, if not more.
What are the additional costs?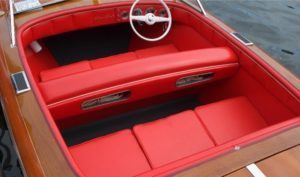 Marine-quality fabric can cost about $40 to $60 per square yard, without the price of any professional installation help. With higher prices, you are also likely to get material that offers more protection. Premium materials will have a longer lifespan while also being considerably more expensive.
If you have seats with structural problems, these can be rebuilt by most professionals for an additional cost.
Most professionals will tell you that when reupholstering a whole boat interior, you should also consider replacing the stereo system and speakers at the same time, as all wires will be visible and accessible. Although it isn't a must, if you do decide to go for a new stereo system, expect it to be an added cost.
Tips to keep in mind
Make sure to keep your boat seat upholstery clean at all times. This will guarantee a longer life for your boat. You need to also cover your boat when not in use and winterize it in the off-season.
Lakeside Canvas advises reholstering the whole boat as piecing together one seat at a time can cost a lot more in the long run due to the time needed; plus, the colors, when the job is done for each part, might not match as you imagined. It can also aid in the future because, as soon as one seat starts to wear down, there's a likelihood the remainder of the fabric will follow.
Seat damage
The more damage there is to fix, the more the job will cost. Damage caused by mildew or UV rays, or any other elements, will usually push the upholstery cost up. It's not unusual for service providers to first refurbish a seat before actually working on the job. You can also buy a marine vinyl repair kit and try to repair it yourself.
Also, you will spend more on reupholstering the seats on a Jon boat than on a pontoon boat, as the latter has more seats, which usually means a bigger workload.
Try doing some of the repair yourself
You can try to cut down the expenses by removing some of the worn-out upholstery as a DIY project.
How can I save money?
Before you decide on committing to an upholsterer or an upholster job, do some research on different fabric providers. According to most specialists, the costs for exterior materials utilized for marine applications only differ by a couple of dollars per yard, contrary to what a lot of upholsterers say to their customers.
As soon as you have actually done some research, look for a family-owned upholstery store that does custom-made work. This is a great tip since family-owned shops are known to have significantly lower rates than commercial upholsterers.
Don't just go for the very first price quote you get. When employing any expert, try to get as many quotes as possible to see what sort of rate difference you're dealing with.
https://www.thepricer.org/wp-content/uploads/2020/08/reupholster-a-boat.jpg
380
610
Alec Pow
https://www.thepricer.org/wp-content/uploads/2023/04/thepricerlogobig.png
Alec Pow
2020-08-22 12:25:31
2023-03-03 10:18:38
How much does boat upholstery repair cost?