Cost To Install Window Screens
A beautiful day is only perfect when you manage to enjoy nature in the best conditions. Insects, dust, pollen, and other impurities can act as a real barrier between you and the outside environment, but not if you equip your interiors with the right protective window screens.
Window screens are essential elements for maintaining a high degree of home comfort by ensuring an optimal level of protection against birds, dust, mosquitoes, and other insects, especially in the warm season, when you keep the windows open.
How Much Does It Cost To Install Window Screens?
When talking about the costs of installing window screens, these are influenced by factors such as the number of screens, the labor rate, the size of the screens, and the type of screen replacement. There are different types of screen replacements, like:
installation of new standard-sized framed screens which match existing window frames;
if standard units do not exist, assembly and installation of framed screen kits;
replacement of the screen material in existing frames.
In order to get an idea about how much you should budget for installing window screens, in the tables below you will find the costs of replacing 2 window screens with a size of 36" x 42" each, for each of the situations presented above.
Window screen: assemble the framed screen kits – 36" x 42" each, 2 screens
Item
Unit Cost
Quantity
Line Cost
Framed screens kit – cost per window

$14.00
each
2
$28.00
Labor Cost
$25.00
each
2
$50.00
Total Cost
$39.00
each
2
$78.00
Window screen: replace the standard framed screens – 36" x 42" each, 2 screens
Item
Unit Cost
Quantity
Line Cost
Framed screens – cost per window

$16.50
each
2
$33.00
Labor Cost
$7.50
each
2
$15.00
Total Cost
$24.00
each
2
$48.00
Window screen: replace the screen of existing frames – 36" x 42" each, 2 screens
Item
Unit Cost
Quantity
Line Cost
Sealing spline – cost per window

$3.00
each
2
$6.00
Screen mesh – cost per window
$4.10
each
2
$8.20
Material Cost
$7.50
each
2
$15.00
Labor Cost
$13.50
each
2
$27.00
Total Cost
$28.10
each
2
$56.20
What are the additional costs?
Permit fees and taxes are not included in the price estimates presented above.
You might also like our articles on the cost of Pella window installation, window blind installation, or window glass replacement.
In general, most installers have a minimum labor charge.
A splining too also may be necessary, and will usually cost less than $10.
Types of window screens
Fixed window screens are a good option if you want to benefit from a high level of protection against insects on your windows and do not need daily access to the outer window sills, flowers, or other objects outside the window. Windows continue to open normally and allow ventilation. Laminated glass fiber mesh is almost invisible and resistant to external influences; it is fixed in the aluminum profile by a rubber tube.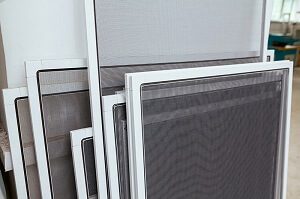 Roll-type window screens are the right choice if you open the windows very often and need direct access to the outside, for example for watering flowers. If you want to have an unobstructed view of the surroundings, you can lift the blind with the net, which is wrapped and inserted into the box.
Sliding window screens are the best choice if you go often out on the balcony, terrace, garden, or conservatory. They are most suitable for vertical or sliding balcony doors with a fixed side and for panoramic walls.
Swinging window screens are right for you if you want to use a magnetic closure system that makes the window stay closed even in strong winds and drafts.
Plisse window screens are the right choice if you need protection against insects on doors and larger openings that you pass through often. You can also install these nets on windows wider than 70 inches. Also, if you want to open doors or windows from both inside and outside; the window screen is pushed left and right by simply pulling the side profile.
Built-in window screens are the right choice is if you want to combine external blinds with window screens (shading the interior spaces and protecting them from insects). Integrated window screens are incorporated into boxes or under external blinds, and roller blinds are fixed in front of or above windows and shutters.
Important things to consider
The greatest quality of window screens is that they give you the opportunity to keep insects at a distance without the need to use sprays or chemical solutions. Many parents prefer such a protection method, at least for the children's room. Of course, the quality of the window screen is also important: the smallest mesh is good, however, a fabric that is too thick will not allow air to enter the room to ventilate it.
Also, the textile fabric is not always very efficient because insects can make their way through the mesh, therefore a metal, polyester, or fiberglass window screen may be more suitable. Also keep in mind that the latter must be well connected to the frame to which they are attached, in order to lie perfectly flat. This is why, even if it's a slightly more expensive solution, it's best to measure the window and buy window screens that are fixed on a frame (PVC, aluminum), which can also be equipped with hinges and mounted outside the window.
https://www.thepricer.org/wp-content/uploads/2022/09/screen-window-installation-cost.jpg
380
610
Alec Pow
https://www.thepricer.org/wp-content/uploads/2023/04/thepricerlogobig.png
Alec Pow
2022-09-27 08:53:21
2022-09-24 07:43:43
Cost To Install Window Screens