Cost to Pump Out a Septic Tank
Last Updated on September 19, 2023 | Written by CPA Alec Pow
First Published on February 16, 2022 | Content Reviewed by

CFA Alexander Popivker
Emptying the septic tank is not a negligible activity, as it is important to empty it at regular intervals. Failure to do so, or failure to do it properly, may result in damage to the draining system. The emptying is done according to the number of people living in a house, at an interval of 1-3 years.
The septic tank must be emptied regularly. It is extremely important that it be inspected from time to time to see if cleaning is sufficient, or if emptying is necessary. Emptying should be done when you start to notice bad smells or the water is harder to drain. Draining has the role of emptying septic tanks to clean them. This must be done with the help of special, professional equipment.
How Much Does it Cost to Pump Out a Septic Tank?
The cost to pump out a septic tank is influenced by some factors such as the size of the tank and how full it is, your geographical location, and the contractor you hire. However, the average cost would be anywhere between $80 and $760.
Expect to pay anywhere between $80 and $155 to clean a small tank, that has a capacity of 500 to 750 gallons.
If you need to clean an average-sized tank with a capacity of 1,200 to 1,500 gallons, then you should plan on spending anywhere between $210 and $410.
The cleaning of larger tanks with a capacity of around or over 2,500 gallons costs anywhere between $510 and $760.
You might also like our articles about the cost of septic systems, PERC tests, or well inspections.
You will be able to save a lot of money in the long run with this little preventative maintenance as the cost to replace a damaged septic system would be anywhere between $3,100 and more than $10,000. However, if you take care of your septic system properly it can last 20 to 40 years.
In the table below you will find the average costs to pump out a septic system in different cities from the United States of America.
| City | Average Price Paid |
| --- | --- |
| Charlotte, NC | $950 |
| Boston, MA | $400 |
| New York City | $710 |
| Newark, NJ | $340 |
| Manchester, NH | $300 |
| Philadelphia, PA | $350 |
What to expect when having your septic system pumped?
When to have your tank cleaned?
It is very important that the septic tank be inspected regularly. If you notice bad smells, sewage is difficult to drain or the inlet pipe is clogged, it is time to empty the septic tank.
The emptying is done according to the mode/intensity of use once every 6-12 months, but not later than 4 years. After emptying, the pit should not be disinfected and should not be filled immediately with water. Also, the septic tank is not completely emptied. It is recommended to keep 10% of the mud in the pit to ensure the resumption of the anaerobic digestion process by microorganisms. Thus, the decomposition process will begin quickly.
What do I do if the septic tank has been completely emptied?
In this case, sludge can be brought from a functional pit or a bio activator can be used.
To increase the period between two empties, do not throw non-biodegradable materials in the toilet bowl, equip your kitchen intensively used with grease and non-degradable materials separators as well as separators/filters for the rainwater mixed with soil (from yards/gardens), from rain or melting snow.
The Inspection Process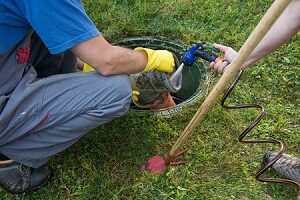 The first step in locating your septic system is a professional inspection, and sometimes this can be a difficult job if don't have any previous records referring to the tank's location.
Identifying the location of the septic tank and its drainage area means that you present the location from the pump to the drainage field based on an established sketch. It is always good to find a specific fixed landmark to identify distances.
After establishing the location of your septic tank, the contractor will uncover the manhole and the inspection port. This may require digging sometimes, so it is recommended to install an access cover for making future inspections cheaper and easier.
The next step into the inspection process is to test the system by running water and flushing toilets and checking if the waste is flowing properly through the system. With the help of specialized tools which are introduced in the inspection port, the septic technician will measure the scum and sludge. Also, he or she will check the tank for any cracks or damages.
In case the tank has to be pumped, the waste will be transported to your local treatment plant by the septic company. This may cost you an extra disposal fee which is anywhere between $25 and $100.
When to opt for a septic service
It is recommended that you contact a professional septic tank cleaning and unclogging team if you need the services of:
Ecological emptying of septic tanks;
Unclogging canals;
High pressure mechanized unclogging/cleaning;
Unclogging of septic tanks, hatches, canals (sand deposits, shore/earth);
Septic tank drainage check.
How to protect your septic system
Maintain the septic tank using a substantial amount of bio activators to prevent the accumulation of sludge and grease.
Do not drive over septic tanks or drainage pipes and do not place heavy weights on them. Weight can break underground pipes and cause blockages.
Do not plant trees above or near the drainage field. Keep deep-rooted plants away from drainage pipes (if you know where the pipes are).
Do not put chemicals in the septic tank. Paint and thinner kill most of the bacteria and the septic tank can no longer digest the mud.
Try not to use too many antibacterial products such as antibacterial hand soap.
If you still use these products, make sure you use a dose of bio activator weekly for maintenance. It costs only a few dollars and will help you make sure the pit works well.
Do not throw anything that is not biodegradable in the toilet.
https://www.thepricer.org/wp-content/uploads/2022/02/Cost-to-Pump-Out-Septic-Tank.png
380
610
Alec Pow
https://www.thepricer.org/wp-content/uploads/2023/04/thepricerlogobig.png
Alec Pow
2022-02-16 06:48:56
2023-09-19 21:52:12
Cost to Pump Out a Septic Tank