How Much Does Minute KEY Cost? – Minute KEY Prices
Last Updated on September 24, 2023 | Written by CPA Alec Pow
First Published on March 25, 2021 | Content Reviewed by

CFA Alexander Popivker
The Minute KEY business was founded in 2008 and was made to allow you to copy most types of keys, including padlock, office, or home keys, in just under a minute, using an automated key copying machine.
The company states that MinuteKey is very fast, convenient, and easy to use, due to the robotics technology used to create the machine.
Several popular retailers, including Walmart, Menards, and Lowe's, currently have Minute Key kiosks.
How Much Does MinuteKEY Cost?
The average key duplicate made with Minute Key costs between $2 and $5, but purchasing more keys in one purchase will probably help you save on the final cost. According to several key copy blogs, for instance, getting three keys at once will cost closer to $4.
You won't find any prices disclosed on the official website, so the information we give you here is based on research we did for the most common types of keys people use. You can spend more than the average, when you go for some more unusual designs, like NBA keys and NFL keys.
You can decrease the final cost of the key even more if you sign up for the company's VIP program. Becoming a member will help you earn rewards and access discounts based on how many keys you copy.
Types of keys that the Minute Key kiosk copies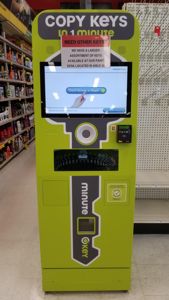 The company's official FAQs state that their machine is able to copy most keys that are meant for a home or an office, including brands like Titan, Baldwin, WR5, WR3, Weiser, SC1, Schlage, KW10, KW1, Kwikset, clones of these brands, and some padlock keys.
Although you weren't able to copy car keys at these kiosks for quite a while, you currently have this possibility and you can identify its type by using this technology if you need this.
This kiosk isn't able to copy your key if the key has a "Do Not Copy" or "Do Not Duplicate" message imprinted on it. For more information about the types of keys you can copy and the ones that are rejected, you can refer to the terms of use page on the official website.
How does the machine work?
Based on official company statements, you will be able to identify your key automatically and then determine whether you can duplicate it right then and there using the kiosk's features.
If the machine confirms it is able to duplicate the key, it will then have you go through the prompts on the screen to place your order. You have to select the key design you want and then allow the machine to do its magic. As the machine uses computer technology to create a cut very close to perfection, it will be more accurate than most retailers, according to the company.
You might also like our articles about the cost of copying a key, the cost of a key at KeyMe, or the price of a fingerprint scanner.
If the key isn't perfect for any reason, then according to the company, customers get 100% satisfaction guaranteed, meaning that they will refund you in full within 30 days of your purchase.
You can use American Express, Visa, and MasterCard at the machine, as it currently doesn't accept cash payment or checks.
What if I Don't Have the Original Key?
Minute KEY, and Walmart as a whole, won't be able to help you if you have lost the original key. You will need the original key to create a copy using these automated services.

Here are some things you could consider if you've lost the only key you have for a lock:
Take your lock to a locksmith: You can try to take your lock off the door and then take it with you to a local locksmith. This will usually cost you around $50.
Call a locksmith: You can also call a locksmith to come to you instead of taking the lock to them. They will then decode your lock and make a new key for you. This is usually a more expensive route and usually costs about $100 to $150.
Buy a new lock: One of the best options you have is to simply replace your lock when you lose the last key for the old one.
Important things to consider
You won't be able to store your key profile after making it in the kiosk's system, a feature offered by most of its competitors.
You can use the official kiosk search feature on the company website if you want to find a Minute Key kiosk near you.
The Minute KEY website also has a key gallery, where you can see the key design currently available at local kiosks.
You will likely find a MinuteKEY coupon online, so it's never a bad idea to look around for one before going to the kiosk, as a way of saving some money.
The kiosk won't offer you a keychain, so this might be an additional expense to consider when needing to copy a key.
https://www.thepricer.org/wp-content/uploads/2021/03/minutekey-kiosk-cost.jpg
380
610
Alec Pow
https://www.thepricer.org/wp-content/uploads/2023/04/thepricerlogobig.png
Alec Pow
2021-03-25 11:31:46
2023-09-24 14:38:37
How Much Does Minute KEY Cost? – Minute KEY Prices