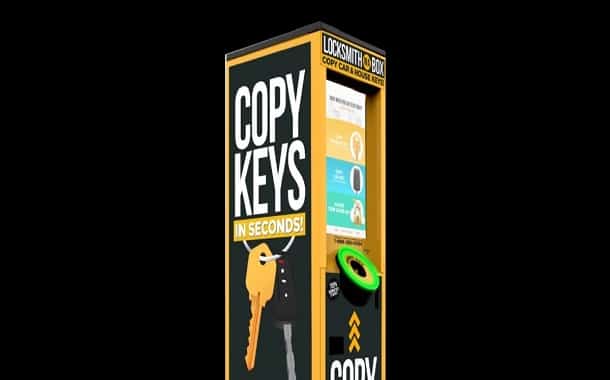 KeyMe, a security tech business based in New York City, aimed to reinvent the locksmith professional market by providing self-service kiosks that enable you to scan your key, save it to the cloud, and after that print a spare key anytime in the future from any kiosk around the world with just your fingerprint.
Just how much does the KeyMe Kiosk cost?
The expenses of the KeyMe Kiosk, like with a professional locksmith, considerably depend upon the kind of key you need to have copied, with a simple brass key costing about $2.99, whereas a non-transponder key can have a cost that starts at $19.99, for instance. You should check out our table below for the rates you must budget for if you want to use the kiosk.
You might also like our articles about the cost of a Kodak kiosk, an ATM, or a vending machine.
How does the KeyMe Kiosk work?
According to the business, the kiosk operates in the following way: You place your key into the kiosk, follow the required steps provided on the screen, and after that, a replicate key is created on the spot, all while saving your key to the cloud with your fingerprint, which, as already said, enables you to print your key anytime you need another extra key. Aside from the kiosk, the business also enables you to mail-order numerous vehicles and high-security keys, all for a "portion" of the expense of what a dealership would charge you.
The kiosk does provide numerous style choices for your extra key, varying from a basic brass key to numerous ornamental choices, consisting of NFL, NBA, and MLB designs, among others. For a complete brochure of the ornamental alternatives offered in your location, check the official website to see the most popular choices.
| Type of Key | Price Quoted |
| --- | --- |
| Brass Key | starts at $2.99 |
| Decorative Key | $5.99~ |
| Non-transponder | starts at $19.99 |
| Fob | $70-$90 |
| Transponder | $70-$90 |
| RFID card | $14.99+ |
The majority of the keys can be copied on the spot; nevertheless, for some, such as key fobs, the business will need to send by mail the key to your house after it is made, which, according to the business, can take 2 to 5 days, depending upon when they get your order.
Supported keys
According to the main Frequently Asked Questions page, the business supports numerous key types, consisting of house, workplace, padlock, mailbox, Mul-T-Lock, and some Medeco keys, in addition to several automobile keys, varying from vehicles, trucks, and bikes to snowmobiles and even boats.
Tips to keep in mind
The kiosk is able to copy any key with a "do not duplicate" written on it, with the exception of any kiosk situated within the Los Angeles city limitations, due to city regulation.
If your key does not work, the business does provide a "100% Complete Satisfaction Guarantee", which means that they will redo the job until you get a working key.
To find a KeyMe Kiosk near you, you can see a complete list of locations by visiting this link.
Promotion codes are frequently available, specifically if you're a new customer. Be sure to have a look at the official site to see if you can save any money on your very first key copy. For instance, at the time of this publishing, they were providing a 25% off advertising code when you registered for their e-mail newsletter.
https://www.thepricer.org/wp-content/uploads/2021/02/keyme-kiosk-cost.jpg
380
610
Alec Pow
https://www.thepricer.org/wp-content/uploads/2022/01/thePricer.png
Alec Pow
2021-02-24 13:29:01
2021-02-24 13:29:01
KeyMe Kiosk Cost