How Much Does KeyMe Kiosk Cost?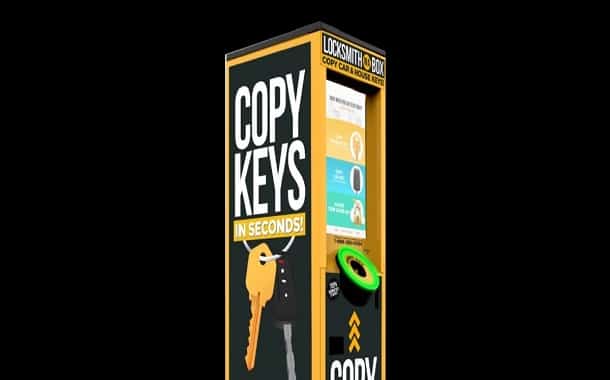 Keyme is a company in the security technology industry, founded in New York. They offer self-service kiosks in which you can scan your keys, as a way of revolutionizing the locksmith industry.
They also allow you to save the keys to the cloud so that you can print a spare whenever you need it, using any other kiosk around the world, using just your saved fingerprint.
How much does the KeyMe Kiosk cost?
The costs of the Keyme Kiosk are somewhere around $19.99 for a non-transponder key, while simple brass keys cost about $3.99 per piece, for example. Just like in the case of a locksmith, these costs will depend on several important factors like the type of key you need to copy.
You might also like our articles about the cost of a Kodak kiosk, an ATM, or a vending machine.
The table below should give you a better idea of the prices you should prepare for if you want to use one of these kiosks.
| Type of Key | Price Quoted |
| --- | --- |
| RFID card | $15.99+ |
| Brass Key | $3.99 |
| Fob | $71-$91 |
| Decorative Key | $6.99 |
| Non-transponder | $20.99 |
| Transponder keys | $71-$91 |
How does the KeyMe Kiosk work?
The whole process is split into several easy steps. Here's how these kiosks work according to the company itself:
The first step is to insert your key into the kiosk;
You will then follow the prompts you get on the screen;
The duplicate key will be made right there on the spot;
The key info will then be saved in the cloud with your fingerprint as an access password;
This will allow you to print your key anytime you need another spare key.
The company does more than just set up these kiosks. It also helps you mail-order hundreds of high-security keys and vehicles at a very cheap rate when compared to the deals offered by a dealership.
Each kiosk has different design options for spare key. These range from the most basic brass key to different decorative options like MLB, NBA, and NFL themes, for example. You can find a full catalog of all the decorative options in a particular area at this link, which also gives you the most popular options.
You can copy most key types right then and there, but there are some models, like key fobs, that will have to be mailed to your home. This can take anywhere between two and five days according to the company and will depend on when you place the order.
Supported keys
The official FAQ of the company states that Keyme offers support for hundreds of key types. This includes everything from Medeco keys, Mul-T-Lock, mailbox, padlock, home, and office keys. They also offer different types of vehicle keys including some for snowmobiles, motorcycles, trucks, and normal car keys, and even several types of boats.
Important things about the copy services
If the key you make doesn't work, you have a "100% Satisfaction Guarantee" as per the company's rules, meaning that you will get a new working key for free.
With the exception of the kiosks you can find in Los Angeles city where a city ordinance is in place, the kiosks will be able to copy all keys with "do not duplicate" written on them.
There is a full list of locations here and you can use it to find the nearest KeyMe Kiosk to you.
If you're a first-time user, make sure you look online for promo codes, as these are commonly available.
These can even be found on their official website from time to time, to enable you to save money from your first key cut.
Currently, they are offering a 25% off promotional code for new users that sign up for their email newsletter.
KeyMe FAQs
Can You Cancel KeyMe Kiosk Orders?
No, it isn't currently possible to cancel an order made through a KeyMe kiosk. Even so, you can still return a key that is unsatisfactory or faulty and get a refund or a new key.
Are KeyMe Kiosks Safe to Use?
Yes, you can use the kiosks made by KeyMe safely. Security is taken very seriously by the company, which has made great efforts to ensure the safety of its users while using the services.
All kiosks have encryption technology aimed to protect all user data. They will also require identification verification when certain key duplications are needed.
How Long Does it Take to Make a Key with KeyMe Kiosks?
Although most of the time, it shouldn't take more than five minutes to duplicate a key, this will differ depending on the type of key you want to make and the availability of a certain machine.
Can the KeyMe Kiosk Duplicate Keys from Photos?
Yes, KeyMe currently offers a service that is known as the "Photo Key". This enables its users to get a key copy by simply uploading a photo they have of the original key. The bad news is that this service isn't global as of now and is only available in San Francisco and New York.
https://www.thepricer.org/wp-content/uploads/2021/02/keyme-kiosk-cost.jpg
380
610
Alec Pow
https://www.thepricer.org/wp-content/uploads/2023/04/thepricerlogobig.png
Alec Pow
2021-02-24 13:29:01
2023-07-03 11:41:00
How Much Does KeyMe Kiosk Cost?