Crumbl Cookies Menu Prices
Cookies are representative products of dessert. Each of us eats something sweet at least twice a week, both for taste and to ensure the weekly need for sweet that every human body feels. Whether we prepare them ourselves at home in our own kitchen or we buy them from food or confectionery stores, cookies are definitely products bought by each of us when we have a craving for dessert.
Very sweet, less sweet, sour, salty, or bitter, depending on the tastes and preferences that each of us has, cookies have been and will always be the favorite desserts for both children and adults. With this idea in mind, two crazy cousins founded the Crumbl Cookies business.
Crumbl Cookie is an American cookie store chain with locations all over the United States of America. In the table below you will find the latest Crumbl Cookie menu prices.
Food
Size & Price

Cookies

Party Box

12 large warm gourmet cookies

$25.99
4-Pack Box

4 large warm gourmet cookies

$11.49
6-Pack Box

6 large warm gourmet cookies

$15.99

Crumbl Cream

Crumbl Cream
$10.79

Drinks

Crumbl Water (Chilled)
16 oz. – $2.99
Milk -2% (Chilled)
16 oz. – $2.99
Milk – Chocolate (Chilled)
16 oz. – $2.99
Brand History
Crumbl Cookies was founded in 2017 by the two cousins Sawyer and Jason McGown. After they spend thousands of dollars on recipes, flour, and sugar, they finally decided to offer people their perfect chocolate chip cookie. So, in 2017 they opened their first store in Logan, Utah. At that time Sawyer Hemsley was attending Utah State University.
You might also like our articles on the menu prices of Cold Stone Creamery, Nothing Bundt Cakes, or Dunkin Donuts.
It was very important for the founders of this company that their customers see in real-time how the cookies are being prepared, mixed, balled, baked, and dressed. They based on this principle since the first day of activity. Also, very important was and still is the use of high-quality ingredients. In the beginning, just Crumble chocolate chip cookies with fresh milk were offered for delivery and takeout. But, in time there more services were added such as nationwide shipping, catering, and curbside pick-up. Also, new flavors were added to their cookies. Moreover, Crumbl introduced the rotating menu concept, and every week four new flavors were added through rotation.
Nowadays there are more than 460 Crumbl Cookies locations all over the United States of America. Crumbl Cookies continues to develop delicious and unique cookies inspired by well-known foods, flavors, desserts, pies, candies, and more.
Our review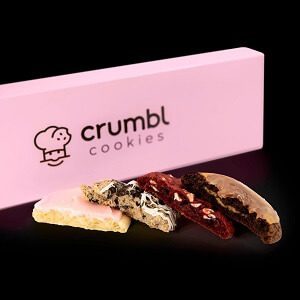 There is no doubt that Crumbl Cookies are absolutely delicious, but they would not be complete without their famous pink packaging. In these iconic boxes four, six, or eight cookies can be packed. Sawyer and together with his classmates from Utah States University created this oblong-shaped, unique box. The brand's signature pink coloring is easy to be recognized and it is Instagrammable, which makes it perfect for social media posts.
Crumbl Cookies has a unique business concept. In each store, the staff is mixing, baking, and preparing every batch of cookies fresh in an open kitchen so everyone can see. Their standard flavors are chilled sugar and warm chocolate chips, but new flavors are added every week.
Among the Crumbl specialty cookies are the Chocolate Caramel, the Muddy Buddy, the Coconut Lime, the Biscoff Lava, the Snickerdoodle, the Funfetti, and many more.
Crumbl FAQs
At what time does Crumbl Cookies open?
Most of the Crumbl Cookies locations open at 08:00 a.m. every day. However, it depends on the location and day of the week. It is recommended to verify this information on their official website.
At what time does Crumbl Cookies close?
Crumbl Cookies close at 10:00 p.m. from Monday until Thursday, and at 12:00 a.m. from Friday until Saturday. But it depends on the location and day of the week. So, you should check the operating hours of the location you are interested in on the official website of the store.
How long has been Crumbl Cookies in business?
Crumbl Cookies is present on the market since 2017. Their first location was opened in Logan, Utah.
Who owns Crumbl Cookies?
Crumbl Cookies is owned by Jason McGowan.
Is Crumbl Cookies family-owned?
Yes, Crumbl Cookies is a family-owned business.
How many Crumbl Cookies flavors are there?
There are around 200 flavors of Crumbl Cookies and new ones are added constantly.
Are Crumbl Cookies vegan?
Unfortunately, Crumbl Cookies does not have any vegan cookie options yet.
How many calories does have a Crumbl cookie?
Cookies produced by Crumbl are low in sugar and contain around 600 calories.
Are Crumbl cookies gluten-free?
Unfortunately, Crumbl Cookies does not have gluten-free options yet.
https://www.thepricer.org/wp-content/uploads/2022/05/crumbl-cookies-menu-prices.jpg
380
610
Alec Pow
https://www.thepricer.org/wp-content/uploads/2022/01/thePricer.png
Alec Pow
2022-05-31 10:59:51
2022-05-30 07:00:06
Crumbl Cookies Menu Prices