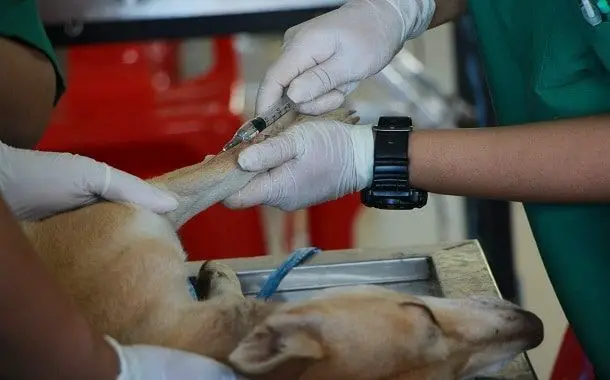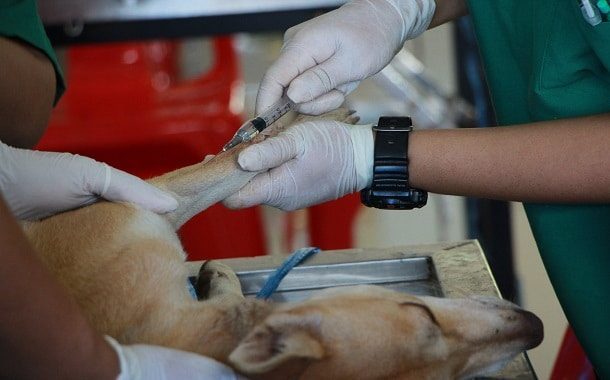 The Cytopoint injection (Zoetis) is a medication created to aid dogs with skin allergies, typically known as atopic dermatitis in the pet medical world.
With Cytopoint, the itch from these skin allergic reactions can be kept under control, aiding the pet dog's skin to recover, enabling your pet to enjoy its life.
Cytopoint will require a prescription from your vet and need to be cooled at all signs.
Just how much does Cytopoint cost?
The price of Cytopoint injections will depend on the veterinarian you work with, your geographical place, and the dose needed (based upon your pet dog's weight), depending on your pet's specific circumstances.
You might also like our articles about the cost of dog vaccination, dog deworming, or DHLPP vaccination.
From our research online, the expenses for just the injections vary from just $35 for a 10-milligram vial to as much as $70+ for a 40-milligram vial, and again, this is just for the vial, not the veterinarian's office consultation fee. These injections, not including the vet office fee, will have to be added to the total given that you will require a prescription for the said injection.
A typical Cytopoint injection will usually cost around $70 to $150 at your local veterinarian's. If you have a pet that is around or over 85 pounds, then you will need more than just one vial of Cytopoint, which will also increase the final cost.
Check out the chart below to see the number of vials your pet would require and take the cost averages from above. From there, add your veterinarian office quote, usually somewhere around $35 to $65, to get a better idea of just how much you might need to pay:
| Dosage | Average Cost (JUST for vial) |
| --- | --- |
| 10mg | $45 |
| 20mg | $60 |
| 30mg | $70 |
| 40mg | $85 |
As the injections only provide relief for as much as 8 weeks, you will need to continue these injections to prevent the itching.
At 1800PetMeds, for example, the business offers a 10, 20, 30, and 40-milligram vial, with rates varying from as low as $35 for the 10-milligram vial to as much as $70 for the 40-milligram vial. Due to the refrigeration needed for the vials, overnight shipping will be an extra expense and syringes will be another separate purchase if you were to need them. While you can buy the vial from an online drug store, you will need a prescription from your local veterinarian in order to acquire it lawfully.
How does Cytopoint work?
Cytopoint is created to target and reduce the effects of interleukin (IL) -31, which is the cytokine that causes your pet's skin to itch due to allergic reactions. As soon as Cytopoint is injected underneath your pet dog's skin, it will begin to work within the first 24 hr and can offer approximately 6 to 8 weeks of relief. In contrast to other injections and drugs, Cytopoint is seen as a biological therapy, which means that it's a non-pharmaceutical treatment that works in a way comparable to that of your dog's body immune system, adding engineered antibodies that are really similar to your dog's natural antibodies. In this way, the injections were created to target and reduce the effects of the main proteins responsible for sending out those itch signals to the pet dog's brain.
Adverse effects
Possible negative effects might consist of an allergy, facial swelling, or hives. If any of these negative effects were to take place, then treatment would be recommended right away.
Tips to keep in mind
The vial, if you were to inject your pet at home, will need refrigeration, meaning that if you were to buy it online, it will have to reach your doorstep in as little time as possible. This, depending upon who you buy from, can result in extra shipping expenditures.
All vials are for single usage only as they do not have any preservatives. After piercing the vial and utilizing it, it must be disposed of.
Cytopoint is best utilized by a vet or under the instructions of one.
As the injections are known to be biological therapy and not seen as a drug, they will be naturally broken down by the body and will not be removed with the help of the liver or kidneys like other drugs.
As already noted, injections can give some relief for as much as 8 weeks, however, the maker of the drug, via their main site, wants you to track your pet's history with its Itch Tracker. This information, based upon a 1 to 100 scale, will aid your veterinarian figure out how the itch has actually decreased in time and how reliable the injections are for your pet dog as every pet will have different results.
https://www.thepricer.org/wp-content/uploads/2021/02/dog-cytopoint-injection-cost.jpeg
380
610
Alec Pow
https://www.thepricer.org/wp-content/uploads/2022/01/thePricer.png
Alec Pow
2021-02-09 12:58:06
2022-01-23 22:20:03
Cytopoint Injection Cost