Dave and Buster's Bowling Cost – Dave and Busters Prices
Last Updated on January 26, 2023 | Written by CPA Alec Pow
First Published on February 1, 2021 | Content Reviewed by

CFA Alexander Popivker
Dave and Buster's, aside from providing games, food, a bar, and billiards, also provides bowling at select places. But how much will you actually spend inside a Dave and Buster's location for a night of fun?
Just how much does Dave and Busters bowling cost?
The cost you should expect for bowling at Dave and Busters isn't listed on their official site, however, according to some online sources, it will more than likely be somewhere between $2 and $5 per game, per individual. These expenses, just like bowling at most bowling alleys, will depend upon the day, the time of year, and the time of day. The midweek, for instance, will be a lot more affordable than weekend nights.
You might also like our articles about the cost of a membership at Mountaingate country club, or Bellerive country club.
These are the current rates for bowling at Dave and Buster's:
ITEM
PRICE

Monday – Thursday

10:00 A.M. – 5:00 P.M.
Per Game (Per lane) – Monday-Thursday (Per Hour)
$15.00
Shoes Monday-Thursday (Per Person)
$3.00
Socks Monday-Thursday (Per Person)
$1.00
5:00 P.M. – 12:00 A.M.
Per Game (Per lane) – Monday thru Thursday (Per Hour)
$20.00
Shoes – Monday thru Thursday (Per Person)
$3.00
Socks – Monday thru Thursday (Per Person)
$1.00

Friday – Sunday

10:00 A.M. – 1:00 A.M.
Per Game (Per lane) – Friday-Sunday (Per Hour)
$35.00
Shoes – Friday-Sunday (Per Person)
$3.00
Socks – Friday-Sunday (Per Person)
$1.00

House Policies

Bowling: 8 People maximum per lane.
Individuals under 18 years old must be accompanied by a guardian age 25+ with a max of 6 persons per guardian.
$0.00

Power Card Pricing

60 Chips
$12.00
125 Chips
$23.00
170 Chips
$29.00
250 Chips
$40.00
375 Chips
$56.00
550 Chips
$75.00
750 Chips
$100.00
4 Play Pack
170 Chips (Per Card)
$25.00
250 Chips (Per Card)
$35.00
375 Chips (Per Card)
$50.00
$2.00 Card activation fee for all new game cards.
$0.00
Does Dave & Buster's charge an admission fee?
Dave & Buster's doesn't require you to pay a fee for admission. You are always welcome in any of their establishments and watch others playing. You will only have to pay when you order something to eat or play one of their games.
You can go in, enjoy a game and some food and then just leave as you please.
Dave and Buster's bowling summary
Dave and Busters offer an over-the-top multi-lane tenpin family-oriented bowling experience. Here, according to the main site, visitors can take pleasure in a video wall that showcases all of the latest music videos, blacklight or cosmic bowling, and a full-menu service.
Throughout some pretty special times, the bowling alley will have a DJ spinning Top 40 tunes and its own bar.
At the end of the bowling lanes, there are flat-screen Television sets.
What are other Dave and Busters prices to prepare for?
Shoe rentals, if you will need a pair of shoes, can cost somewhere in the range of $5 per person.
Dave and Busters also has a full-service food and drinks area and their food menu is actually pretty extensive. The entree is among the most ordered menu items from their mouth-watering menu.
How many points or chips will a game cost at Dave & Buster's?
Most games you find inside Dave & Buster's locations will have a price between 3 and 10 points or chips, although the big majority will be in the range of 5 to 7 chips. Although it's something rare, there are games that go over the 10-point mark.
An average you should expect to pay is 6.9 chips according to game enthusiasts. Skeeball is on the lower end, at just 2.6 chips. Although the final prices will depend on how much you play and the time of your visit, you should expect a virtual reality experience to cost over 20 chips. Depending on the location, you might have to purchase the virtual reality experience separately.
How much is a Power Tap or a game card at Dave & Buster's?
When getting a Power Card, you will be required to pay a fee of $3 for activation the first time you use it. In return, you will get 15 chips. After you pay the initial $3, you will only pay additionally depending on what you play, each game coming with its own required price in chips.
If you don't want to pay an activation fee, you should bring your card whenever you come again.
The Power Tap or Power Card will have to be loaded with points (chips). Each time you tap the device or swipe the card, chips will get deducted depending on the game you choose.
If you want to buy a Power Tap, you will be charged $10, regardless of whether it is a power want, a lanyard, or a wristband. Each of these will come with 25 chips added to them right from the start.
What are the Dave & Buster's game prices?
If we take an average game worth 6.8 chips, it would mean that the average Dave and Buster's game prices are between $.90 and $1.36.
Chips will cost you somewhere between $.13 and $.20 depending on how many you buy. With some exceptions, most arcade games at Dave and Busters will cost between 5 and 7 points.
The more chips you buy, the cheaper they will get per chip.
Keep in mind that these prices might change in time, but as of November 2022, their official website listed these prices:
750 chips = $100 (13.3¢ per chip)
550 chips = $75 (13.6¢ per chip)
400 chips = $60 (15¢ per chip)
275 chips = $45 (16.4¢ per chip)
200 chips = $35 (17.5¢ per chip)
135 chips = $25 (18.6¢ per chip)
75 chips = $15 (20¢ per chip)
Do Dave & Buster's points or game cards have maintenance-free or expire?
You won't have to pay any maintenance fees and the Power Card itself won't expire at Dave & Buster's. You can return anytime you want to go through any chips you still have. Although points and game cards won't expire, Reward points will.
What is "One Last Game? at Dave and Buster's"
If your card has a very small number of chips left, which isn't enough for a game, you can try skeeball with anything that is left.
This will leave most people with a nice feeling of using everything they paid for and having fun while doing so. What else would 1.5 points be good for as soon as you leave? Use this credit especially if you have no plans to ever return and reload the card.
Can you combine chips and cards at Dave & Busters?
If you have chips on multiple cards, you can combine them to play a single game. The front desk personnel will be more than happy to help you do this.
Tips to keep in mind
According to Dave and Buster's, the places, since 2023, which have a bowling alley, include Concord, NC; Hanover, MD; Houston, TX; Lawrenceville, GA; Nashville, TN; Philadelphia, PH; Scottsdale, AZ; and Westbury, NY.
How can you save some money?
People that join the Dave & Buster's Rewards system, will receive $10 coupons in their emails, that they can redeem to play games in any Dave & Buster's locations. Keep in mind that this coupon will expire within a month.
You will usually receive this coupon in around 24 to 48 hours from when you join. If two or more days have passed and you still haven't received it, try checking your spam folder. You will only receive this freebie if you verify your email address. Don't try to get this coupon right before going out for a play night, as you won't receive it right away.
Also, with every $100 you spend on fun and food, you will receive $10 in free game play tokens. This offer doesn't include alcoholic drinks.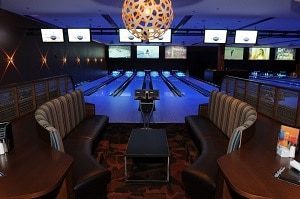 According to the main site, it does seem that they provide some special promos. For instance, at the time of this publishing, they were offering up to 50% discounted games every Wednesday. If you plan to do more than simply bowling, they do provide unique promo plans also which can bring the expenses down depending on what you plan to do at their locations.
Throughout most holidays, they typically hold a promo where you can purchase a gift card and get a totally free game play card.
There are also Dave and Buster's vouchers readily available online. A fast search can usually yield some pretty nice results, so make sure to watch out for these offers before booking a date.
Dave and Buster's locations in United States might not be the cheapest ones available around you, but it will surely be a great experience, a nice-looking place, that will help you have fun without hitting your pockets too hard.
Coupons available online are per individual, or, on some rare occasions, for groups or per family. Contacting them by phone might help you find offers that wouldn't be available online.
The alleys are professional enough to help you get that A-game that you will remember for a long time. Consumer reviews of Dave and Busters are generally positive in nature.
Never been to Dave and Buster's and not sure whether it is for you? Check out this live tour video:
https://www.thepricer.org/wp-content/uploads/2021/02/dave-and-busters-bowling-cost.jpg
380
610
Alec Pow
https://www.thepricer.org/wp-content/uploads/2023/04/thepricerlogobig.png
Alec Pow
2021-02-01 09:19:46
2023-01-26 10:26:43
Dave and Buster's Bowling Cost – Dave and Busters Prices