Last Updated on December 23, 2022 | Written by CPA Alec Pow
First Published on October 1, 2021 | Content Reviewed by

CFA Alexander Popivker
The Dexcom CGM system is a significant advancement in diabetes management tools. With real-time glucose information, people with type 1 or 2 diabetes can manage their disease without worrying about finger sticks for daily monitoring of blood sugar levels every few hours like before.
A new Dexcom user needs to start continuous blood glucose monitoring with a transmitter and a set of sensors. A sensor is part of a constant blood glucose monitoring (CGM) system that is inserted under the skin, which allows it to measure blood sugar levels. It sends your blood glucose data to a compatible smart device, helping you keep track of your blood sugar trends and levels at regular intervals and make better-informed treatment decisions.
How much does a Dexcom CGM system cost?
The price of a CGM system will depend on which model you want and where it's purchased. At the time of this writing, there were three available models:
Dexcom G5 Mobile System with prices ranging from $550 to $860 per transmitter without insurance (which can be expensive);
Dexcom G6 GCM, their newest release that is expected to retail between 50%-75% above the costs of the previous model;
Dexcom G4 CGM which is the oldest version, but with the same prices as the G5 model.
For about $1,600, you can also buy a starter kit containing one box of sensors, a receiver, and two transmitters.
If you choose to buy only the transmitter, its sensors will not be included in the total cost, and these have to be replaced every seven days. The price for one sensor is $110, or you can buy a box of four for $330 to $410.
Regarding the transmitter, the company notes that it lasts only three months, which is why you receive two of these when you purchase from them.
| | |
| --- | --- |
| Dexcom parts | Prices |
| Receiver (only required for some models as you can use your phone for the G6, for example) | $500 to $800+ |
| Sensors | $300~ for a pack of four |
| Transmitter (only lasts 3-6 months) | $300 to $400 each |
For example, we found a Dexcom G5 Transmitter on its own on Amazon.com at the price of $460, but it was out of its validity date, and, as for many other people, it is not recommended to buy it this way.
A member of the DiabetsDaily.com forum said that with the coverage, she paid $660 for the G4 receiver, $820 for the transmitter, and $770 for the sensors and after the insurance company paid its share, the final cost to get started was $1,350. Also, he mentioned that the cost per year was $2,700, and he expects to spend less than $5,000 for two years.
According to one member of the TuDiabetes.org forum thread, the cost of a transmitter is $1,100 if co-paid and $310 for a box of sensors, which are enough for a few months. Another member of the same forum said that he was required to pay $2,600 for a G4 system per year.
You might also like our articles about the cost of HSG tests, Exogen bone healing system, or tuberculosis tests.
If you have health insurance, your costs for devices like this are likely covered. But as with any of those health insurance policies, the exact amount that will get reimbursed varies based upon what's included in your plan and how much is covered by co-pays/deductibles. If some people have paid only $100 per month for the whole package, others had to spend some thousands in a year. You better check with your insurance provider and the retailer before making your purchase to see how much you would have to pay.
How does the device work?
The sensor is a small, thin thread that is inserted under the skin through a guide needle. The guide needle is removed immediately after the sensor has been placed under the skin. The transmitter is fixed over the sensor, collects the sensor's information, and transmits it wirelessly to the receiver or smartphone. A compatible receiver or smartphone will show the following information: blood sugar trend wave, current blood sugar level, trend forecast – the direction and speed with which your blood sugar will change.
Dexcom G5 CGM specifications
F.D.A. approved the CGM Dexcom G5 Mobile system to help you manage your diabetes as well as possible, to avoid the times when you have to make a decision based only on a figure displayed on the traditional glucometer.
Studies have confirmed that using a CGM system can reduce hemoglobin A1C levels and reduce the risk of episodes of hypoglycemia if you are on insulin injection therapy or an insulin pump.
The recommended insertion area for the sensor placement is on the abdomen, but consider the manufacturer's specifications and your doctor's recommendations. The sensor should be placed at least 2,36 inches away from the insulin pump insertion area and away from scars, tattoos, moles, or contact with clothing belts, where there is a risk of easy detachment.
The Dexcom CGM system can be helpful for patients who:
Suffer from Type 1 Diabetes or Type 2 Diabetes;
are not aware when hypoglycemia occurs;
tend to have episodes of hyperglycemia from fear of hypoglycemia;
have a lot of off-target glycemic episodes during the night;
want a tighter blood sugar control before and after serving meals;
want information about blood sugar during and after physical activity;
are interested in details about the glycemic trend.
Dexcom G6 CGM specifications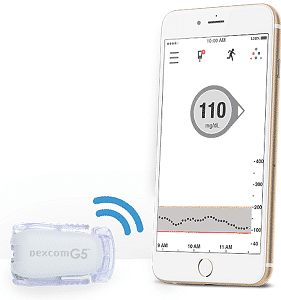 Dexcom G6 is a CE and FDA-approved CGM system that allows you to make treatment decisions without testing your blood sugar from your fingers.
The Dexcom G6 sensor is placed using an automatic applicator in the subcutaneous tissue and performs blood glucose measurements continuously from the interstitial fluid. The self-applicator facilitates the insertion and minimizes the possibility of failure due to placement error, and allows the sensor to be placed under the skin in a fast and straightforward way, avoiding, at the same time, the possibility of accidents.
The Dexcom G6 transmitter is reusable for up to three months from the date of activation, connects to the Dexcom G6 sensor, and transmits blood glucose values in real-time so that the user can view the information directly on their compatible smart device. The dedicated Dexcom G6 application displays the current blood sugar levels as well as the blood sugar trend. Personalized alerts can be set when specific blood glucose values are reached.
The Dexcom G6 system is made from the following components:
The sensor which is a small, thin thread that is inserted under the skin using an automatic applicator; the ultra-thin and waterproof sensor is discreet and easy to apply.
The transmitter that is fixed over the sensor; the transmitter collects the information from the sensor and transmits it wirelessly to the smart device.
Compatible smart device: Data is transmitted to a smart device that records information from the transmitter.
Compared to a traditional glucometer, which provides only one blood glucose value measured at a time, the Dexcom G6 CGM system provides real-time, dynamic blood glucose information every 5 minutes – up to 288 records in 24 hours offering a high-performance solution to see what is constantly happening with your blood sugar level.
Important things to consider
The new version of the device can be used without a receiver as you can use your smartphone as an alternative, saving you hundreds of dollars.
Customers who purchase directly from the official website of Dexcom can expect to take advantage of special promotions from time to time offered by the company.
https://www.thepricer.org/wp-content/uploads/2021/10/Dexcom-CGM-system-cost.jpg
380
610
Alec Pow
https://www.thepricer.org/wp-content/uploads/2023/04/thepricerlogobig.png
Alec Pow
2021-10-01 07:34:22
2022-12-23 14:33:57
Dexcom CGM Cost