Exogen Bone Healing System Cost
Last Updated on March 13, 2022 | Written by CPA Alec Pow
First Published on August 14, 2021 | Content Reviewed by

CFA Alexander Popivker
The exogen bone stimulator is known as a non-invasive bone healing treatment, that uses ultrasound waves of low intensity to a fractured area.
The duration of this treatment lasts for a couple of months or until the bone shows visible healing signs.
Commonly used as a procedure that effectively speeds up the natural healing process of a broken bone. Considered safe and painless, the exogen bone stimulator is probably the only way to ultimately deal with a fracture that won't heal on its own and avoiding the surgery by replacing the natural healing process through which our broken bones are getting fixed.
How much does it cost?
The cost is depending mainly on the version and the retailer. On eBay, we have found used Exogen devices for prices from $180 to $600 and new ones for more than $3,000. These prices are only for the unit and do not include any other costs related to various treatment options. Also, if you have health insurance, these prices might go down considerably.
Regardless of the type of bone stimulator that you want to use, the common and main reason for which it can be covered by your insurance is that the fracture did not heal after a specific time, from 45 days to 90 days. In other words, documents proving this exact condition will be needed in order to be considered eligible by your health insurance provider. However, it is better to consult with your insurance company as the conditions can differ from a company to another.
Some active eBay listings display prices from $200 to $350 for slightly used bone stimulators. A member on Reddit.com said he paid $5,000 for a new unit, while according to one online article, $2,950 is the average price for it.
What are the extra costs?
First of all, as already mentioned, the above prices are only for the unit.
You might also like our articles about the cost of a Wound VAC device, ARP Wave machine, or Holter Monitor.
As for any other electrical device, the battery has to be replaced. Each time this will be needed you will have to pay between $30 and $50.
The same article from above stated that in case of failure, you should prepare up to $25,000 for a surgical procedure that is not covered by insurance, to increase the probability of healing.
Surgery is the most expensive additional cost that unfortunately, in some cases cannot be excluded, but some other common payments for which you will certainly need an extra budget are the x-rays, the consultations, and the follow-up visits. Considering we are all unique individuals and our situations are likely not the same, the additional costs will differ from a patient to another.
How can I save money?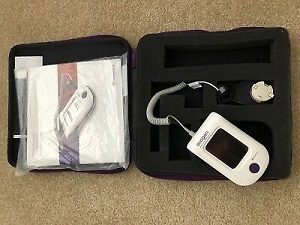 When treating fractured bones, the stimulator can be a cost-effective alternative to other invasive options. For instance, the manufacturer claims that you can save up to $15,000, costs related to surgery and outpatient care.
Though we never thought of this as an option, we have found companies that may offer bone stimulators for rent. You can rent the device for three months or 90 uses, and the average price is $375.
This is not the only branded bone stimulator out there, so make sure to compare it with other devices from OrthoPak, Orthofix, Biomet, and DJ Orthopedics.
It is important to pay attention to many feedbacks which disagree with the purchasing of a used unit. Though you can buy these units on marketplaces like eBay, this is not necessarily a bargain for you, as people are recommending avoiding them. Once activated, they are considered to function for a limited time – 6 months, and if you don't want to get stuck with an error code, you should strongly consider buying a new bone stimulator.
Overview
The cells near the fracture are activated by the painless ultrasound waves and the natural healing process is stimulated. Using The EXOGEN Ultrasound Bone Healing System will mend your fractured bones.
Considering surgery can imply risks of complications, risks of infection, anesthesia problems, and hospital costs; it should be the last option to consider.
Exogen can cut recovery time by weeks and when is used for only 20 minutes per day it has been proved to heal 86% of the non-union bone fractures.
Important things to consider
To receive a bone healing system by prescription you have to consult a physician or a surgeon who can determine if it can be used properly for your situation.
A smartphone app that helps you use the device as prescribed is available in the App Store. If you use the app daily, reminders and helpful information are sent through.
The healing of a broken tibia or radius is sped up by 38%, as clinical studies have proven that Exogen can cut weeks off the recovery time.
Though the device has been approved to be used for 180 days, it will display after this period an error code that most of the time says "no treatment remaining".
If while you were using the device, a new fracture occurred, the company does not recommend for you to use EXOGEN for healing it.
https://www.thepricer.org/wp-content/uploads/2021/08/exogen-cost.jpg
380
610
Alec Pow
https://www.thepricer.org/wp-content/uploads/2023/04/thepricerlogobig.png
Alec Pow
2021-08-14 12:46:40
2022-03-13 23:16:14
Exogen Bone Healing System Cost