Ditch Witch Trencher Rental Cost
The Ditch Witch is an ideal trencher that can be used for a number of purposes. It comes with a six-inch chain and shark teeth to facilitate digging in even the sturdiest dirt, making it perfect for irrigation, bed edges, or drainage. Additionally, the sturdy metal body makes this machine tough enough to withstand intense use while still providing excellent maneuverability so you're not stuck using it in one spot all day long.
How much does Ditch Witch trencher rental cost?
Ditch Witch trencher machines are the most popular and practical choice for excavation contractors, both large-scale commercial developers as well as residential homeowners.
The cost to rent a Ditch Witch machine varies depending on what model you need (from $130-$600 per day), but it can be significantly cheaper when renting by the week ($400-$1,200).
Ditch Witch is an industry-leading brand that manufactures quality construction equipment. Referring to our table below, you will see the most common Ditch Witch models and what they can cost when renting from a local company.
Ditch Witch Model
Usual Rental Rate
1324D, C16X, or 1324ST – 36-inch Walk Behind
– Daily: $200
– Weekly: $5200
– Monthly: $1,600
1030, 1230, or 1330 – 24-inch Walk Behind
– Daily: $170
– Weekly: $450
– Monthly: $1,300
Ride On Trencher
– Daily: $500
– Weekly: $1,600
– Monthly: $3,100
C30X – 46-inch Walk Behind
– Daily: $270
– Weekly: $950
– Monthly: $1,900
The following table illustrates how much is the average daily cost of a Ditch Witch trencher by horsepower.
| Gross HP | Average Daily Rate |
| --- | --- |
| 24 | $210 |
| 42 | $260 |
| 62 | $370 |
| 74 | $595 |
| 115 | $830 |
The members on a couple of forum threads said that they paid around $180 to rent for one day, depending on the place you rent it from.
You might also like our articles about the cost of backhoes, mini excavators, and trenching per foot.
The Ditch Witch of Arizona provides a variety of ride-on trenchers equipped with engines that range from 24HP to 121 HP. Prices are as low as $225 per day for the smallest model and can reach up to $1,040 per day if you want something capable of digging deeper.
What are the extra costs?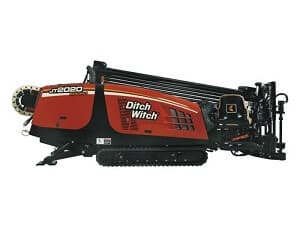 These heavy-duty pieces of machinery require skilled operators who have been trained on how best to maneuver them around obstacles without damaging underground utilities like water pipes and electric cables, so expect to pay around $35 to $80 per hour for an operator.
You will also need to buy more fuel if you're planning on using the machine for a long period of time. All rental companies require you to bring back the machine with a full of gas in it or close to how it was when you received it.
The company offers a delivery and pick-up service for all equipment, but this is not included in the standard package, so there will be an additional charge.
Important things to remember

The Ditch Witch trencher is available in two types, a walk behind and a rider. The first can be operated by one person or more depending on the size of their yard while the latter has to have at least four people which makes it ideal for projects that require heavy lifting such as trenching very large areas quickly and when you need assistance with moving dirt.
Call 811 before using the machine to avoid digging through lines that have been placed there by the city. This will make sure that you avoid damaging underground phone and electrical cables when digging for a new pool or garden.
The machine is too big for any pickup truck bed and will have to be loaded onto a trailer or delivered. If you don't have the right equipment, it might be best to just rely on professional movers or finding an alternative solution like delivery so that your project doesn't suffer from any delays in service.
How can I save money?
The Ditch Witch is a brand, so unless you want this specific make and model of equipment for your project, there are alternative rental companies in the area that can do just as good of a job with more affordable rates.
https://www.thepricer.org/wp-content/uploads/2021/08/Ditch_Witch_rental-cost.jpg
380
610
Alec Pow
https://www.thepricer.org/wp-content/uploads/2023/04/thepricerlogobig.png
Alec Pow
2021-08-20 16:44:56
2021-12-09 12:49:18
Ditch Witch Trencher Rental Cost