Last Updated on August 15, 2020 | Written by CPA Alec Pow
First Published on August 27, 2016 | Content Reviewed by

CFA Alexander Popivker
First off, what is a backhoe? It's a tractor with a diesel engine and a digging bucket that is mounted in the back on a two-part hinged arm. If it has an arm and digging bucket in its rear but also a bucket like a shovel on the front, then it is called a backhoe loader. Although it looks slightly different, a backhoe loader is also better known as a backhoe. Some people use just a backhoe as heavy equipment on small and medium-sized projects in construction or demolition, because of the many tasks they can perform at a relatively small size.
So how much will a backhoe cost you?
If you plan to buy a backhoe, you must know that they are pretty expensive. They range from $10,000 to $120,000 or even more, depending on the make, model, year of release, and the attachments it comes with. This means that it isn't advisable to buy one, especially for a small to a medium project of construction, demolition, or landscaping.
If you want to rent a backhoe with an operator/driver, most companies will charge you around $50 to $125 per hour. In the US the countrywide average is around $60-$100 per hour, depending mostly on the type, age and size of the backhoe, the length of the contract, and your location. Also, take into account that you will be charged by most companies for travel time and a setup fee. For smaller jobs and especially when the backhoe has to travel a longer distance to reach your place of need, you will be required to book it for a minimum number of hours (usually no more than 5 to 10 hours) or a minimum contract cost of $100 – $500 if not more. If you need a backhoe for multiple tasks take into account that different attachments to help you drill holes or compaction might add around $20 to $80 per hour to expenses.
Want to Get a Backhoe to Clear Snow? Here's The Cost of Snow Removal
If you want to rent a backhoe to use it yourself, you'll end up spending around $150 to $300 for 12 hours or even a full day, but you will get a small backhoe with limited usage. If A larger model will cost you more, around $400 per day, but you might get a better deal if you rent it for a full week (around $700 – $1800 per week). Before getting a backhoe for your DIY project, be sure you know how to operate one because damaging it will cost you a lot more than paying for a professional operator. When you rent a backhoe without the operator you will usually be required to place a deposit of anywhere between $500 to $1,000. It's also smart to have insurance on the backhoe for as long as you use it. If you can't take the backhoe to your desired place or job site, you will be charged for delivery.
A backhoe can replace a lot of other tools and save you money because it can break apart and dig holes in asphalt or concrete, demolish structures dig trenches, or carry and move heavy equipment or materials. If you plan to dig holes or trenches, or even demolish a building, be sure to contact utility companies in the area to get information about underground utility equipment or lines.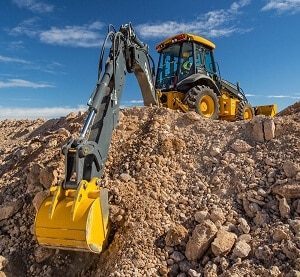 Using The Backhoe To Build a House? Here's How Much Will it Cost to Build a House
Where do you start?
If you want to rent a backhoe but don't know who to talk with, the best idea would be to talk to one of the big constructors in your area. If they don't have one for rent, they will surely know who has.
In the summer prices might be higher, so, if possible, try to rent it in a colder season.
When paying by the hour, stick around for the whole time, to make sure you finish as fast as possible, while making everything as durable as possible.
Should the average working Joe rent or buy a backhoe?
The short answer is – rent. If you're not a big constructor, then owning a backhoe can prove to be useless. If you never operated one, be sure to get it with a professional operator to avoid damaging the backhoe and get the job done as fast and professional as possible.
https://www.thepricer.org/wp-content/uploads/2016/08/backhoe-rent-or-buy-cost.jpg
380
610
Alec Pow
https://www.thepricer.org/wp-content/uploads/2023/04/thepricerlogobig.png
Alec Pow
2016-08-27 02:22:48
2020-08-15 21:24:27
Backhoe Cost