Firestone Brake Service Cost
Firestone Complete Auto Care is one of the best-known automotive service brands, and it's clear to see why. From providing quality products like tire repair kits that will get you back on the road with minimal fuss to being your go-to destination for car maintenance, Firestone will make sure that your car is always in optimal condition.
Firestone Complete Auto Care is also the one-stop-shop for all of your braking needs. From a simple inspection to brake pads and more, they can help you out with anything that might be going on with your brakes for an affordable price.
With more than 1,600 locations across the nation and a nationwide warranty to back up their workmanship, Firestone offers one of America's most trusted brands for car repair.
You might also like our articles about the cost of brake line repair, brake bleeding, or brake pad replacement.
The cost of Firestone standard/lifetime brake service
There are many factors that go into the cost of servicing your brakes at Firestone. Some of these include what type you service, and how often they need to be serviced. this is something we'll discuss later in our guide, but for now, you can check out the table below for a general list of prices.
| Option | Pads | Warranty | Price (per axle) | Rotor resurfacing included | New hardware installed | Brake fluid exchange included |
| --- | --- | --- | --- | --- | --- | --- |
| Standard | Wagner | 12 month / 12,000 mile | $175 | Yes | No | No |
| Standard with Fluid Exchange | Wagner | 24 month / 24,000 miles | $350 | Yes | No | Yes |
| Lifetime | Wagner | 12 month / 12,000 mile + lifetime warranty as explained below | $450 | Yes | Yes | Yes |
Keep in mind that the prices for car servicing can vary wildly. We got the above prices by searching online, mainly on car forums. Take these prices as an average of what you may pay, but it is likely that your price will be much higher if they find something wrong with other parts on the car during their inspection. You might also pay less if you manage to snatch a coupon or land a promotion for your service.
A member of the AnAndTech.com forum who was quoted $16.99 for an inspection, but had the fee waived if he committed to service broke down the bill he got: $59.99 for ceramic disc pads; $115 labor charge plus tax, $12,99 for the brake fluid exchange, $151 for both rotors, $2.60 for fluid waste disposal and $75 for the labor required.
Brake service options available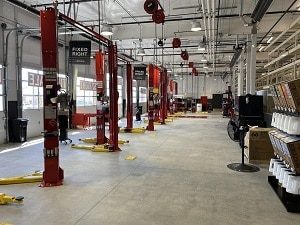 Standard Package – The Standard package, known as the "good" package, includes installation of new brake pads/shoes and resurfacing of your rotors. They also inspect all other components to ensure everything is safe for use while also including a lifetime warranty on our shoes and disc pads. Your 12-month labor will be covered with this service too.
Standard package with a fluid exchange – A standard package with a fluid exchange includes everything in the original, plus an extra brake fluids change/bleeding. This ensures that your car is safe to drive and has all of its parts working properly at all times. In addition, you will get a 24-month or 24,000 miles labor warranty for this service as well which can be really handy.
Lifetime service – Depend on your budget and driving needs to decide whether this is the right package for you. The "Lifetime service" brake package includes everything in our fluid exchange kit, plus new calipers/wheel cylinders and a lifetime warranty on labor, disc pads, shoes (excluding rotors), hardware, etc. Other features include up to 12000 miles or 12 months of warranty, as well as the rotors and the drums.
There's a lot of work that goes into repairing brakes, and the technicians at Firestone are well equipped to handle it all. The company can do anything from a brake fluid exchange to resurfacing any rotors. They also have the capability of replacing all your brakes and making adjustments on drum brakes, not to mention repairing or diagnosing anti-lock braking systems.
The inspection job
When your brakes are acting up and you think it might be time for brake service, the company will perform free checks seven days per week. They'll measure both pads, inspect rotor or drum, check fluid levels with strip dip test methods as well as e-brake inspection. Using these tests they will be able to find out if you need either rotor resurfacing, brake bleeding, brake fluid exchange, new brake pads, and/or other services performed, like replacement of hoses, linens, or other brake parts.
Some symptoms of bad brake pads
A high pitch sound coming from the wheel well is a sign of brake problems.
When you notice dark fluid spilling onto your driveway, it can also be a symptom of bad brake pads.
Also, one of the more obvious signs is when the brakes don't work as they should.
Another sign of brake issues any slight loss of control when brakes are applied.
If ABS light is illuminated on the dashboard but the ABS itself isn't the culprit, it usually is a problem of the brakes as well.
Important things to keep in mind
Nationally, the company uses Wagner® ThermoQuiet® brake pads because they are innovative and advanced. These one-piece brakes offer noise dampening for a quieter drive and heat dissipation so you don't overheat your wheel system on long trips or when driving in stop-and-go traffic during rush hour. No matter which car you have, there is always going to be a set of these high-quality braking systems that will match it flawlessly for optimum performance every time. Last year alone they performed close to 1 million services, which equals to about 3 thousand per day.
https://www.thepricer.org/wp-content/uploads/2021/06/Firestone-Brake-Service-Cost.jpg
380
610
Alec Pow
https://www.thepricer.org/wp-content/uploads/2023/04/thepricerlogobig.png
Alec Pow
2021-06-08 06:08:31
2021-06-08 06:08:31
Firestone Brake Service Cost