Golden Corral Prices – Costs for Adults and for Kids
Last Updated on October 4, 2023 | Written by CPA Alec Pow
First Published on March 8, 2021 | Content Reviewed by

CFA Alexander Popivker
People that have grown up in the South not only know but have also most likely visited Golden Corral at least one or two times in their life. They call themselves the number one Buffet in America, which you will notice isn't so far-fetched once you visit one of the many Golden Corral locations.
A lot of families come to these places with joy, after church hours being the most full of all. As the buffet prices are pretty reasonable and you will likely find a lot of your friends in these locations, going there at least once a week can easily become a habit. The food is good and in abundant amounts and the atmosphere is relaxed, enabling you to lay back and forget about stress. Still, a lot of people wonder about the Golden Corral Prices.
As most buffets, it is an all-you-can-eat type of place, all day long, although it also has a take-out menu, which we will talk about below.
How Much Does it Cost to Eat at Golden Corral?
You might also like our articles about the cost to eat at Hell's Kitchen, at Bellerive Country Club, or at Exmoor Country Club.
If you want to eat lunch or dinner at Golden Corral, expect prices between $10 and $18 per individual. The costs will ultimately depend on whether any promotions are active when you go, your geographical location, as well as the time of the day.
When it comes to breakfast, this will usually depend on the exact location you're going to, however, expect a price somewhere around $11.50. If you bring your kids of 3 years or younger, you will not have to pay for them. Children older than 3 will be charged around $10 for breakfast. If you go during one of their golden or promo offers, you will receive decreased rates as a couple. These offers are usually held through national holidays.
Golden Corral Prices per Person
Item
Price
Seniors (60 & Over)
Breakfast
Saturday & Sunday (Open – 11am)
$13.49
Lunch – Beverage Not Included
Monday – Friday (10:45 – 4pm)
$11.99
Saturday (After 11am)
$11.99
Senior Earlybird Special
Includes Beverage
Monday – Friday (11am – 3pm)
$10.99
Senior Dinner
Beverage Not Included
Monday – Saturday (After 4pm)
$16.99
Sunday (After 11am)
$16.99
Children
Breakfast & Lunch – Includes Beverage
3 & Under – Limit 2 Free Meals per Adult Purchase
$0.00
Ages 4-8
$9.99
Ages 9-12
$10.99
Adults
Breakfast
Saturday & Sunday (Open – 11am)
$13.99
Lunch – Beverage Not Included
Monday – Friday (10:45 – 4pm)
$13.49
Saturday (After 11am)
$12.49
Adult Dinner
Beverage Not Included
Monday – Saturday (After 4pm)
$17.99
Sunday (After 11am)
$17.99
Dinner – Includes Beverage
3 & Under – Limit 2 Free Meals per Adult Purchase
$0.00
Ages 4-8
$11.49
Ages 9-12
$12.49
To Go
By The Pound (Weight & Pay)
Breakfast
$9.99/lb
Lunch (Monday – Friday)
$7.99/lb
Dinner (Monday – Friday & all day)
$9.99/lb
Dinner (Saturday & Sunday)
$9.99/lb
KEEP IN MIND: As there are multiple locations across the US, these prices might differ slightly depending on the location you're visiting. If you're a senior individual, you will usually be charged around $1 less than an adult. Expect these prices to be higher or lower depending on individual promos during Easter, Christmas, Thanksgiving, or other national holidays.
When getting food as takeout, you will usually be charged by the pound, with prices of between $8 and $10 per pound.
Discussions on the TasteofHome forum revealed that members were charged somewhere between $10 and $17 per person for dinner alone in locations all around the US.
Golden Corral Prices for Takeout
Menu Items
Price

Pizza

12-inch pizzas with hand-tossed dough and our special tomato sauce.
Pepperoni Pizza
$8.31
Cheese Pizza
$7.15
12″ Pepperoni Pizza
$8.18
12″ Cheese Pizza
$7.11

Large Party Platters

Baked Ham Platter
$8.91
BBQ Pulled Pork Platter
$11.37
Bourbon Street Chicken Platter
$38.4
House Salad Platter
$22.03
Meatloaf Platter
$24.87
Party Baked Potatoes
$2.29
Party Black Eyed Peas
$20.92
Party Buttered Corn
$17.65
Party Gravy
$4.63
Party Green Beans
$17.65
Party Macaroni & Cheese
$28.83
Party Mashed Potatoes
$28.72
Party Pinto Beans
$20.9
Party Red Bliss Potaotes
$20.9
Party Steamed Broccoli
$17.65
Party Steamed Cabbage
$17.66
Party Steamed Carrots
$17.65
Party Yeast Rolls
$3.61
Pot Roast Platter
$43.84
Potato Salad Platter
$23.09
Seafood Salad Platter
$40.43
Sides
$2.33
Smoked Chicken Platter
$27.4
Tuna Salad Platter
$34.49

Large Party

Sweet Potato Casserole – Pan
$28.81
Steamed Broccoli – Pan
$17.88
Smoked/Rotisserie Chicken
$12.91
Smoked Pulled Pork – priced by the pound
$11.7
Red Bliss Potatoes – Pan
$21.03
Pot Roast – Pan
$43.6
Pot Roast – 2 Roasts
$44.76
Pinto Beans – Pan
$20.88
Mashed Potatoes – Pan
$28.89
Mac & Cheese – Pan
$29.04
Green Beans – Pan
$17.89
Gravy
$4.8
Fried Chicken – priced by the Piece
$19.47
Fried Chicken – By the Piece
$11.43
Carrots – Pan
$17.87
Cabbage
$17.77
Buttered Corn – Pan
$17.95
Bourbon Street Chicken – Pan
$38.39
Black Eyed Peas – Pan
$20.91
Baked Potatoes with Toppings – Each
$2.32
Baked Ham – priced by the pound
$8.96
Baked Ham – Priced By the lb
$8.92
Baked Beans – Pan
$21.07

Famous Fried Chicken

12 Piece Family Box
$22.3
20 Piece Crowd Pleaser
$33.1
6 Piece Fun Box
$11.8
8 Piece Whole Bird Box
$16.33

Individual Meals

10 oz. Sirloin Steak
$14.72
12 oz. Sirloin Steak
$15.58
5 oz. Sirloin Steak
$12.63
8 oz. Sirloin Steak
$12.22
Blueberry Pie
$2.02
Fried Chicken
$11.16
Holiday Sliced Ham Meal
$11.47
Holiday Sliced Turkey Meal
$11.65
Meatloaf
$12.12

Family Meals

Build the perfect family meal. Choose from beef, chicken, pork, and seafood entrees, as well as a wide array of side dishes. Golden Corral's famous yeast rolls are included with every order. Serves 4 to 6 people.
Baked Beans
$5.59
Baked Chicken
$10.63
Baked Fish
$10.73
Bourbon Street Chicken
$11.11
Buttered Corn
$5.5
Coleslaw
$5.44
Fried Chicken Combo
$10.55
Fried Fish
$10.79
Green Beans
$5.53
Macaroni and Cheese
$5.88
Mashed Potatoes and Gravy
$5.61
Pulled Pork
$12.31
Sirloin Steak
$11.67
Smoked Chicken
$10.44
Smoked Pulled Pork
$11.74
Steamed Broccoli
$5.59
Steamed Carrots
$5.39
White Rice
$5.41

Catering

Black Eyed Peas
$21.76
Carved Ham
$9.48
Mashed Potatoes
$28.52
Red Bliss Potatoes
$20.61
Seafood Salad
$36.33
Seasoned Pinto Beans
$17.92
Tuna Salad
$36.57

Salad

House Salad
$14.46

Signature Salads

Chicken Caesar
$10.37
Chicken Caesar Salad
$10.43
Cobb Salad
$10.43
Garden Salad
$10.35
Salad Topper – Bacon
$1.14
Salad Topper – Chicken
$1.14
Salad Topper – Ham
$1.14
Spinach Salad
$10.38

Salads – Large Party Pick Up

Tuna Salad – Pan
$34.97
Seafood Salad – Pan
$40.71
Potato Salad – Pan
$23.25
House Salad – Pan
$21.97

Popular Items

Bourbon Street Chicken Meal
$9.76
Fried Chicken Meal
$10.55
Pot Roast
$12.65

Hot Sides

Baked Potato
$2.69
Yeast Rolls
$3.32

Kids Meals

Grilled Cheese
$5.83
Chicken Tenders
$5.83
Sides
Cold Sides
$4.89
Hot Sides
$3.25
Potato salad
$11.39
Salads
$4.13
Steamed Cabbage
$6.73
Sweet Potato Casserole
$9.82

Dessert

Offered by the slice, half (serves 4-6) or whole cake/pie (serves 6-10).
Apple Pie
$2.15
Carrot Cake
$2.77
Cheescake
$1.89
Cheese Cake
$1.89
Cheesecake
$2.9
Cherry Pie
$1.74
Chocolate Cake
$2.71
Cookies
$3.52
Dozen Chocolate Chip Cookies
$3.45
Pumpkin Pie
$3.59

Beverages

32 Oz Drink
$3.44
Barq's Root Beer
$3.38
Bottled Water
$2.5
Cola Cola
$3.32
Diet Coke
$3.32
Dr. Pepper
$3.32
Fanta Orange
$3.32
Gold Peak Iced Tea
$3.74
Gold Peak® Sweet Tea
$4.43
Gold Peak® Unsweet Tea
$4.68
Minute Maid® Lemonade
$5.31
Single Serve
$3.48
Sprite
$3.32
Golden Corral buffet details
If you are going for the unlimited breakfast buffet, you can try a combination of made-to-order French toast, fruit, bacon, sausage, pancakes, and omelets, among others.
As for the unlimited lunch buffet, expect it to be a combination of home-style classics, like salad, mashed potatoes, mac and cheese, chicken, prime rib, and meatloaf, as well as random options that differ based on the time of the year.
There is also the unlimited supper buffet option as well, which will depend on the season and whether or not there is an ongoing promo. This will usually consist of veggies, seafood, chicken, shrimp, pork, and tender grilled-to-order steaks.
Regardless of the buffet, you're going for, you are most likely to get ice cream, pastries, cookies, pies, cakes, rolls, and newly baked bread.
You can also check out the main Golden Corral menu page to see the available menu options before you visit a location.
Any additional costs to expect?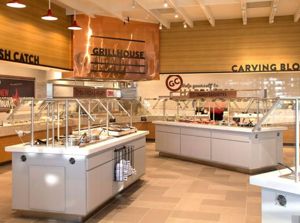 The buffet costs are likely to not include beverages, which are charged additionally. Expect to spend between $3 and $4 on beverages.
Although it isn't a must, it is recommended that you leave a tip, as it will not be included in the cost of the buffet. As the waitresses won't do as much as in a normal restaurant, it isn't unusual for them to receive a slightly smaller tip in a buffet, but this is still your call. They still refill your beverages and serve you, and they also clear your table once you are done.
Tips to keep in mind
You can make a reservation if you're going as a big group, to ensure that you have enough room for everyone. These reservations can be made if you visit the official website, which has a GoldenCorral location finder.
They hold an appreciation dinner every November for the military. If you're a club member or a child, you can also receive gifts during birthdays, in the form of cakes and appetizers. If you're a frequent customer, you should register for their e-mail newsletter to make sure you receive news about discounts and price changes.
The drop-down menu found on their site will list nutrition values for all Golden Corral products.
They've Been Here for so Long
Most people in the South know Golden Corral for basically their whole life. Their grandparents even have stories about the nice meals they had there as teenagers. This is because the first location of this business was opened way back in 1973.
Yes, considering that it's 2023, this buffet has been around for 50 years straight. And it doesn't seem like they plan to go away anytime soon, as their business model is very successful. It is listed in the Entrepreneur.com list of the Top 200 Food and Restaurant Franchises of 2018. And it's not just any business on that list. Golden Corral actually holds the number one rank in the Full Service Restaurants category. The second one on this list is Denny's.
They have many locations
Golden Corral opened their first location in Fayetteville, North Carolina. It was initially launched as a steakhouse that could only host a maximum of 175 people. They started to open budget steakhouses all over the US South, which led to impressive growth. Their target areas were small cities from Virginia to Texas.
Golden Corral went through a brand transformation in the middle of the 1980s, at the request of its customers. They started to provide the popular Buffet & Grill unit, with a number of cold and hot items. These were in the hundreds.
The Brass Bell Bakery was also added. This is where you can get pizza, pies, muffins, cookies, and rolls. These are made in-house, from scratch.
They expanded once again in 2001, by including cooked-to-order sirloin steaks. The Smokehouse menu was added in 2017 as an additional service. You can now eat slow-cooked smoked pork barbecue and chicken all throughout the week, for lunch and dinner. You can also enjoy smoked carved baby back ribs for your daily dinner. You can also order turkey or carved brisket, although these are only available during the weekend.
Nowadays, you can even find them outside of the American South. You can enjoy the Golden Corral experience in New York State, Alaska, Nevada, Michigan, Washington State, and California. 42 states currently have at least one Golden Corral location. This business is also found in Vancouver, which makes this an international franchise.
How much is eating at Golden Corral?
People will almost never associate Golden Corral with the word "Expensive". And how would they when the highest price you can pay when going there for a weekend dinner will be of around $18 per person if you don't factor in beverages?
Golden Corral Lunch Prices
During the weekdays, so between Monday and Friday, you can eat for $12 to $18 per person. So low prices are among the features that make Golden Corral so popular. This is as low as it can get when you plan to eat out and in large portions.
Some people go even as far as to wonder how can the Golden Corral franchise stay in business with the small prices they charge for the food they offer.
Senior Benefits
When it comes to Golden Coral, being older will represent an advantage. People 60 years old or older will pay significantly less than other adults.
Expect to pay around $12 for your whole food (without beverages) if you get to their locations before 4 PM on Friday and Saturday, or before 11 AM on Sunday. Weeknight dinners will cost about $17 per person after 4 PM from Monday to Thursday.
How can you save some money?
Think about purchasing discounted gift cards online through websites like Groupon or Raise. For instance, at the time of this writing, we had the ability to get gift cards for approximately 10% off.
From time to time, you might be able to get vouchers or discount rates online via simple searches. For instance, with one offer, you can submit a card on their site, and after registering, you can get a discount coupon through your e-mail.
Senior citizens always get discount rates at restaurants. They also run senior early bird specials and a loyal consumer program.
You can also get your hands on discount coupons with the help of regional newspapers and/or voucher circulars, or you can acquire vouchers online on eBay. Before you get a discount coupon, you should always check the limitations and take a look at the small print.
You should also try to get to the dining establishment before they switch to dinner, which is typically before 4 p.m. at a lot of locations. While the lunch choice might be smaller sized, the expenses will be around half the price of dinner.
Still unsure about the Golden Corral buffet? This video will surely help you decide if this is the right place for you:
Golden Corral FAQs
Is Golden Corral Still Open?
All Golden Corral restaurants were closed temporarily during the pandemic. But this was the case for most restaurants around the world, as a way of stopping the spread of the virus. Towards the end of the restriction period, in 2020, most of its restaurants started to re-open. Now, in 2023, most restaurants have fully opened to the public, while a small number of locations have been permanently closed. Even so, the franchise continues to open more locations all around the US, as it is able to find more and more Golden Corral franchisees to work with.
Is There a Local Golden Corral Near Me?
As said above, there is an official restaurant locator both on the official website and on the Golden Corral app. You just enter your location and you will receive a list of the closest Golden Corral restaurants, as well as live driving directions.
Is Golden Corral Healthy?
Yes, this family-style buffet restaurant has many foods that are considered healthy. They even have a salad bar, that is packed with low-calorie, nutritious options. As this is a buffet, portion control is still key. This amount should be kept to as small as possible, regardless of how many dishes you pick to eat.
You can also skip fried dishes and desserts as a way of curing down calorie intake. Going for their fried chicken will be a way of eating something that tastes great while also staying on the healthy side. Still, there is really no reason to be concerned about how many calories you're eating as long as you're only going to their locations for special occasions.
Is There a Golden Corral Kids Menu?
Yes, there is a Golden Corral Kid's Buffet and it has selections designed to be enjoyed by children. These are also cheaper than adult options. Children below the age of 3 will eat for free, while kids aged 4 to 8 will be charged $10 for the Golden Corral weekday buffet and $11.50 for the weekend buffet. Children between the ages of 9 and 12 will be charged $12 on weekends and $11 on weekdays.
How Much is Golden Corral Per Person?
Golden Corral prices per person will vary depending on several factors, the time when you are going being one of the most important ones. You will usually spend more on dinner than on lunch.
It will also be cheaper to go on weekdays than it is to go on weekends. Expect a price for a weekend dinner buffet, of around $18, while weekday Golden Corral lunch prices will start at about $12. Other factors like the exact location and any ongoing offers and specials will also influence the price.
There are locations that might offer special pricing or discounts to certain groups, while others might charge additionally on holidays. Beverages aren't included in the price of lunch or dinner, being priced at around $4. You can still enjoy free drinks if you go for the weekend breakfast buffet, but you will still pay around $14 for the food.
Golden Corral Senior Citizen Discount – Is It Real?
Golden Corral offers discounts for seniors aged 60 or above. You can get a 10% discount on all full orders, all throughout the week, if you're at least 60 years old. This will take the Golden Corral menu prices for seniors to about $13 for a delicious dinner, or $10 for a big buffet lunch. You can also take advantage of senior early bird specials that will bring the price to even lower numbers.
https://www.thepricer.org/wp-content/uploads/2021/03/golden-corral-buffet-cost.jpg
380
610
Alec Pow
https://www.thepricer.org/wp-content/uploads/2023/04/thepricerlogobig.png
Alec Pow
2021-03-08 09:57:35
2023-10-04 12:01:47
Golden Corral Prices – Costs for Adults and for Kids