Last Updated on May 25, 2022 | Written by CPA Alec Pow
First Published on September 7, 2020 | Content Reviewed by

CFA Alexander Popivker
For the last 15 to 20 years, Goldendoodles have actually been very popular due to their teddy-bear-like look and incredibly friendly character. In addition to the cute look, the Goldendoodle also gets genes that make it hypoallergenic and nonshedding. This makes the Goldendoodle perfect for individuals who struggle with family pet allergic reactions and do not like dog fur around their house.
This is why they are the perfect household pets and the need for Goldendoodles has actually been rising which has considerably increased the cost of this particular breed. We've analyzed over 20 different breeders from the Goldendoodle Association of North America (GANA) to figure out just how much does a Goldendoodle cost.
What is the cost of a Goldendoodle?
Even though they are crossbred between the Golden Retriever and the Poodle, these pet dogs stay high in cost due to their very high demand. The expense of a Goldendoodle is going to vary anywhere from $500 to $4,000 depending upon whether you purchase or adopt one from a shelter.
The typical rate of an average-sized Goldendoodle young puppy from a trustworthy breeder is going to be approx. $2,100. If you're looking for a multi-colored and toy-sized Goldendoodle then you should be ready to pay a lot more ($3,000 to $5,000 if not more). In general, the smaller sized Goldendoodles that are teacup, toy, or micro-sized (less than 15 pounds) will cost a lot more due to the fact that they are seen as harder to reproduce. Nevertheless, it must be noted that teacup and toy-sized Goldendoodles will usually have substantial health problems due to their very small sizing.
Just how much will it cost to adopt your own Goldendoodle?
The cost of a Goldendoodle is going to be a lot more affordable if you can adopt an abandoned one. The expense of adopting a Goldendoodle will be around $300 to $500 in adoption charges, however, you might need to get some remaining shots, neutering, or medications for your pet. Nevertheless, due to the very high demand, it's hard to find a trusted Goldendoodle adoption center.
If you know yourself as a very lucky person, you can find a Goldendoodle Rescue to see if they have any pups or adult dogs that you can adopt. In addition, you can at the same time check out your regional humane society or shelter to see if they have any types of doodles that you can take home. Often an owner might choose to give up on their Goldendoodle since they have a rather powerful bark, high energy, or do not have enough of a home for them to feel free.
Also read our articles about the cost of breeds like the Norwich terrier, Yorkie poo, and the Golden Retriever.
Nevertheless, this is incredibly unusual and it's hard to adopt a Goldendoodle. Furthermore, if you adopt a Goldendoodle, there is a chance they aren't going to be very young.
Purchasing a Goldendoodle
If you're purchasing a Goldendoodle, the usual expense is going to be around $2,100. We have actually examined most of the reliable breeders noted on the Goldendoodle Association of North America (GANA) and found out that costs will usually vary from $1,700 to $2,500 depending on numerous elements. Nevertheless, the overall Goldendoodle price differs considerably.
What will determine the final cost of a Goldendoodle?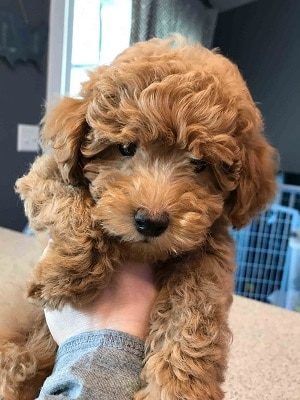 Breeder Track record: The credibility of a Goldendoodle breeder is a considerable price factor when getting a Goldendoodle. If you buy a pet from a breeder from GANA, there are health screening requirements that a breeder needs to go through to maintain the quality of their Goldendoodle pups. Generally, each breeder is going to need to health test their adult pets to keep healthy hips, elbows, heart, eyes, and patellas. If you're going to purchase a pet for 10 to 15 years, you ought to ensure that you are purchasing one from a known breeder. You'll certainly find more affordable breeders or dog farms that have lower-priced Goldendoodles, however these are not suggested.
Geographical area: The place can impact the expense of a Goldendoodle by around $500 or more. For example, Goldendoodles in California will cost substantially more than a Goldendoodle in the midwest. Nevertheless, this generally is part of the price of living adjustment with the land. You'll have the possibility to get a lower-priced Goldendoodle from a breeder in the midwest, however, you'll also need to spend for the pet to be shipped or fly out to pick up the pet dog yourself. In addition, it might be tough for you to visit their pet houses, check the parents of the dogs, or physically see the pups when you are getting one.
Goldendoodle Coat Color: Considering that there a few very different Goldendoodle coat colors the expense is also going to differ based upon how "uncommon" a coat coloring is. For example, a multi-colored Goldendoodle like the Parti Goldendoodle, Phantom Goldendoodle, or Tuxedo Goldendoodle is going to cost substantially more than a unicolored gold or apricot Goldendoodle. If you are really interested in a particular multi-colored Goldendoodle then you might need to pay an extra $1,000+ depending upon where you purchase them from.
Goldendoodle Size: There are 3 popular sizes of Goldendoodle which are the small Goldendoodle, medium Goldendoodle, and the standard Goldendoodle. Within the small Goldendoodle classification, there are the toy, micro, and teacup sizes. These smaller sized Goldendoodle sizes are going to add an extra $1,500+ to the total expense. It's not unexpected to see a multi-colored teacup Goldendoodle cost around $5,000.
Goldendoodle Coat Type: Goldendoodles can have 3 very different kinds of coats: straight coat, wavy coat, or curly coat. Coat type normally associates with the generation of Goldendoodle. Normally, Goldendoodles with more wavy or curly coats will be a little more pricey than those with straight coats. This is simply since the need for wavy and curly coats is bigger because these coat types are shedding less and hypoallergenic. Therefore, you can anticipate paying more for F1B, F1BB, F2B, or F2BB Goldendoodles due to the fact that they consist of a considerable amount of Poodle genes.
Supply and Need: Today, the Goldendoodle remains in very high demand which has actually increased the cost. Reliable breeders will not force their dogs to reproduce more, but rather, they will increase the cost of a pup. This is precisely what is driving the rate of a Goldendoodle up. In theory, considering that this dog is crossbred, they should not cost as much, however many individuals are looking for this type, hence the price.
Just how much does a small Goldendoodle cost?
A small Goldendoodle will usually cost around $2,100 dollars presuming that it isn't a toy, micro, or teacup-sized dog. The toy, micro, and teacup Goldendoodles are seen as mini Goldendoodles, however, they will cost a lot more. This is due to the fact that the toy, micro, and teacup-sized pups are more difficult to breed due to the fact that it takes usually many generations of reproducing the "runt" of a litter to produce these little Goldendoodles.
What is included in the total cost of a Goldendoodle?
Goldendoodle expenses might differ depending upon what they have to offer. Generally, the price of a young puppy will include their preliminary vaccination shots, deworming, a little toy, a blanket, and some food. In addition, when you buy from a trustworthy breeder you will also get a health warranty. Some extra expenses will be that breeders will need you to sign up the pet, microchip, and spay or sterilize within a particular time period.
Other expenses of a Goldendoodle
Usually, the initial price of a Goldendoodle dog is going to very small compared to the total expense throughout this pet's life. Please bear in mind that there are a number of expenses beyond the initial purchase cost of a Goldendoodle. Some examples are listed below:
Food ($500 each year): Food costs will differ based upon the energy level and size of your pet. You should set aside a minimum of $500 each year in food costs for your Goldendoodle.
Grooming ($400 each year): Given that Goldendoodles do not shed, you're going to need to groom them routinely. The cost to have this dog groomed is going to be around $100 and you'll likely do this a minimum of 4 times a year. Grooming a Goldendoodle features a large price, however, does include a lot of things like the haircut, nail cutting, hair shampoo, and ear care.
Healthcare ($700 to $2,000+ annually): The expense of a Goldendoodle is rather considerable when you consider healthcare as in vaccinations, surgical treatments, and routine check-ups. Among the most costly health problems with a Goldendoodle is hip dysplasia. Generally, older Goldendoodles will require a surgical correction due to this degenerative modification.
Training, Classes, Boarding, and Day Care ($700+ annually): It's most likely that you'll wish to train your Goldendoodle by signing them up for classes. In addition, if you're going to go on a getaway you'll need to board your pet. The expense is normally around $100 to board a dog, so this is something to take into account.
Fixed Goldendoodle Expenses
Pet Crate ($100): You'll wish to get a dog crate for your Goldendoodle if you plan on crate training them.
Pet bed ($100): Some people have actually invested well over this quantity due to the fact that their Goldendoodle chews at their bed and scratch it to death. You'll wish to set aside for a at least one dog bed.
Accessories and toys ($500): You'll wish to get some balls, a collar, pet harness, other chew toys, dog hair shampoo, and perhaps a dog home.
Conclusion for Just how much does a Goldendoodle Cost
As you can see, the overall expense is rather significant over the lifetime of a pet. You'll wish to take these expenses into account to be ready before you get a pet dog and ensure that your way of life will be able to include a family pet. If you prepare to purchase a Goldendoodle you must set aside a minimum of $2,100 for a standard size for only the pup.
You can often get the general price of a Goldendoodle lower if you can find one from a rescue, shelter, or humane society. Nevertheless, adopting a Goldendoodle is very uncommon since they are still in high demand. Trusted breeders will not reproduce more pets since they are very interested in the health of their pets. Rather, the Goldendoodle price will simply increase which is why the selling price is seen as extremely high.
FAQ (Frequently Asked Questions)
Do breeders need a deposit for a Goldendoodle pup?
Yes. When you put a reservation in for a Goldendoodle pup, you will likely be paying somewhere around $250 and $500 as the deposit. When the Goldendoodle pup is born, you will have the ability to go choose which pup you want based upon the order of the reservations.
Where should I purchase a Goldendoodle from?
https://www.thepricer.org/wp-content/uploads/2020/09/goldendoodle-cost.jpg
380
610
Alec Pow
https://www.thepricer.org/wp-content/uploads/2023/04/thepricerlogobig.png
Alec Pow
2020-09-07 11:54:51
2022-05-25 11:27:42
Goldendoodle Cost