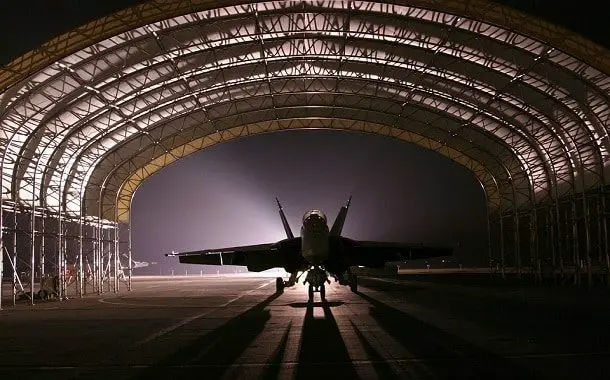 The hangar is a construction located near the runway for the shelter, repair, overhaul, and maintenance of aircraft. It consists of a roof raised on pillars and several side openings. Usually, hangars are made of metal, but sometimes they are made of other materials such as wood and cement.
If you don't have your own hangar or can't afford one, try renting.
How much does renting a hangar cost?
The cost of renting a hangar can vary depending on its size, desired rental time, and where it is located. For example, in some areas of New York City, an average monthly cost to rent out a hanger would be somewhere between $110 and more than $420.
For example, hangar space that lacks amenities such as water, electricity, and heat may cost $60 to $320 per month while 1,000 – 1,600 square feet with concrete flooring can be priced at $370 – $630 a month on average. The majority of hobby flyers note that they pay less than $270 for their hangar monthly.
The cost of a corporate hangar can range from $1,600 to $3,200 per month depending on its size. To keep employees feeling comfortable, modern corporate hangars will have amenities like attached restrooms with showers and insulation for climate control or epoxy flooring.
A single aircraft hangar can be rented for about $80 to $220 per day, while the entire building costs $220 to $420 for one day.
T-hangars can cost somewhere between $130 and $650, but if you wanted to buy one it would be between $10,000 and more than $40,000.
In the table below we give you the monthly costs of renting a hangar in different parts of the United States.
| City, State | Prices Estimate We Found (per month) |
| --- | --- |
| Ann Arbor, MI | $250 |
| Abilene, Texas | $55 for dirt floor with open sides |
| Blanchester, OH | $150 |
| Bennington, VT | $450 for 42×42 |
| Boise, ID | $75 |
| Bloomington, IL | $140 |
| El Reno, Oklahoma | $350 for 45×40 |
| Cumberland, MD | $50 |
| Juneau, AK | $350 |
| Grand Rapids, MI | $170 |
| Long Beach, CA | $350 |
| Lodi, California | $150 |
| Plymouth, IN | $50 |
| Phoenix, AZ | $165 for 40×33 |
| Salem, IN | $40 |
| Plymouth, IN | $190 |
| San Diego, CA | $300 |
| Salem, IN | $275 (shared with three others) |
| Scottsdale, AZ | $280 for a small hangar |
| Scottsdale, AZ | $180 for a shaded spot only |
| Seattle, WA | $300 |
| St. Louis, MO | $180 |
Hangar space
The perfect hangar should have the capability to fit your aircraft and include a private lounge, runway access, security surveillance 24/7. Additionally, there may be utilities depending on the airport such as water and electricity included.
There are two types of hangars. The first is a single plane hangar that has the shape of a t and it will be designed to fit your airplane's body. It will have an opening at its narrow end for the tail, then continue with enough space in front of it to accommodate both wings. Space in this hangar is limited, but the cost of buying one will be cheaper. A shared hangar can be more affordable since it will split the cost with other owners.
You might also like our articles about the cost of a low-cost fighter plane, an A&P license, or pilot lessons.
Hangar space comes in two forms: a private hangar with electric or non-electric doors, and a shared one that is more of an open carport. Depending on the type of hangar you get, your plane will be either fully enclosed by walls or it can sit outside under shade (or not). The higher-end hangars have concrete floors, electricity for lights and climate control whereas lower-cost options include dirt flooring without much privacy from neighbors.
What are the extra costs?
Heated hangars are more expensive to run in colder climates due to the high utility costs. Owners who keep their hangers heated 24/7 spend $430 to $1,340 per month on utilities alone.
If the bill isn't paid on time, late fees can be up to 10 percent.
Liability insurance is not included in most quotes, which can add $170 to $280 per year on top of your bill.
Good to know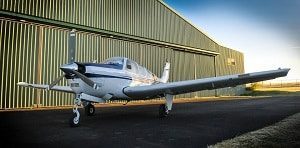 Premier Aircraft Sales warns that a shared hangar space can result in potential "hangar rash," which is where minor accidents happen to your plane while it's being stored. This can include damage from negligent maintenance or poorly run hangars.
If you're seeking to rent airport space in your geographical area, call the local airports today and put yourself on their waiting list. Even if it's just for a few months later, adding your name will help as there are often long periods between available hangars at an airport depending on where you live.
Find the perfect hangar space for sale and/or rent with help from HangarTrader.com, a simple search engine that uses your location to show you nearby listings for hangars in different sizes and prices.
How can I save money?
Paying your bill ahead of time may lead to a discounted price.
To find non-conventional storage options for your airplane, check Craigslist. For example, some farmers may house it at a lower fee than usual commercial establishments.
There are a few different ways to protect your airplane from the elements. One way is with an aerodrome, which can cost as much as $100 per month at some airports (but they do offer more protection against extreme weather). Another option would be using tie-downs for about half that price. If you go this route, your airplane will be exposed to potential damage. It is like parking a car in an uncovered spot.
https://www.thepricer.org/wp-content/uploads/2021/08/hangar-space-cost.jpg
380
610
Alec Pow
https://www.thepricer.org/wp-content/uploads/2023/04/thepricerlogobig.png
Alec Pow
2021-08-31 12:09:58
2021-12-09 12:57:01
Hangar Space Cost