Last Updated on September 23, 2022 | Written by CPA Alec Pow
First Published on November 18, 2021 | Content Reviewed by

CFA Alexander Popivker
Among the most impressive musical instruments is, without a doubt, the harp, due to its special shape and the delicate sounds it produces. The first harp models appeared thousands of years ago, and it has constantly evolved over time.
Due to its versatility, the harp is used in classical music concerts and chamber music ensembles. It is also used successfully for other musical genres, such as blues, pop, jazz, and popular music. It belongs to the category of stringed instruments.
How Much Does a Harp Cost?
The price of a harp can be between just $350 and more than $200,000. Its price is influenced by many factors such as the place you are buying it from, the material it is made from, the type, its condition, the size, and the number of strings.
According to Harpspectrum.org, if you are lucky enough you can buy a harp with just a few hundred dollars, but if you want one of the best quality instruments, be prepared to pay around $185,000. Also, they say that the price of a pedal harp starts at $11,000, while a folk or lever harp would cost anywhere between $1,100 and $5,200.
The price of small lever harps, that have less than 30 strings is anywhere between $150 and more than $1,550.
The cost of a floor model harp, which has between 32 and 36 strings, starts at $2,400 and goes up to $5,200.
Be prepared to spend between just $650 and more than $2,300 for a historical replica, cross-strung, double, or/and wire harp.
You might also like our articles about the cost of violin strings, acoustic guitars, or french horns.
Among the most popular purchases, pedal harps, which have between 44 and 47 strings, are sold for a price between $10,500 and more than $26,000.
Depending on the brand, for a lap harp, that can fit on a lap you could pay anywhere between $25 and $600.
The price of concert harps is anywhere between $14,000 and $20,000, while the grand concert harps, made for concert outings, can be bought for $20,000 to $33,000.
The price of a simple and small harp, like a jaw harp, called also a mouth harp, is anywhere between $5 and $30. This device is not really a "harp", but is suitable for beginners and children.
Harp details
The elements that make up a harp are 47 strings stretched on a frame (a sounding board and a tuning console) and a system of 7 pedals for different tuning.
The harp has a triangular shape, and its frame is most often made of wood. Today, its cords are made from nylon or metal, but in the past, other materials were used to produce them.
The harp is one of the most important symbols of Irish culture. Its origin is unknown, but the instrument has been present since the sixth century in the traditions of this country. In addition, the logo of the most popular beer brand in Ireland is a harp.
There is a close relationship between the Christian religion and the harp. King David is often pictured playing this instrument. Also, images specific to Christianity include scenes in which angels use the harp.
Types of harps
Folk harps have 34 strings and weigh less than 20 pounds.
Travel harps are small and light, designed for easy transportation and practice while you are on the road. Usually, this type of harp is bought by people who already have a more professional one.
Some companies have harp kits for sale, which are ready to assemble into an instrument. You can make your own harp with a kit that comes prepacked. In these kits, you will find all the materials you need, from pre-cut wood and strings to instructions on how they should be assembled.
Professional model harps will have a good aspect and are made to create the best tone, plus they will come with added comfort. The material these harps are made from is quality wood. In this category, the floor harps and the large level harps, which have more than 34 strings are included.
Student harps are made from less expensive wood such as plywood, are smaller in size, and have a square back.
Lap harps, as the name explains, are harps that fit on your lap. This is a more affordable option but is not designed just for beginners.
What are the extra costs?
If you want to add a classical look to your harp you can give it a customized finish. These can vary from a hand-painted soundboard to a two-tone finish. Depending on its type a finish might cost anywhere between $470 and $3,100.
One set of harp strings can cost $65 to $370, depending on the retailer or the brand. Again, depending on the brand, just one string can be bought for $8 to $30.
A standard tuning wrench can be bought for almost $25, while a customized one costs $55. The price of the universal tuning wrenches is anywhere between $65 and $85.
For a repair toolkit, you may pay $155 to $230.
In order to protect the finish, you will need a case and a cleaner. The cost of a good case is anywhere between $160 and $600.
If you want to take advanced harp lessons you will need a teacher and a 30 to 45 minutes session costs anywhere between $55 and $160. In case you want to learn by yourself, be prepared to spend $25 to $60 on DVDs and books.
If you want to amplify the sound you will need an amplification system that costs $60 to $420, depending on the type of harp it will connect to and on the type of amplifier.
If you need to have your harp shipped, expect to pay the shipping fees which can be hundreds of dollars, especially if the value of the harp is tens of thousands of dollars.
Pay attention to the taxes, shipping fees, or insurance as some online retailers may not include these.
Important things to consider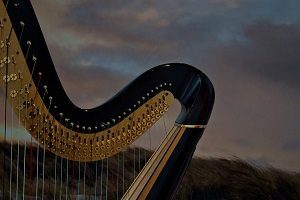 To make sounds, only 4 of the 5 fingers of the hand are used (the little one is not used), to pinch the strings or to slide along them.
In an orchestra, the role of the harp is limited and decorative in nature. The lack of variety in the sound spectrum can cause monotony, so it is not used for long intervals.
To choose the right harp model, you will need to consider several aspects. These are especially important if you are a beginner. One of the most important elements in the study of an instrument is the quality of the sound produced. A good harp will produce rich, resonant sounds.
The size of the harp is important because the musician must feel comfortable when using the instrument. Depending on the needs of the student, the harp may have a different number of strings. For example, a 28-string model may be suitable for the 6-8 age group, while a 30-34-string model is more suitable for an adult.
Along with the size, the ranges that can be played with that instrument also vary. The larger the range of notes, the more varied the musical styles that can be played: classical music, folk, jazz, blues, pop, children's music, and more. However, there are many musicians who specialize in the use of small harps, such as 22-30 strings.
How can I save money?
You might be able to save 20% to 40% or even more if you choose to purchase a used harp.
If you know how to work with wood or you know someone else who knows, take into consideration building your own harp from scratch.
If you are just starting to learn how to play the harp, consider renting one instead of buying, to see if you really like it.
If you can't pay in full because of the high price, some stores offer financing options.
According to CelticHarper.com, some harps are overpriced and their price won't equal quality and will not offer the desired tone. So, a higher price does not necessarily mean a better harp.
https://www.thepricer.org/wp-content/uploads/2021/11/harp-concert.jpg
380
610
Alec Pow
https://www.thepricer.org/wp-content/uploads/2023/04/thepricerlogobig.png
Alec Pow
2021-11-18 10:14:44
2022-09-23 06:40:40
Harp Cost