Hartz Chicken Buffet Prices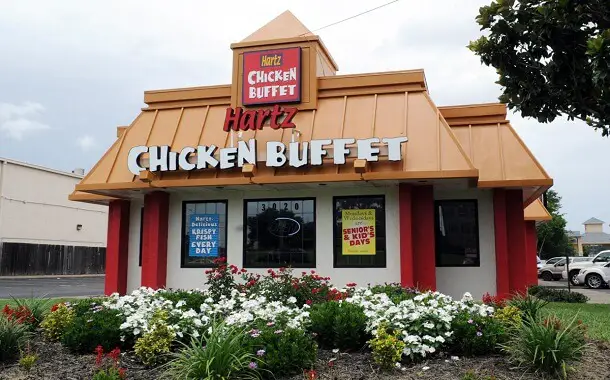 Hartz Chicken Buffet is an American restaurant chain best known for its yeast rolls, fried chicken, ice cream, French fries, drinks, fried fish & salads, hot soup, and hot vegetables. With around $42 anyone can have a delicious meal in one of their locations.
The food items served here come at affordable prices that start at around $2 and go up to $45. But you can find more about their prices by taking a look at the table below where you will find the latest Hartz Chicken Buffet menu with prices.
Hartz Chicken Buffet menu prices
Item
Price

Krispy Chicken Combos

3 Pc Dark Combo
$11.26
3 Pc White Combo
$13.51
2 Pc Dark Combo
$9.76
2 Pc White Combo
$10.91

Vegetables & Sides

Corn On The Cob
$5.82
Jalapeños
$3.05
Corn on the Cob
$1.82
Creamy Coleslaw
$2.88
Crispy Fries
$3.05
Crispy Okra
$3.05
Green Beans
$3.37
Jalapeños
$0.59
Krispy Fries
$3.01
Krispy Okra
$3.01
Loose Corn
$3.36
Mac and Cheese
$2.84
Mashed Potatoes and Gravy
$2.99
Pinto Beans and Rice
$3.00
Vegetable of the Day
$2.82

Krispy Fish Every Day

2 Pcs Krispy Fish
$11.11
3 Pcs Krispy Fish
$12.64
6 Pcs Krispy Fish
$15.33

Liver, Gizzards & Tejas Wings

8 Tejas Wing Combo
$12.18

Oven Fresh Yeast Rolls

Yeast Roll
$1.08

Family Orders

8 Pc Mixed
$27.21
12 PCS KRISPY FISH
$27.93

Kid's Combos

Kid's Fried Chicken Combo
$7.94
Kid's Tender Combo
$8.72

Desserts

Bread Pudding
$3.21
Fruit Cobbler
$3.11

Beverages

Fountain Drink
$2.46
Fountain Drinks
$2.21
Gallon Tea
$7.27
Iced Tea
$2.40
Large drink
$2.90
Small drink
$2.26
Note: Keep in mind that prices may differ slightly based on the location you're going to.
Brand history and additional information
Hartz Chicken Buffet was founded fifty years ago, in 1972, in Texas, United States of America by W. Lawrence Hartzog Sr. It was the first chicken restaurant chain in the Huston area that offered drive-through, and currently, it is the only chain that offers an all you can eat buffet with chicken as its main entree along with a large variety of other high quality, fresh products. Hartz has implemented this buffet concept in the middle of the 1980s when Houston experienced a severe economic recession.
Actually, Hartzog opened the first Hart's Fried Chicken store in 1964, in Mobile, Alabama. But he sold all of his restaurant equipment, bakeries, and stores to the KFC company in 1972. The very same year, Wayne Johnson, Hartzog's brother-in-law and the Vice President of restaurant operations, purchased the Mobile operation from the KFC company. Since then, Hartz Chicken Buffet has been run by three generations of the Johnson family.
You might also like our articles on the prices you will find on the menus of Chicken Salad Chick, Lee's Famous Recipe, or Chicken Express.
The company was bought by an investment group which includes fast-food industry professionals, in June 1991.
1995 was the year when Hartz Chicken Buffet started its global expansion. The first international location was opened in Malaysia in May 1995. After that more locations were opened in India, Indonesia, Hong Kong, Europe countries, and China.
Currently, Hartz Chicken Buffet is headquartered in Spring, Texas, and has more than sixty stores in this state, mostly around the Houston metropolitan area. Also, they have one location in Shreveport City, Los Angeles, and Malaysia.
Our review and other details
Hartz Chicken Buffet menu consists mainly of crispy tenders and crispy fish, and for the crispy chicken lovers, they offer crispy chicken combos. They even offer drinks such as gallon tea, fountain drink, and iced tea.
Their menu includes food options for family meetings as well, such as mixed, chicken only, and for children, there is the kid's menu with a tender combo and chicken combo.
To enhance the taste of their dishes, Hartz Chicken Buffet included sides and vegetables such as crispy fries, mashed potatoes, and potato gravy. As for dessert, you can choose between bread pudding and fruit cobbler.
People keep coming back to Hartz Chicken Buffet because they find here multiple different chicken varieties they can choose from. Moreover, they can try as many chicken items as they want from the buffet available at the restaurant. Plus, the food is absolutely delicious.
Hartz Chicken Buffet Franchising Costs
If you want to open your own Hartz Chicken Buffet, here are their franchise costs:
Initial Franchise Fee: $20,000
Initial Investment: $290,000 to $995,000
Hartz Chicken Buffef Frequently Asked Questions (FAQs)
At what time does Hartz Chicken Buffet open?
Most Hartz Chicken Buffet restaurants open at 10:00 a.m. Monday through Sunday. Though, it may vary from one location to another, so you should visit the company's official website to see which are the opening hours of the location you are interested in.
At what time does Hartz Chicken Buffet close?
In general, Hartz Chicken Buffet units close at 09:00 p.m. every day. But again, it depends on the location and the day of the week. You should check this information on their official website.
How can I order online from Hartz Chicken Buffet?
If you want to order online from Hartz Chicken Buffet, you can do it through their official website. Also, you can use some of the leading food delivery service apps such as Uber Eats, Doordash, Postmates, Grubhub, and Seamless.
Where is Hartz Chicken Buffet delectable made?
Hartz Chicken Buffet delectable is made in Thailand.
What is Hartz Chicken Buffet best known for?
Hartz Chicken Buffet is famous for its golden fried chicken.
How many Hartz Chicken Buffet locations are there?
There are 65 Hartz Chicken Buffet locations you can find across the United States of America and Malaysia.
https://www.thepricer.org/wp-content/uploads/2023/06/Hartz-Chicken-Buffet-prices.jpg
380
610
Alec Pow
https://www.thepricer.org/wp-content/uploads/2023/04/thepricerlogobig.png
Alec Pow
2023-06-30 06:27:46
2023-07-01 14:10:26
Hartz Chicken Buffet Prices