Hideaway Pizza's Menu Prices
Hideaway is an American pizza restaurant chain with locations across the Oklahoma City area, Arkansas, Bartlesville, Oklahoma, and Tulsa area. They are best known for their mascot "Kahuna" and the authentic thin crust recipe, which continues to be very appreciated by the clients.
In order to get an idea about how much you should budget for enjoying one of Hideaway Pizza's dishes, you can take a look at the table below where you will find their latest menu prices.
Item
Price

Starters

50 and 50
$11.56
Baked Cheesy Shrooms
$9.76
Fried Mozzarella Sticks
$10.29
Fried Pickles
$9.37
Fried Ravioli
$8.34
Garlic Cheesy Bread
$6.38
Garlic Knots
$8.97
Hideaway Boneless Wings
$9.65
Hideaway Traditional Wings
$9.65
Meatballs
$10.29
World-Famous Fried Mushrooms
$10.29

Vegetarian pizzas

5 Cheese Pizza
$17.12
Farmer's Market Pizza
$18.69
Margherita Pizza
$14.55
Pizza of the Gods Pizza
$17.12
Veggie Combo Pizza
$17.12

Specialty Pizzas

Big Country Pizza
$17.12
Chicken Florentine Pizza
$17.12
Cimarron Pizza
$18
Da Bomb Pizza
$17.12
Hurricane Pizza
$17.12
Maui Magic Pizza
$15.81
Paradise Pie
$17.12
Pepperonipalooza Pizza
$15.81
Sicilian Pizza
$17.12
The ATW Pizza
$17.12
The Boz Pizza
$17.12
The Capone Pizza
$18
The Hideaway Special Pizza
$15.81
The Xtreme Pizza
$18.69

Build Your Own Pizza

10″ Gluten Free Pizza
$15.81
Mozzarella Cheese Pizza
$11.95

Deep Pan Pasta

Alfredo Deluxe
$13.51
Bac'n Chick'n Mac'n' Cheese
$14.02
Chicken Parmesan
$14.13
Homemade Lasagna
$14.13
Meatball Marinara
$13.51
Pasta Paradise
$14.02
Pesto Chicken Florentine
$14.13

Sandwiches

Chicken Bacon Ranch Sandwich
$12.87
Chicken Parmesan Sandwich
$13.51
Dagwood Sandwich
$11.56
Ham'n' Cheese Sandwich
$10.91
Italian Sub Sandwich
$11.56
Meatball Hero Sandwich
$11.56
Turkey Melt Sandwich
$10.91

Salads

Blue Cheese Wedge
$6.77
Caesar Salad
$4.47
Club and Cobb Salad
$12.19
Greek Salad
$5.51
In-Betweener
$7.69
Just-A-Beginner
$4.47

Weekday Lunch Specials

Any Deep Dish Pasta
$2.59
Any Small Pizza
$3.9
Any Small Salad
$1.32

Hideaway Sweetza Cookies

Chocolate Chunk
$7.76
Lemon Blueberry
$7.76
Salted Caramel Crunch
$7.76

Desserts

Root Beer Float
$6.38
Mudslide
$7.69
Frozen Lemonade Pie
$3.32

Drinks

Coffee and Milk
$2.52
Kid's Drinks
$1.67
Melon Iced Tea
$2.98
Soft Drinks
$2.98
Sweet Tea and Iced Tea
$2.98
Brand history
The story of Hideaway Pizza starts back in 1957 with Richard "The Big Kahuna" Dermer and his wife, Marti. They opened their first restaurant in Stillwater, at the corner of 3rd St and Knoblock, close to the Oklahoma State University campus. At the base of this business stood the idea that guests will be happy as long as the employees are happy, and this proved to be a winning concept.
You might also like our articles on the menu prices of Blaze Pizza, California Pizza Kitchen, or Donatos Pizza.
Between the 1960s and 1970s, they delivered pizza on campuses using one of the largest fleets of Volkswagen Beetles in the United States, which was creatively painted by the employees.
In 1993 the first Hideaway Pizza restaurant was opened outside of Stillwater, in downtown Tulsa, Oklahoma's Cherry Street District. The company's expansion was the idea of three trusted employees, Gary Gabrel, Brent McMurry, and Bob Busby. They created a development company in order to expand Hideaway Pizza's concept into new markets, while the ownership of the flagship location remains to the Dermer family.
In February 2006 the company was purchased by Brett Murphy and Darren Lister. At that time six Hideaway Pizza locations were opened in the Oklahoma City metro and Tulsa areas. This new ownership led to the company's growth into one of America's favorite pizza restaurants, hiring around one thousand people in two states.
Currently, 22 Hideaway Pizza restaurants are opened that are located as following: four in Arkansas, nine in the Oklahoma City Metro area, one in Bartlesville, Oklahoma, one in Enid, Oklahoma, and seven in the Tulsa Metro area.
Our review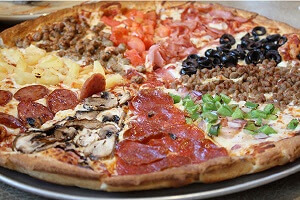 The Hideaway Pizza menu includes a wide range of choices, from pizza, appetizers, and salads, to pasta, sandwiches, and desserts.
Plan on spending anywhere between $16 and $23 for one of their specialty pizzas, which include options such as the Hurricane, Paradise Pie, Chicken Florentine, Sicilian, Cimarron, Da Bomb, Maui Magic, and others. Also, they offer vegetarian pizzas, such as the Veggie Combo, Pizza of the Gods, and Margherita, that cost anywhere between $13 and $26, depending on size.
The customers' favorite starter, the World-Famous Fried Mushrooms costs $7 to $10, depending on the ordered size, half or full. Some other starters include fried mozzarella sticks, meatballs, fried ravioli, garlic knots, cheesy garlic bread, spicy fried pickles, and Hideaway wings. Each of these costs anywhere between $8 and $24.
The salads are priced from $5 to $12 and include the Classic Caesar, Greek, Chicken Cobb, Blue Cheese Wedge, and others. For a sandwich, you will have to pay $11 to $12 and some of the options would include the Southern Fried Chicken, the Turkey Bacon Club, the Dagwood, the Italian, and the Chicken Bacon Ranch. The baked pasta dishes cost anywhere between $12 and $13. As for the dessert, you should budget $3.50 to $9.
The staff is very attentive and treats each client with courtesy. They seem like they really love their job and will not let you wait too long for your food.
Hideaway Pizza FAQs
At what time does Hideaway Pizza open?
Most Hideaway Pizza restaurants open at 11:00 a.m. Monday through Sunday. However, it may vary from one location to another, and you should visit the company's official website to check this information.
At what time does Hideaway Pizza close?
In general, Hideaway Pizza's restaurants close at 09:30 p.m. Sunday through Thursday, and at 10:30 p.m. on Fridays and Saturdays. But again, it depends on the location and the day of the week.
Who started Hideaway Pizza?
Hideaway Pizza was founded by Richard Dermer and his wife, Marti in 1957, in Stillwater, Oklahoma.
How many Hideaway Pizza locations are there?
Currently, there are 22 Hideaway Pizza locations across the Oklahoma and Tulsa regions.
Who is the Hideaway Pizza CEO?
The CEO of Hideaway Pizza is Brett Murphy.
What is the most popular Hideaway Pizza pizza?
One of the most popular Hideaway Pizza pizzas is the Pollinator, which is drizzled with sweet honey and covered in banana peppers, pepperoni, salami, and spicy capicola.
https://www.thepricer.org/wp-content/uploads/2023/03/Hideaway-Pizza-menu-prices.jpg
380
610
Alec Pow
https://www.thepricer.org/wp-content/uploads/2023/04/thepricerlogobig.png
Alec Pow
2023-03-13 10:52:55
2023-03-07 12:40:09
Hideaway Pizza's Menu Prices