How Much Does Horse and Carriage Rental Cost?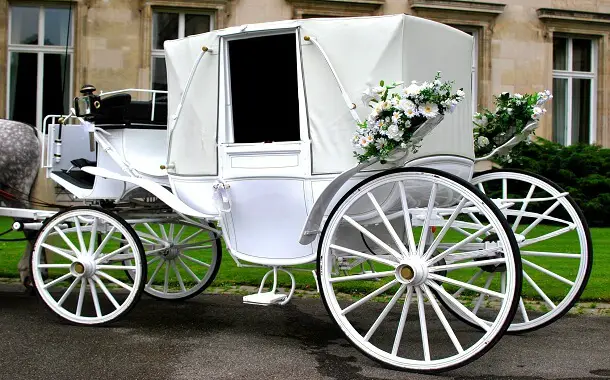 Horse carriages are not a very popular mode of transportation and neither a very efficient one, but we can all agree that they are one of the poshest modes for road travel on special occasions. On many of these occasions, horse carriages are even preferred over limousines or sports cars.
Such is the royalty carried by this odd mode of transport from the past. They are often rented by people on several important occasions such as on Valentine's Day for a romantic ride, at funerals as a horse-drawn hearse, and to arrive at proms. They are the most abundantly used at weddings. Other than special occasions, horse and carriage rides are often given at public places for tours.
How Much Does Horse and Carriage Rental Cost?
The cost of a horse and carriage rental typically depends on the length of time the carriage is needed, the type of carriage, the number of horses required, and the distance the horses and carriage must travel to the event.
Rates can vary from less than  $250 for a one-hour horse and carriage ride locally to $1,500 or more to rent an elaborate carriage for three or more hours for a far-away event that requires the horses to be transported in a trailer. Many companies have a minimum booking of one to two hours because it takes hours to get the horses and carriage ready for an event.
Horse and carriage rides are available at several historic locations and they have a set of charges for different lengths of time and for different age groups. For instance, Charlotte Center City Carriage Tours charge $12 per adult and $6 per child of ages 4 to 10 for a 20-minute ride around the city, while the charges double for each age group for a 40-minute ride. Moreover, the price surges shockingly for private reservations of 50 minutes to 1 hour, which will cost around $125 for two adults.
A carriage rental that requires travel, lasts for more than two hours, or uses a specialty carriage typically costs $600-$1,500 or more. For example, at Low Country Carriage, which charges $2 extra per mile each way for travel plus $50 for each additional hour of rental, a two-and-a-half hour rental 25 miles from the farm would cost $600.
And a three-hour carriage rental from Andrusz Carriage Service would cost $725, while a four-hour rental would cost $875. At Elysian Fields Farm Horse and Carriage, a two-hour rental for an event 75 miles away would cost $950 or more; and, with a pumpkin-shaped, Cinderella-style carriage, the cost could reach $1,500 or more.
Do You Want To Start Your Own Horse and Carriage Rental Business? Here's How Much a Horse Will Cost
On occasions like Valentine's Day, the usual rental will range from $150-$200 for a 50-minute ride.
On the other hand, renting a horse-drawn hearse for a funeral can cost around $500 easily and it can rise up to $1,000, depending on the location and traveling distance.
Some people even hire a horse and carriage for proms, a birthday, company parties, or other special events. This can simply cost from $250 to $1,000 and, with special requests and additions, it can go up to $1,200.
The rental fee for a horse and carriage for a wedding
Weddings are a crucial part of one's life. They are the most important step of the groom and bride towards establishing a family and signify their endless love and commitment for each other which is reflected in their vows. Many people dream of this momentous day from their childhood and hence, carry a lot of expectations for their wedding day.
Thanks to the Disney princesses and stories like Cinderella, the culture of wedding carriages has been revived through their notion of relating princesses with this type of vehicle, and every bride wants to feel nothing less than a princess on her wedding day. So, arriving in front of the guests in a stunning horse-drawn carriage forms the basis of a true fairy tale wedding for many.
However, a few factors need to be taken into consideration before you rent a horse drawn carriage, one of which is the cost.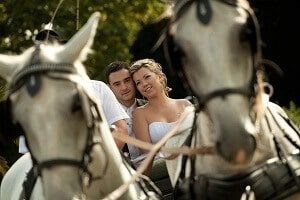 The cost of an elegant horse-drawn carriage service for a wedding depends on the length of time the carriage is needed, the type of carriage, the number of horses required, and the distance the horses and carriage must travel to the event. Based on these factors, the cost of renting can vary from less than $250 for a one-hour ride locally to as high as $1,500 or more for an elaborate carriage with multiple horses for three to four hours.
Would You Rather Have a Limo Take You To Your Wedding Location? Here's How Much Renting a Limousine Costs
In cities with local carriage rides, many companies will also charge over mileage, on top of a minimum rental fee. Expect an average of $3 to $5 for each mile until you reach the ceremony location. For keeping the carriage for extra travel time, companies might also charge between $50 and $100 per hour.
What should be included
You should expect nothing less than perfectly groomed and clean horses, a driver in formal attire, and a clean and shiny carriage. Some carriages might also be decorated with adornments like silk flowers.
Depending on what you will agree with the owner, the carriage can transport you to your event location and then take you home when you're done. For weddings, it can take you to the wedding venue, then take you away after the ceremony is over and bring you to the reception. Some carriage drivers might also agree o give rides to important wedding guests.
Additional costs
Don't expect gratuities to be included in horse drawn carriage rental prices.
An additional cost can be the tip of the carriage driver, which is assumed to be around 15% to 20% of the bill.
Spend less on carriage rental
We recommend that you make your reservation as far in advance as you can, as most serious horse and carriage companies will get booked very fast, especially for big days like Valentine's day.
It's always a good idea to ask for photos of the horses and the carriage to be used before you go ahead with the booking. Depending on the company, you might even be able to meet the horses in person. You can also talk about how the carriage will be decorated, how the driver will be dressed, and the color of the horses, to make sure your ride will be perfect for your needs.
You can also find a carriage rental company locator with state filtering at Carriage Operators of North America.
Final Words
If a couple is really fond of an elegant wedding that they will remember forever, there is no harm in going for a horse and carriage, as long as all important factors are considered beforehand to avoid disappointments. For instance, is renting the vehicle in the budget? Are the roads on the route passable or not? Further inspection of the carriage and horses should be done personally and reservations should be made far in advance to be sure you won't be overspending.
https://www.thepricer.org/wp-content/uploads/2016/10/horse-and-carriage-rental-price.jpg
380
610
Alec Pow
https://www.thepricer.org/wp-content/uploads/2023/04/thepricerlogobig.png
Alec Pow
2016-10-26 22:37:54
2023-02-25 23:41:27
How Much Does Horse and Carriage Rental Cost?