How Much Does a Firestone Country Club Membership Cost?
The Firestone Country Club is part of the ClubCorp family and is a private golf club you can find in Akron, Ohio.
The club was established in 1929 and it features three very popular courses. These are called North, West, and South. Each of these courses has hosted a television golf event in the past, including the PGA Championship.
How Much Does a Firestone Country Club Membership Cost?
From what we could gather, the cost of a membership at the Firestone Country Club is $30,000 or more in initiation fees, and $450 to $850 in monthly dues, depending on the type of ClubCorp membership you're going for.
An article in D Magazine states that you'll spend between $300 and $750 per membership at most country clubs belonging to ClubCorp.
If you opt for the ClubCorp Signature Gold Membership instead, you will likely spend $600 more in additional dues, according to the Golf Channel.
Firestone Golf Club amenities overview
Before you become a member of this club, your application will have to go through the approval of Firestone Country Club's Admission Committee.
The memberships offered by the Firestone Country Club are Corporate, International, Non-Resident, and Resident.
The corporate membership is designed for companies and can be assigned to an unlimited number of designees of an accepted company. International memberships are intended for members who have no residence or business headquarters in North America.
The Non-Resident membership is made for individuals who don't have a residence in an area of 50 miles from the club, and as you'd expect, the Resident membership is made for people living close to the club.
You might also like our articles about the cost of membership at the Scioto Country Club, Muirfield Village Golf Club, or New Orleans Country Club.
The Firestone Country Club membership will give you access to a network of over 200 local and worldwide private clubs, all of them providing special offerings, entertainment locales, resorts, and hotels under their name.
Depending on the type of membership you're going for, you will be able to take advantage of features like TicketLine for access to premium ticket services, ClubLine for concierge services, partner discounts and privileges, advanced tee times, free or highly discounted golf sessions, free or discounted dining, the use of the network club amenities, and access to the club's own amenities.
As for the amenities provided by the club, it offers, rental clubs, a driving range, a chipping area, a practice bunker, a putting green, dining, accommodation, and business services.
As a club member, you will also get access to the whole network of 200+ private golf clubs and country clubs around the world, as well as other business clubs and resorts that are part of the network. Furthermore, you won't have to pay to participate in national events and even national golf tournaments.
What are the extra costs?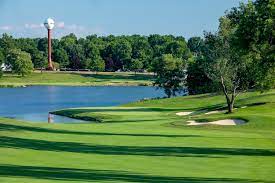 An additional cost you should consider is for private lessons that are available at the club. The official website states that you will spend between $100 and $200 per session for individual instruction with the PGA Director of Golf, and only half of this number, or about $50 to $100 if you choose to work with an assistant golf professional.
As a guest, you will spend $45 per nine hole game in green fees, or $90 per 18 holes.
Club fittings are also available, but these too cost additionally, anywhere between $60 and $140 per wedge, iron, or driver set. These costs will ultimately depend on whether the clubs are purchased from the golf course shop or somewhere else.
Golfers can also take advantage of club storage for a fee, as it isn't included in the features of most membership plans.
Important things about this Akron club
As stated above, as a member of the Firestone Country Club, you will be able to access not only the world-class amenities and facilities of the club but also the facilities and amenities offered by all its partners inside the ClubCorp network, for incremental charges.
Members and guests of the Firestone Country Club can also use their facilities for meetings, weddings, and other private events. When booking a room for an event that includes either dinner or lunch, you won't have to pay meeting room fees.
We recommend using the North course for an amazing golfing experience.
How can I save money?
The best way of getting your money's worth is to just use the facilities of the alliance partners and take full advantage of the reciprocal membership that ClubCorp golf clubs offer.
https://www.thepricer.org/wp-content/uploads/2023/08/firestone-country-club-membership-cost.jpg
380
610
Alec Pow
https://www.thepricer.org/wp-content/uploads/2023/04/thepricerlogobig.png
Alec Pow
2023-09-05 08:52:37
2023-08-30 09:18:47
How Much Does a Firestone Country Club Membership Cost?