How Much Does a Floating Dock Cost?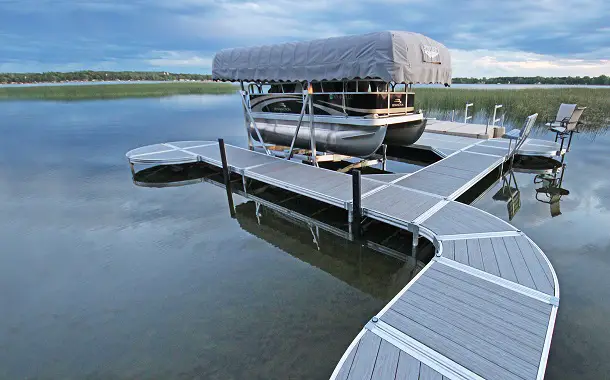 A floating dock is a structure that is not fixed into the bottom of the water and can be removed, repositioned, or even folded, as needed. This innovative docking method differs from typical fixed docks, which are secured beneath the water by piling.
Floating docks, on the other hand, may be the ideal answer if you want to install a dock in water where the tide level frequently rises and falls substantially or the water freezes each season. However, it is important for the floating dock to have large and properly set pontoons in order to be sable.
How much does a floating dock cost?
The cost of a floating boat can range somewhere from $5,000 up to $30,000, for a basic configuration. However, take into consideration that more complicated docks with additional facilities may cost more than this. This price range can vary and depends on several factors.
Floating dock costs are calculated by square foot. For example, if the labor is done by you, the cost for a square foot of material is anywhere from $8 to $13. However, for a pre-assembled floating dock, the costs range somewhere from $16 to as much as $35 per square foot. This price covers both the material and the labor performed by a professional worker.
Take into consideration that this price range can be affected by your geographical location, the experience of the worker if one is hired, the size of the dock, and also the material of the construction.
As per the installation costs, hiring an experienced worker can cost from $3,000 up to $17,500.
Some well-known brands manufacture floating dock kits that are easy to assemble. For example, shop.dock-blocks.com has plastic material kits that can be purchased in different sizes. For a 12.8 ft x 4.8 ft made from 24 blocks, each block having 2.56 square feet, the cost is $2,760, without the labor included.
As for a 20 ft x 20 ft floating dock made from 144 blocks, the cost comes up to $16,560. These boat docks can be assembled in the shape that you want and have a lifetime warranty.
Another brand, EZ-docz, creates modular floating docks in different shapes. The blocks measure from  3.5'x5' to 6.5'x10' and the prices are from $30 to $50 per square foot.
As stated above, floating docks are made from different materials, and we compiled a table with some materials and their average costs.
| mATERIAL | cOST PER SQUARE FOOT |
| --- | --- |
| Wood Cedar | $4 to $8 |
| Wood Redwood | $7 to $8 |
| Wood treated by pressure | $5 to $8 |
| Wood Exotic | $6 to $15 |
| Aluminum | $8 to $15 |
| Synthetic | $10 to $15 |
| Plastic | $4 to $10 |
Keep in mind that these costs are estimates, and the prices may vary BASED on your location depending on your setup, you might incur some additional costs as well. In order to get the best deal, contact at least three to five companies and ask for a quote.
Floating boat dock overview
The floating dock is manufactured to float on water, either close to shore or further out. It is known for having a resistance structure and a high degree of stability due to the correct design and distribution of weight.
As long it can be secured, it can be linked to anything. Depending on the floating dock and the place or thing it needs to be secured to, some particular piers are necessary. These can be designed in many ways. The most common shapes are a straight dock, an L-shape, a U-shape, and a T-shape.
What are the extra costs?
Floating docks do not need as many licenses as an on-spot dock, however, you will need a permit for construction. This will add between $1,000 to $5,000 to your costs, depending on the complexity of the floating dock, geographical location, and water depth.
You might also like our articles on the cost of building a boat dock, boat storage space, or boat lift.
Another additional cost may be the transportation of the floating dock. Even if some companies do not charge for it, make sure you ask beforehand and include it as a possible expense.
Accessories are definitely an extra cost, if you want to have comfort and extra safety. For example, lighting, dock bumpers, rails to the sides, ladder on which you can access the dock will increase your budget.
Even though the floating dock kits come with all parts needed included, you may find that for extra safety you will need more material in order to secure it properly.
Also, there is an additional charge if you want a customized skid bunk or more keel rollers in order to add more flotation.
Important things to consider
If you want to increase your floating pipe dock lifespan, it is good to keep it under regular maintenance.
For extra safety when a boat is attached, purchase a floating dock that enables you to attach a cleat or bumper to any edge.  These are to safeguard the boat from damage if it hits the dock due to the waves.
If you are thinking of building a dock as a DIY project, ensure that the floats are from proper material, that will not sink.
Floating docks will shift slightly when you step onto them, and also will swing with the waves. So beware not to fall in the water while stepping on it.
How can I save on the cost to build a dock
Give floating dock kits a shot. These are pre-assembled, with everything you need included and ready to install.
Among the cheapest types of docks you can go for are aluminum floating docks.
Keep an eye on specialized websites, as they often offer huge discounts.
Also, another way to save money is by purchasing used floating docks. Usually, the discount is up to 50% when you buy a second-hand floating dock.
In case your budget is very low or you are up for a challenge, try doing it yourself. There are tons of tutorials on Youtube, showing how to build and install a floating dock. Keep in mind that a DIY floating dock costs $100 to $200 only.
Some companies offer the transport of the merchandise as a bonus. So, researching is the best way to find a deal that suits your budget and needs. Always contact at least three to five companies before you purchase something.
https://www.thepricer.org/wp-content/uploads/2023/09/floating-dock-cost.jpg
380
610
Alec Pow
https://www.thepricer.org/wp-content/uploads/2023/04/thepricerlogobig.png
Alec Pow
2023-09-10 06:31:55
2023-09-02 12:52:19
How Much Does a Floating Dock Cost?