How Much Does a Macy's Makeup Appointment Cost?
Macy's is one of the largest retail stores, providing a wide range of make-up products and beauty services while keeping up with the latest trends in fashion and beauty.
Each store has stylist professionals to come in and help with tips and tricks on how to do your makeup and skincare routines and teach you how to enhance your natural beauty, or, as they say, find your Beauty Destination.
At Macy's, you can benefit from several beauty sessions, complementary favorite beauty products, and Beauty Advisors who can teach you lots of tips and tricks, but you can can book makeup appointments for a full makeover.
How much does a Macy's makeup appointment cost?
The average cost of a makeup appointment at Macy's locations is around $50 for 30-minute make-up applications, $90 per 60-minute application, and $120 per 90-minute make-up application.
Macy's pricing structures may vary depending on several factors such as your geographical location and the type of appointment you book, whether it is a make-up appointment for an event or a one-on-one session to learn make-up techniques. Also, the cost of an appointment depends on the experience level of the makeup artist and on the products and brands that are used during the session.
According to our research, several beauty brands that are found in Macy's stores, offer free appointments. This is available when you purchase products from a specific brand for a specific amount of money. For instance, at Macy's, when you buy MAC's beauty products for over $50, you can benefit from a free make-up appointment.
An important aspect is that the required amount of money for buying beauty products in order to benefit from a free make-up appointment will vary depending on the brand.
Also, another factor that can influence the cost of a make-up appointment at Macy's, can be the period when you book it. For example, if you book an appointment during busy periods, such as prom time or holidays, you may expect to pay more than during usual times.
Macy's overview
Macy's is home to several well-known beauty brands such as Chanel, Clinique, Anastasia Beverly Hills, Lancome, Estee Lauder, MAC Cosmetics, Dior and others. Each one has its own unique line of products, whether it is for skin routine, make-up items for eyes, face contouring, brow shaping, and many other high-quality products from which you can choose.
In Macy's stores, you can find several beauty experts, or as they call them, Beauty Advisors, who are trained to know all about a specific brand. The Beauty Advisors will be able to tell you all about a specific beauty product that you intend to purchase, and not only that, but they can offer you a complimentary session showing you how to use and apply the product.
This is done in order to persuade the client to purchase the product after the session or at least in the future. Also, the stylists are working on a commission. When selling the product for the brand, they receive additional money with every cashout. However, there are Beauty Advisors who are paid hourly and do not receive any commissions for selling the products.
There are brands that will not offer a complimentary session. For more information, we recommend you ask the Macy's beauty department directly.
Macy's beauty services
As we stated above, several brands offer complimentary makeup services at Macy's locations. Below, we listed the brands and what services they provide:
BRAND
HOW TO – TIPS & TRICKS
Anastasia Beverly Hills

Brows: signature brows, sculpted ombre brows
Eyes: winged liner, smokey eyes, radiant eyes
Lips: Bold matte lips, Glossy lips
Face & complexion: stick to flawless: layering products for a natural look or flawless finish, Glow + contour

Bobbi Brown

Brows: your best brows
Eyes: Standout eyes, Instant dark circle eraser
Face & complexion: 5-minute makeup, Foundation for fresh, healthy skin, Highlight & glow

Chanel

LE QUART D'HEURE ICONIQUE: Master the iconic CHANEL makeup look
LE QUART D'HEURE TONIQUE: Learn massage techniques for skin-care ritual
LE QUART D'HEURE ALCHIMIQUE: Discover your signature CHANEL fragrance with a personalized scent experience

Clarins

Expert flash service: 15 minutes of luxurious pampering

Clinique

Face & complexion: Foundation fundamentals, Skin-care essentials, Smoth & renewed lab, Glowing skin, Even tone essentials, Clinical consultation
Eyes: Guide to eyes
Lips: Lessons for lips

Dior

Personalized skin-care consultation
Beauty styling: Eyes or lips – Beauty essentials: DIOR's signature look featuring their beauty icons
Fragrance consultation: Find your perfect Dior fragrance

Elizabeth Arden

Face & complexion: Skintervention, Tone it UpTOWN, Oxygen beauty blast, Moisturizer advisor
Face & eyes: Re-Nutriv spa services
Other services: Signature scent

Estee Lauder

Face & complexion: Virtual try-on tool, The art of complexion, The skin of your dreams
Face & eyes: Re-Nutriv spa services
Other services: Signature scent

Kiehl's

Face & complexion: Skin Pro consultation, The Kiehl's ultra-facial, Pore no more, Calming glow, Super youth boost, Barrier tabs, HSA tool

Lancome Paris

Face & complexion: Pro Radiance Booster, Shade Finder + free 10-day sample

Laura Mercier

Face & complexion: Flawless complexion, The art of setting, Healthy glow, The flawless face, Red-carpet ready, Bridal atelier, Master class + free 10-day sample
Eyes: Focus on eyes – Lips: Your perfect lips

MAC

Face & complexion: Your perfect foundation match
Lips: Love your lips
Brows: Wow brows – Eyes: Eye inspiration, Lash & line, The essentials, What's trending

Origins

Face & complexion: Signature mini-facial, Signature face yoga

Shiseido Ginza Tokyo

Face & complexion: Lift with vital perfection, Smooth with Benefiance, Hydrate with essential energy, Eye awakening

SK-II

Face & complexion: Magic Ring beauty-imaging system consultation, Mini-Magic Scan consultation
Keep in mind that these complimentary services will be available depending on the location, and may have specific requirements such as purchasing products from that brand for a specific worth.
You might also like our articles about the cost of MAC makeup appointments, self-makeup courses, or brow powdering.
Benefit San Francisco is another brand that provides services. However, these are not complimentary. Depending on the type of service you want to benefit from the costs will vary. Below, we have listed the services that Benefit San Francisco offers, and their costs:
Signature Brow Wax – $27
Brow & Facial Threading – $14 – $36
Brow Lamination – for up to 8 weeks – $90 – $105
Brow Tint – $24 – $43
Facial Wax – lip, chin, & sides – $14 – $36
Take into consideration that these costs are subject to change and may vary depending on the location.
Important things to consider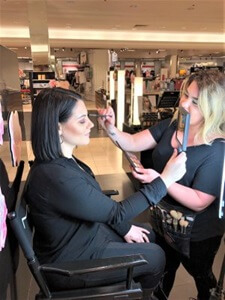 In order to book a free makeup application at your nearest Macy's store, you can go on the official website or to one of their locations. However, there are a few brands that will only provide the sessions at the moment you purchase the products, and in their case, there is no option to schedule the free appointment beforehand.
It is advisable to book your professional makeup appointment at least a few weeks in advance, especially if it is for a special event such as a prom or wedding.
Keep in mind that Macy's can offer group lessons that can accommodate up to 15 individuals per session.
You can cancel or reschedule your makeup appointment as long as you do this within at least 24 hours.
Extra costs
As stated above, in peak seasons or busy periods, such as proms or wedding seasons, the cost of a cosmetic appointment may come at an additional fee.
Canceling or rescheduling the appointment in less than 24 hours may come with an extra charge.
Take into consideration that it is customary to tip the beauty expert around 15% to 20% of the total cost.
https://www.thepricer.org/wp-content/uploads/2023/10/Macys-makeup-appointment-cost.jpg
380
610
Alec Pow
https://www.thepricer.org/wp-content/uploads/2023/04/thepricerlogobig.png
Alec Pow
2023-11-01 10:24:35
2023-10-25 12:05:01
How Much Does a Macy's Makeup Appointment Cost?