How Much Does a Martin Brothers Custom Car Cost?
Regardless of whether you have a rusted-out roadster or a busted bike, any vehicle deserves a second chance at looking new. The mechanic with great skills called Joe martin, along with his best friend Jayson "Shag" Arrington and his wife Amanda have created a team called Martin Bros Customs, which is trying to resurrect vehicles of all sizes, shapes, and types. Joe is the winner of the "Biker Build-Off" show featured on Discovery Channel, now part of the original series Iron Resurrection featured on Velocity.
But what is the price of cars transformed inside the Martin Bros Customs garage?
How Much Does a Martin Brothers Custom Car Cost?
Although most of the cars they build on their show have private owners so the price of their revival isn't revealed, we were able to find a few models sold online. So here's what we were able to find out:
Past customers of the Martin Bros Custom garage said they paid anywhere between $90,000 and 140,000 for a custom-built resto-mod. Martin's bikes on the other hand, are known to sell for around $100,000. His customers are mainly collectors who might never ride these beauties.
If you don't want to work directly with Joe and his team, then you might be able to find cars custom-built by them in collector's car auctions.
For example, a 1965 Ford Falcon Custom Coupe was sold on the Barrett Jackson car auctions website for $143,000. This car was featured on the TV show Iron Resurrection, Season 5m Episode 9, and was built by the Martin Bros Customs team. They spared no expense and built this beast 100%, completing the work in August 2021.
How Much Does Martin Brothers Customs merch cost?
If these prices are too steep for you but you still want to get a Martin Bros Custom souvenir, then you can buy their merch from their official website for anywhere between $3.99 and $155. On the higher end, you will get metal signs and other metal-made souvenirs, while the cheapest item is a Martin Bros sticker.
Their official website also offers car parts, although their stock isn't very varied when it comes to parts. You can still buy LS3 flex plates for $25, LS1 Timing Cover for $15, or LSI Valey covers for $20.
More about the Martin Bros Customs show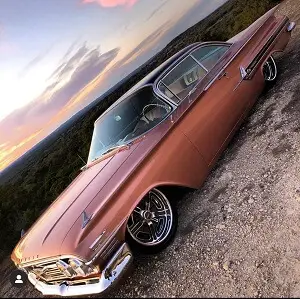 Each episode of Iron Ressurection is part custom fabrication show, part wheeler dealers, and part car pickers show, and features Shag and Amanda looking all around the countryside of Texas, looking for unpolished, hidden mechanical gems they can bring back to life in the shop, with the help of Joe and their crew.
The brains and beauty of Martin Bros Customs is Amanda, who keeps the dollars coming in by going out scouting, using her amazing knowledge of all car lots and backwoods sheds in Texas. Shag, on the other hand, is known as the "fastest mouth in the south". He uses this gift of spewing words coupled with amazing marketing skills to get amazing deals on all vehicles.
When a car is bought and then brought to Martin Bros Customs, the small but incredible team made of Joe as the leader, helped by Pompa, Manny, Jason, Mike, and Shorty, will work magic on the metal, creating hot rod wonders out of unpolished gems.
This happens due to Joe's amazing vision. It's then Shag's job again to use his magic to find new buyers and get the biggest price for any new Martin Bros Customs creation. Although this Texas team makes raising a car from the dead very easy, there is actually a lot of work to restore what starts as a pile of rusted metal, transforming it into one of the crazies and hottest vehicles in the world.
Although Joe Martin has always had a passion for cars and motorcycles, he never thought he would get a show on TV through his hobby. It was in 2016 that Joe managed to become a TV star, through the show Iron Resurrection, which shed light on his custom car and bike business called Martin Bros Customs. Viewers watching the show were able to witness the amazing work done on vehicles by the Martin family and their team.
It was not only the craftsmanship of the team but also Joe's allure as the ideal TV reality star that made this show go on for quite some time.
https://www.thepricer.org/wp-content/uploads/2023/02/martin-bros-customs-car-cost.png
380
610
Alec Pow
https://www.thepricer.org/wp-content/uploads/2023/04/thepricerlogobig.png
Alec Pow
2023-02-24 07:52:42
2023-02-24 07:52:43
How Much Does a Martin Brothers Custom Car Cost?