How Much Does Hydroseeding Cost?
Hydroseeding is a solution for turfing both residential gardens and large areas, the result being one of high quality in both cases. It is an optimal technical solution for covering the slopes of highways or railways where there is a need to stabilize the land and combat its erosion.
In addition to the speed with which it is carried out, the lawn benefits from the best conditions for proper germination, obtaining the desired result.
How Much Does Hydroseeding Cost?
Hydroseeding is one of the cheapest seeding methods as little shipping or prepping is needed. If you hire a professional, you will have to pay, on average, anywhere between $0.15 and $0.30 per square foot or more than $3,100 per acre if no prep is required.
Usually, contractors will charge by the acre for the larger jobs and by the square foot for smaller jobs. The cost for hydroseeding will depend on various factors such as the need for site preparation, the contractor you hire, the density, and the type of seed being used.
As all the jobs are unique and different, take into consideration getting multiple quotes from local retailers. In the table below you will find the average costs for hydroseeding depending on the size of the job.
| | |
| --- | --- |
| Size of Job | Average Price (per square foot) |
| 2,000 – 10,000 square feet | $0.25 per square foot |
| 1 acre (43560 square feet) | $0.12 per square foot |
| 10,001 – 43,560 square feet | $0.18 per square foot |
| Over 100 acres | $2,900~ per acre |
| Over 50 acres | $3,300~ per acre |
| Over 20 acres | $3,800~ per acre |
| Over 10 acres | $4,200~ per acre |
| Over 5 acres | $4,700~ per acre |
According to the members of the Lawn Site forum, you should expect to pay anywhere between $0.18 and $0.25 per square foot, not including site prep, for an area of 6,000 square feet.
You might also like our articles about the cost of lawn aeration, lawn seeding, or lawn painting.
Also, from the Turbo Turf website we found that the cost of hydroseeding in residential settings would be anywhere between $0.09 and $0.30 per square foot, with the most common price of $0.09 to $0.15 per square foot. The cost of the larger jobs, like highway construction, would be even lower, in general, as low as $0.05 per square foot.
If you are living in Massachusetts and hire Medeiro's Hydroseeding company for hydroseeding, you should be prepared to pay anywhere between $0.10 and $0.15 per square foot. This price would include the mulch, fertilizer, seed, and labor after the site is prepared.
Hydroseeding – short presentation
Hydroseeding consists of mixing lawn seeds, fertilizers, mulch, gel copolymer, and fixing agent together with water, after which they are sprayed on the soil using hydraulic equipment. The right choice of seeds is made according to the exposure of the soil to the sun, and shade, and whether the land is on a slope.
Hydroseeding technology first appeared in the United States and is now used globally because it provides rapid turf installation, being the only technology that is used to fertilize sloping land, with steep slopes helping to prevent soil erosion.
What are the additional expenses?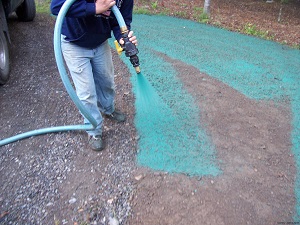 There are some contractors that would charge a consultation fee to come to your site to inspect and analyze it. In general, this is anywhere between $60 and $120, but this fee can be waived if you hire them to do the work.
Usually, hydroseeding requires very little preparation work, otherwise, there is a lot of vegetation or dead grass on that site. In this situation, the contractor will recommend that you remove the debris by tiling the ground to avoid vegetation growth after performing hydroseeding. The amount of money you are going to spend on site preparation depends on how the debris is removed and how much is removed.
You will need a lot of water for hydroseeding, and for the majority of the jobs, a professional will have to refill their water tank a minimum of one to two times. In order to do it, they can use your home's garden hose or they may have to travel to a water source in case you don't allow them to use your water. In this situation, the professional may apply a labor and mileage fee, depending on how many times they need to refill the tank.
Also, the company may apply a mileage surcharge, if they need to travel farther than their area.
Important things to consider

The lawn that is made by hydroseeding costs 1/3 of the price of the rolling lawn. Through this method, lawn seeds can be pre-germinated, thus reducing the number of days until they germinate.
With hydroseeding technology, several types of seeds together with fertilizers, co-polymers, and stabilizers can be mixed with water, and these are spread on the already prepared land.
Tips for saving money
Because of the machine setup process hydroseeding is not a cost-saving option for a small area, says Landscaping Network.
In general, the majority of professionals offer discounts if you have a larger-than-average job. For instance, even though a three-acre job is more than an acre job, the price "per acre" may be lower.
https://www.thepricer.org/wp-content/uploads/2023/02/hydroseeding-cost.jpg
380
610
Alec Pow
https://www.thepricer.org/wp-content/uploads/2023/04/thepricerlogobig.png
Alec Pow
2023-02-24 06:19:08
2023-02-20 13:49:05
How Much Does Hydroseeding Cost?