How Much Does it Cost to Build a Factory?
It is quite a challenge for anyone to build their own factory from scratch, and what differentiates entrepreneurs is the attraction they have to start a business and the power to overcome their fears. There are many risks and obstacles, but there are just as many reasons to start and run a factory.
How Much Does It Cost to Build a Factory?
The amount of money you are going to spend on building your factory will vary depending on what you plan to manufacture. For instance, a factory for simple assembly operation would cost you less than $1 million, while for a new factory setup with a semiconductor fabricator, you will have to budget $15 billion to $20 billion.
Equipment Cost
When setting up a factory, one of the largest costs to consider aside from the construction cost is the factory's equipment cost. The manufacturing activity revolves around the most important piece of equipment. All the manufacturing processes will be planned depending on it.
For instance, if you will produce plastic-injected products, you will need an injection mold machine. The tempo for manufacturing is created by the tempo set by this machine. If one machine has the capacity to produce two thousand pieces per shift and you need a million pieces a year, then you will have to purchase two machines if you run one shift for 250 days per year.
That estimate assumes that your business is working at 100% which is unlikely, plus it does not consider growth. In order to account for estimated growth, it is recommended to purchase three machines. This way you will also have the flexibility to perform routine maintenance.
You might also like our articles on the cost to build a salt cave, a castle, or a mosque.
After that, you should find the capacity of other direct equipment. This type of equipment is specifically designed to work on the product, not to package or transport it.
Once you have the most critical piece of equipment, you can plan the manufacturing process around it. You may also need cooling stations, a dust collector, or a conveyor belt. You can make your business plan based on your production and capacity.
You should also know that there is some equipment that has a much greater capacity and you may need only one. For instance, in most factories, the paint department must be a certain capacity and size, no matter how much they need to produce. There was a manufacturer that built a factory with a production of less than 50,000 items and after that expanded it to five hundred thousand. The size and the equipment of the paint department haven't changed, only the tempo was increased.
Decorations and process flow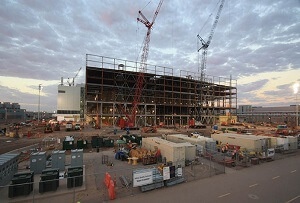 The needs of the rest of the factory will be determined by the process flow. These needs are used for "decoration", which refers to what has to be changed in the factory for starting production. You should plan to spend a minimum of 5% of the cost of equipment on these, but it may vary.
It can be very helpful to take a modular approach in this situation. Use only the space needed for the current production, even though there is plenty of space. Also, you can save a lot of expense and time by structuring utilities in such a way that you can move them to accommodate various configurations. Another way to save money is through layout optimization.
After that, you should budget for the costs of the supplies for the employees in the office and on the production line, the employees' areas (canteen), office and transportation equipment like a forklift.
The last costs to consider are those with the personnel. The necessary number of equipment operators is recommended by most equipment manufacturers. Starting from this, you can calculate your direct labor needs. The first two positions to hire are the general manager and the HR responsible. The core of your administrative team will be formed by these two individuals. They will work together to hire and train new workers.
Other cost factors to consider
However, the reality is far more complex and the expenses of building your factory do not depend only on what you plan to produce. You also have to consider the commercial construction cost per square foot, the systems you want to put in place, how much you plan to produce, the building or warehouse you're building it in, and what your growth projections are.
What do I need to know before starting?
First of all, you should start with the items you are going to produce and how much. We will take as an example a simple item such as plastic injection mold toys. It is relatively straightforward and simple to make these products. It would not take a long period of time to train workers and the equipment is not complex. Let's assume that we will produce only one type with a simple changeover for molds between various types of toys. One is a plastic car, and the other is a doll.
Once we have the product, we can decide on how much we want to produce. Also, you will need to understand how much you will sell. Another critical point in pricing out the manufacturing is the expected sales.
Final words
In the end, once you calculated all the costs, you should add another 20%. This additional amount is to cover any unforeseen problems that may arise. Some of these issues may include delays, problems with the contractors who install the equipment, or cost increases on essentials. You should always have that 20% buffer in mind, even if along the way you can find ways to reduce expenses with building a factory.
https://www.thepricer.org/wp-content/uploads/2023/06/cost-to-build-a-factory.jpg
380
610
Alec Pow
https://www.thepricer.org/wp-content/uploads/2023/04/thepricerlogobig.png
Alec Pow
2023-06-08 08:37:12
2023-06-04 01:02:00
How Much Does it Cost to Build a Factory?