How Much Does it Cost to Make a Rolex?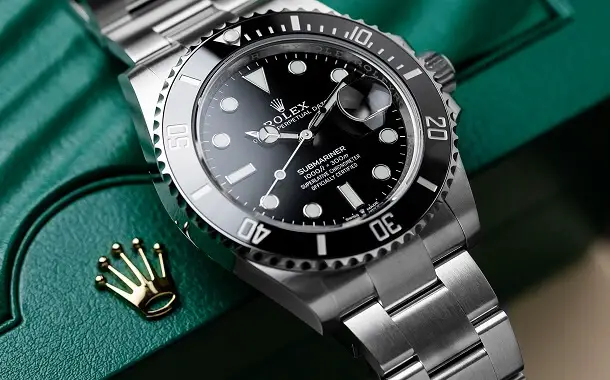 The Rolex company is not only known for providing quality watches; it also gives its clients the feeling of success. Rolex watches have become a symbol of high social status due to their refinement and performance.
How much does it cost to make a Rolex?
In general, it actually costs anywhere between $2,600 and $4,200 to produce a regular Rolex watch. These costs may increase depending on factors such as how complicated the design is and the precious metals used to make it.
Why are Rolex watches so expensive?
They use in-house materials
Although they work with various steel suppliers, Rolex produces gold and platinum in-house. The machinery in its own workshop allows the mixing of metals that are later transformed into 18-carat yellow, white, or rose gold, Rolex being the only watch company with a custom foundry.
To make a watch, Rolex uses expensive and difficult-to-handle stainless steel. Since 2003, the Swiss watchmaker has been using 904L, a type of steel that few other brands use in the manufacturing of their watches. It is corrosion-resistant and harder than other types of alloys, but most importantly it can be polished incredibly well if worked properly. The first 904L steel watch was launched in 1988, along with several versions of the Sea-Dweller model.
As a vertically integrated company, Rolex is a manufacturer that invests in well-organized processes and techniques. The gold, the bracelets, the quadrants, the bezels, the movements – all are produced in the Rolex factory with incredible quality and efficiency.
Mechanisms are assembled and tested by hand
Despite rumors, all Rolex watches are checked, re-checked, and then checked again – by hand. Indeed, Rolex owns the most sophisticated machinery that could allow the rapid assembly of all the mechanisms inside a watch. But these are only at the moment of pressure finishing, to ensure a quality that cannot be proven by human power.
Exceptional design
Rolex collaborates with an army of gemologists. Their role is to buy and X-ray test the authenticity of precious stones such as diamonds, rubies, and emeralds that present the decoration of each watch. To ensure absolute quality, each batch of stones is selected and checked by hand, and custom settings are made by traditional jewelers.
It takes a year to make a Rolex watch

The whole manufacturing process takes quite a lot of time because all the materials are designed in-house. Moreover, after all the parts are completed, they are assembled by hand and individually tested, and the quality assurance process is quite intensive. Of course, the watch house could speed up the process, but Rolex wants to conceive a revolution and not necessarily an evolution of each watch model.
Ample manufacturing process
Rolex has its own science laboratories. They represent an internal development and research department, dedicated to the discovery of the most innovative manufacturing techniques by highly qualified scientists.
You might also like our articles on the cost of the most expensive watches, watch cleaning services, or jewelry appraisal.
The most important is the chemistry laboratory, which researches the oils and lubricants used during the manufacturing process, and the test chamber, where watches are subjected to simulated wear and tear to certify resistance.
The watches are individually tested in pressurized water tanks
In the first stage, all Rolex watches are tested with air pressure, then models such as Submariner and Deep Sea get certified for water resistance through the most complex methods. They are placed in large tanks filled with water, and after they are removed, they are subjected to a heating process.
Condensation is checked by placing cold droplets on the quadrant, then scanned with an optical sensor. The whole process takes no less than an hour, at a pressure equivalent to 12,000 meters deep.
FAQs
What is the cheapest Rolex made?
The cheapest Rolex watch available on the company's website is the Rolex Oyster Perpetual, which has prices that range from $5,400 to $6,200. It has the lowest production cost because it is made of all steel instead of precious metal.
Is it wise to invest in a new Rolex watch?
It is an excellent idea to invest in a new Rolex watch because over the years its value has increased rather than decreased. For instance, a brand-new Daytona in stainless steel costs about $15,000, and you may purchase it for up to $39,000.
How long does it take to make a Rolex watch?
It takes almost one year to make just one Rolex watch. Even though Rolex produces roughly a million watches every year, they never skimp on quality control. They focus on quality and effectiveness.
Why is Rolex so hard to purchase?
Rolex watches are so difficult to buy because of their high market value.
Final words
Thanks to their precision, special materials, and exceptional craftsmanship, Rolex watches have never been cheap to make. Almost anyone would like such a watch. Investing in such watch models is not only a pleasure for the soul. As we mentioned above, these watch models can represent real business over time.
https://www.thepricer.org/wp-content/uploads/2023/08/cost-to-make-rolex.jpeg
380
610
Alec Pow
https://www.thepricer.org/wp-content/uploads/2023/04/thepricerlogobig.png
Alec Pow
2023-08-09 08:16:16
2023-08-06 11:08:46
How Much Does it Cost to Make a Rolex?