How Much Does it Cost to Rent a Meeting Room?
A meeting room serves for business or client meetings, interviews, training sessions, and conference calls. Usually, these types of formal spaces are located in hotel chains or conference centers all around the United States.
Meeting rooms are rented by those companies that have a limited space office and need to organize a conference with a larger number of attendees, or for a video conference with foreign clients, for example. Companies often choose to rent these kinds of spaces for team discussions, especially if they practice hybrid working.
Meeting rooms come in various sizes, with proper furniture for a formal working space such as tables and chairs, screens, LCD projector, WiFi, and several other facilities needed for a proper working environment.
When renting a meeting room, consider your needs, the purpose of the meeting, and the number of participants. You will find that these spaces can be very different depending when it comes to the amenities that they offer and their costs.
How Much Does it Cost to Rent a Meeting Room?
The cost of renting a meeting room can get anywhere from $25 up to $500 per hour. These costs will greatly depend on the size of the room, location, and amenities that it provides. The average cost for renting this type of facility is somewhere between $75 to $165 per hour. For langer high-end spaces such as conference rooms for a larger number of attendants, the cost may go up to $450 per hour.
However, meeting rooms can also be rented for a day, usually meaning an 8-hour frame, and the costs can range between $400 and $800. For larger spaces and professionally equipped spaces, you can expect to pay around $1,500 per eight hours.
According to Pearspaces.com, the cost range for renting a meeting room can go anywhere from $30 up to $250 per hour. Also, when renting for an eight-hour working day, the costs for a small room may be between $400 to $700, and for a larger conference room can go from $1,000 up to $1,500.
620LaSalle.com says that the cost range for an average meeting room can cost from $70 to $160 per hour but can go to as much as $500 per hour for a larger space. Also, for a smaller meeting room, for two to five attendants, the costs can be around $10 to $20 per hour.
DavinciMeetingRooms states that the average cost of renting is around $20, depending on the location and size of the meeting room.
According to Regus.com's official website, they have several rental spaces that can cost from as little as $15 up to $140 per hour.
BlenderWorkSpace.com claims that the range cost for renting a meeting room in New York can be anywhere from $75 up to $165 per hour.
The table below should give you an idea of the prices you will pay when renting a meeting room, based on the number of guests that can attend:
| Number of Guests | Average Costs per Hour |
| --- | --- |
| 1 to 3 attendants (cubicles) | $10 to $25 |
| 5 to 8 attendants | $20 to $40 |
| 10 to 15 attendants | $50 to $75 |
| 100+ attendants | $170 to $500 |
Take into consideration that these costs are estimates. The costs of renting a meeting will vary based on size, location, facilities, and who rents it.
Most of the time, meeting rooms can be found for rent in hotel chains. In the table below we have listed the average cost of renting from some of the most common hotel chains in the United States.
| Hotel Chain | Average Costs per 8-hour day |
| --- | --- |
| Comfort Inn | $350 for 650 square feet |
| Doubletree by Hilton | $3,500 for 3,500 square feet |
| Embassy Suites | $600 for 1,100 square feet |
| | $2,300 for 4,000 square feet |
| Hampton Inn | $600 for 625 square feet |
| Holiday Inn | $450 for 875 square feet |
| Homewood Suites | $300 for 340 square feet |
| | $650 for 1,200 square feet |
| Radisson Hotel | $680 for 900 square feet |
| | $1,300 for 1,800 square feet |
Also, some popular hotel chains may provide the possibility to rent a conference room for a full day, meaning 24 hours. Check the table below to see the costs from several well-known hotels:
| City | Cost per 24 Hours | Hotel Chain |
| --- | --- | --- |
| New York City | $5,000 to $10,000 | Hilton, Hyatt, Marriott |
| San Francisco | $300 to $6,000 | InterContinental, Sheraton, Westin |
| Nashville | $200 to $2,000 | DoubleTree, Embassy Suites, Omni |
| Austin | $100 to $1,500 | Four Seasons, Hilton, Holiday Inn |
These costs are just estimates and the prices can greatly vary depending on the geographical location of the facility, the number of attendants, and amenities.
Meeting rooms overview
When renting a meeting room, the features that the company provides have a major impact on the cost. Commonly, this type of space will provide tables, chairs, and at least a TV screen or any type of projection equipment.
The more equipped and expensive meeting rooms will be able to provide audio and video technical and administrative support, several laptops, Wi-Fi, and parking.
Also, some rental companies or hotels may be able to provide papers, pencils, flipcharts, and whiteboards.
You might also like our articles about the cost of hall rental, LCD projectors, or coworking space opening.
Depending on the venue, they provide the possibility to rent for one hour, half day meaning four hours, and a full-day rental, 8 hours. Also, several companies may be able to rent for 24 hours.
There are different types of meeting room layouts. Depending on the type of gathering you may have, this aspect may be crucial for proper functioning.
Meeting rooms can be available in styles such as:
Boardroom – This layout is the most common in meeting rooms. There will be a large table with chairs around it. It is recommended for executive meetings where decision-making discussions are taking place. This will encourage communication between participants by standing face to face.
U-Shape – This layout will require tables placed in U shape and chairs on the exterior edge. The meeting rooms in a U-shape style are designed for presentations, training, and workshops.
Classroom – Usually, rows of chairs and tables face a whiteboard or screen. This layout is commonly used for training sessions or presentations, where the attendant need to take note and the focus is on the presenter.
Auditorium – Similar to the Classroom style, chairs will be placed in several rows but without the tables, also facing a screen or something similar. This style of meeting space is for conferences where guests do not need to take notes or have to have a decision-making discussion.
Huddle – For a more informal discussion, this style of meeting is perfect for a creative meeting for brainstorming. With a more relaxed environment, usually, these rooms are designed with beanbags, armchairs, and sofas.
From our research, hotels and venues have at least one room of this type on-site. Generally, hotel chains have available several hotel conference rooms, from a small space for an intimate meeting to larger rooms for conferences that need to be attended by larger groups.
For instance, Hampton Inn Homewood Suites provide meeting rooms of 600 to 1,000 square feet. However, Embassy Suites and Hilton host meeting rooms that can get up to 3,500 square feet.
Extra costs when you rent a conference room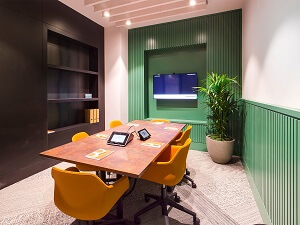 Depending on the meeting room and the amenities included, some facilities may charge extra for the internet connection. Also, using the fax or printer may lead to additional costs.
Catering may be available in several venues, at an additional cost between $10 to $100 per person.
Parking may also be charged extra at some venues. The cost range may be somewhere from $20 to $50 per day.
If the audio and visual equipment is not included already in the rental cost, expect to pay an extra $100 to $500 per day.
You might have to deal with other extra charges as well, such as a warranty deposit for any possible damages.
How can I save money?
For smaller groups, choose for example a library to save money. These places do not require upfront payment and may be cheaper than a meeting room.
Many companies also have a catering service that may be expensive. Before the meeting contact the facility and talk about your budget. They may be able to work with it.
Also, usually, these companies will give you the possibility of bringing the food for the meeting. In this case, you will be able to cut this expense by almost 50% or more.
Booking on weekdays will definitely be less expensive than on weekends.
Prioritize your needs and look for the space that will fit your meeting. Renting a room fully equipped and not needing all the amenities will unnecessarily increase the cost.
Renting a meeting room at a hotel may come with a discount for the hotel rooms if needed.
Hosting larger groups may come with some discounts, but be sure to ask about this detail.
https://www.thepricer.org/wp-content/uploads/2023/10/Meeting-Rooms-cost.jpg
380
610
Alec Pow
https://www.thepricer.org/wp-content/uploads/2023/04/thepricerlogobig.png
Alec Pow
2023-10-09 10:48:46
2023-10-01 14:06:46
How Much Does it Cost to Rent a Meeting Room?