How Much Does It Cost to Rent a Stadium?
As the number of sporting events rises in the United States, more and more people look for venues where they can host their events. Of course, one of the most popular places where a sporting event can be held is a stadium.
The cost of renting a stadium will usually range between $80,000 and $1 million. A lot of factors will dictate what side of the range you'll end up in, and in some rare cases, you might be charged upwards of $3 million.
There are stadiums that charge very high fees because they will include a lot of additional features like locker rooms or even luxury suites.
The larger the stadium, the more expensive renting it will be, and prices of $3,000,000 or more per day will be charged for the biggest and most popular locations out there.
How Much Does it Cost to Rent a Stadium?
So although the average cost to rent a stadium will usually fluctuate between $80,000 and $1,000,000. Let's go over different types of stadiums to better understand what your budget will have to look like for your particular case. We'll also talk about the most important factors that will affect the final price tag.
When it comes to NFL stadiums, statistics from 2022 pointed to an average cost between $400,000 and $500,000. A baseball stadium, on the other hand, is usually rented by the hour, with average prices of anywhere between $15,000 and $50,000 per hour.
If you think a football stadium will work better for you, then expect to be charged by the day. The usual rent for a football stadium will be somewhere between $350,000 and $500,000 per day. This won't include other features like a suite inside the stadium, which might cost you $10,000 to $20,000 additionally per day.
Keep in mind that the capacity of the stadium will be one of the most important factors. When negotiating the rates, be sure to ask about the facilities you will receive, including changing rooms, refreshments, and parking.
Stadium Rental Cost Summary
In the table below, you will find the general expected costs of renting a stadium. The sections following it will go into detail about the cost of renting different types of stadiums and factors that influence the price.
| | |
| --- | --- |
| Types of Stadium | Renting cost |
| Average Rental Cost | $80,000-$400,000 |
| Baseball Stadium | $15,000-$50,000 per hour |
| Football Stadium (MLS) | $350,000-$500,000 |
| NFL Stadium | $400,000-$600,000 |
| Rent a Suite | $10,000-$50,000 |
How Much Does it Cost to Rent An NBA Arena?
The National Basketball Association (NBA) is a professional American basketball league that is based in Los Angeles, California. It is the world's biggest and most popular basketball league in the world. It features 30 teams and is one of the most significant professional sports leagues in the US and Canada. 29 of the teams that play in this league rate from the US and only one is from Canada.
You might also like our articles about the cost of courtside tickets to an NBA game, Super Bowl tickets, or Dodger Stadium rentals for weddings.
You will be able to rent a large NBA arena for anywhere between $21,000 and $35,000 per night, based on 2022 statistics. An amphitheater, on the other hand, will only cost between $8,000 and $15,000 per night.
Some NBA arenas also have suites available for rental, and you will usually spend between $4,000 and $30,000 for such a suite most of the time.
How Much Does it Cost to Rent an NFL Stadium?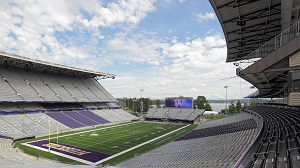 The National Football League, or the NFL, is comprised of 32 clubs. This is the biggest and most popular sports league for American football. As you surely know, football is one of the most popular games played in the US. As the size and overall capacity of a stadium will be among the most important factors when figuring out the cost and given that NFL stadiums are pretty impressive when it comes to both size and capacity, the price will also be quite high.
The biggest NFL stadium is AT&T Stadium, which can easily hold 100,000 fans. The average cost of renting this whole stadium will be between $400,000 and $600,000. The suites can also be rented at this stadium.
Depending on the event you want to host and the type of suite you're planning to get, expect prices between $5,000 and $50,000 for luxury suites inside the AT&T Stadium. A lot of people want to book suites for Dallas Cowboys NFL games, and the usual price for these will be around $20,000, according to recent data.
If you need a fully private luxury box for an event like a concert, then expect a price of around $5,000. The cost of a SoFi stadium suite will usually depend on your event type and the class of the suite. You can rent a single-game suite for somewhere between $15,000 and $50,000. Among the more expensive suites are those designated for Los Angeles Rams (NFL).
Of course, there are smaller stadiums as well. Soldier Field, for example, is the smallest stadium in the NFL, with a capacity of only 61,500. This, of course, will be considerably cheaper to rent than the AT& T stadium. Renting a small NFL stadium should cost closer to $200,000.
Renting Costs of Football (MLS) Stadiums
The MLS is becoming more and more popular lately, taking its place among the most watched sports in the US. And after David Beckham asked Leo Messi to join this league, it got even more coverage in sports news.
Renting an entire MLS stadium will set you back somewhere between $4,000 and $650,000 per day, while a suite inside this stadium can easily cost you between $5,000 and $10,000.

Rental Costs of Baseball (MLB) Stadiums
The oldest of all major professional sports leagues all around the world is the baseball league MLB (Major League Baseball). It is comprised of 30 teams that compete for the title.
Most MBL stadiums have a reception program. Depending on the venue size and the food you want, the costs of reception can vary quite considerably. The reception costs vary based on the venue, the number of guests, and the food. Comiskey Park, for example, will require a food and beverage minimum of $8,000, according to a LAtimes article. Expect a minimum price of $4,000 per year for the Wrigley Field rental.
You can rent Wrigley Field and Coors Field for a wedding, and the price will be between $1,000 and $5,000. If you want to rent the whole field, the costs will rise to $25,000. Renting a whole MLB stadium will be priced between $80,000 and $200,000 for 6 hours or less.
How Much Does it Cost to Rent a Stadium for a Concert?
When determining the cost of a stadium, It has become very popular nowadays for concert organizers to book stadiums for their events. But it's not an easy task to complete.
The final cost of renting a stadium as well as the number of people that will be able to attend your event will be influenced by the size of the stage and the stadium seating capacity.
A single day's use of a full stadium for a concert will be priced between $1,300,000 and $3,000,000. This fee covers the expense of renting out the stadium as well as paying a production company to handle the audio and visual aspects of the event.
Factors That Will Influence The Cost of Renting a Stadium
There are several factors that will have quite a big influence on the final cost of renting a stadium. So let's go over some of the most important factors when figuring out the stadium rental bill.
Your Location
As you might expect, among the most expensive cities when it comes to stadium rental is Las Vegas. This means that it will be a lot more expensive to rent one in Las Vegas as opposed to having your event in Memphis.
Size and Capacity
Not only the size of a stadium but also its capacity will be deciding factors when it comes to the rental price. The size of the stadium refers to the square footage available, while capacity refers to the number of people it can fit inside. Bigger stadiums will usually cost more.
Duration of the Event
Another major consideration is the length of time you need the stadium. The more time you will use it, the more it will cost. Although some stadiums can be rented by the hour, most will charge on a daily basis.
Final words
Renting a stadium for your event can be a great way of ensuring that you have enough space to fit your expected audience. The downside is that a whole stadium will be quite pricy to rent, which is why, if you don't expect to fill it, you should consider smaller locations for your event.
https://www.thepricer.org/wp-content/uploads/2023/02/stadium-rental-cost.jpg
380
610
Alec Pow
https://www.thepricer.org/wp-content/uploads/2023/04/thepricerlogobig.png
Alec Pow
2023-02-27 09:28:24
2023-02-27 09:28:25
How Much Does It Cost to Rent a Stadium?