How Much Does Lindamood Bell Cost?
Founded in 1986 by Patricia Lindamood and Nanci Bell, Lindamood-Bell is a learning center that has the mission to help students reach their potential, no matter their diagnosis regarding literacy and language issues, learning disabilities, or other previous struggles. The Lindamood-Bell instruction centers helped more than 36,000 people to read, learn, and realize which are their whole capabilities.
Currently, there are more than fifty learning centers that are recognized by different scientific journals and the U.S. Department of Education.
How Much Does Lindamood Bell Academy Tuition Cost?
Lindamood Bell Academy tuition costs around $100 to $120 per session/hour or more than $2,200 per week, with a commitment of almost twelve weeks and twenty hours a week, based on the strategy of the company, according to several third–party websites, as the official Lindamood Bell website does not show the exact prices. In order to complete the entire program, you should budget, in total, more than $22,000.
The center offers one-time evaluations, that cost around $320. However, this fee could be less or more, depending on the promotions that are held at that time.
For example, a member of the Yelp directory was quoted $110 per hour, or around $2,100 per week, by the Lindamood-Bell Learning location from Walnut Creek, California, if the child would have gone to the center four hours a day, five times a week. At the time this article was written, this review was under the "reviews not currently recommended" category.
The first–class instruction is not the cheapest, according to the EducationUpdate.com website. You should plan around $115 per hour or about $2,500 per week for each program. Each program runs for six weeks, four hours a day.
For instance, a review on the Adhd-bipolar-and-beyond.com website stated that the cost of a 12-week instruction program is around $21,000.
According to the official FAQs page of the Lindamood-Bell Learning Center, the fees for hourly instruction vary from one center to another, so it's better to contact them directly, schedule a learning evaluation or request information about the prices.
Also, they note that the costs are usually comparable to similar those of professional academic services.
However, the main difference is that the Lindamood-Bell Learning Center professionals meet with the students for up to thirty sessions five days per week over a period of several weeks.
On the other hand, other centers usually schedule one to two sessions per week over a period of several months. Also, they say that the costs may be influenced by the type of instruction that is appropriate for each student, as there are multiple options that can work with each particular situation.
Lindamood-Bell Learning Center Ability Evaluation Process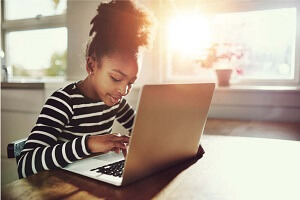 According to the company's website, the learning process begins with an evaluation, that takes two to four hours and can be taken in person or online. This learning ability evaluation is designed to properly assess the individual strengths and weaknesses in reading, matching, and comprehension for each individual.
Some of the measured learning skills include math, sounding out words, vocabulary, word reading, spelling, and reading comprehension. Once this evaluation is completed, the specialist will specifically explain each test and then recommend an instruction learning path. Below you will find the variety of programs offered to help address your kid's weaknesses.
You might also like our articles about the cost of tuition at Primrose, Children's Learning Adventure, or Lightbridge Academy.
When talking about the instruction, according to both third-party reviews and the official website of the company, each session is one-on-one and takes four hours a day, for a total of twelve weeks.
Students will receive a new clinician with each session and the lesson plans are changed during the week focusing on the child's progress. The center offers feedback along the way.
After the completion of a Lindamood Bell Learning program, the center will offer lifetime support for both the children and parents.
Lindamood-Bell Academy Programs
The Lindamood-Bell Academy offers several instructional programs that are authored by their co-founders. All of these are focusing on sensory-cognitive processing needed for comprehension and reading, instead of focusing on content instruction. They claim to be the only official vendor approved by the authors of the next programs:
On Cloud Nine Math
This is a math program that teaches students the fundamental of multiplication, subtraction, and addition using numbers up to one hundred. Similar to the other programs, it uses imagery in the teaching process.
Seeing Stars
This program teaches beginner reader vowel sounds and basic constants and then progresses into suffixes, prefixes, and syllables. So, children learn to read and are able to learn up to one thousand sight words.
LiPS
The LiPS program was made to help students understand phonemic awareness and learn the characteristics of the mouth, tongue, and lips that are related to various phoneme sounds.
Talkies
This program includes exercises that help students link images to words and create their own vocabulary.
Visualizing and Verbalizing
This program allows students to use imagery in order to develop their critical thinking and comprehension. The learning process begins with the word imagery, progresses into the sentence image, and ends with the paragraph imagery.
Most Lindamood Bell centers also offer a summer program.
https://www.thepricer.org/wp-content/uploads/2023/07/Lindamood-Bell-tuition-cost.jpg
380
610
Alec Pow
https://www.thepricer.org/wp-content/uploads/2023/04/thepricerlogobig.png
Alec Pow
2023-07-31 06:39:26
2023-07-27 07:43:44
How Much Does Lindamood Bell Cost?