In-N-Out Burger Menu Prices
In-n-Out Burger is a well-known fast-food restaurant chain specialized in burgers. This chain is present in five states from America: Texas, California, Utah, Nevada, and Arizona. The restaurant is very popular due to its limited and simple menu. The most famous item from the menu is the Double-Double burger, which comes with double cheese and double meat.
Even though the restaurant's burgers are ranked among the top in the industry, the In-N-Out menu prices are pretty low. In the table below you will find the latest In-N-Out menu prices.
FOOD
SIZE
PRICE

Burgers & Fries

Hamburger
 
$2.20
Cheeseburger
 
$2.50
Double-Double Burger
 
$3.55
French Fries
 
$1.70

Combos

Combos Include French Fries and Medium Drink

Double-Double Burger
 
$6.85
Cheeseburger
 
$5.80
Hamburger
 
$5.50

Drinks

Shakes
 
$2.25
Milk
 
$1.09
Coffee
 
$1.45
Soft Drink
Small
$1.60
Soft Drink
Medium
$1.75
Soft Drink
Large
$1.95
Soft Drink
Extra Large
$2.15
Brand History
The story of the In-N-Out Burger restaurant starts back in 1948 when the first location was opened in Baldwin Park, California by Harry Snyder and his wife Esther. Actually, this was the very first drive-thru that opened in southern California. Their goal was to build a company that offered a really friendly service and superior-tasting fast food.
You might also like our articles about the prices of the items on the menus of Burger King, Whataburger, or Sonic Drive-In.
The first years were marked by hard work and many mistakes from which Snyder's had a lot to learn. The second location was opened just three years after founding the first restaurant. The growth was pretty slow at the beginning, but the owners focused on creating a tasty menu and an enviable reputation in the industry.
For Harry and Esther, quality was more important than quantity and they didn't want to franchise. But, in the 1970s, after Harry's death, the management of the company was taken by the couple's son Rich. In the next 20 years, he expanded the company from 18 restaurants to 83. When Rich passed away, in 1993, the couple's other son Guy took over and continued the hard work so the company grew from 83 restaurants to 140.
These days the company is still owned and operated by the family and the current president is Lynsi Snyder, the founder's only grandchild. There are around 280 locations and each of these is guided by the same principles such as very affordable prices, friendly services, and great quality food.
Our review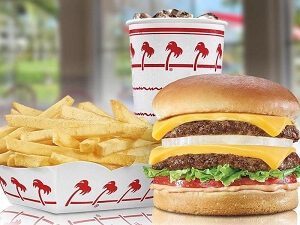 The design of all In-N-Out Burger restaurants contains white, yellow, and red colors. The majority of the locations offer customers the possibility to enjoy their meal in a friendly dining area, to take it via drive-thru, or simply take it out.
The menu of the In-N-Out Burger includes all the traditional fast-food items such as French fries, hamburgers, double burgers, cheeseburgers, and shakes. Every burger served at In-N-Out is the perfect combination of seasoned patties, tomato, gooey melted cheese, toasted bun, lettuce, crisp and fresh onions. Also, every burger comes with a special sauce made after a secret recipe that has not changed since 1948.
The fries served in their restaurants are hand-cut and cooked in 100% vegetable oil. Also, the shakes are homemade with 100% real dairy ice cream. In case you are really hungry, you should try something from their "not-so-secret" menu. Their 3×3 or 4×4 burgers are the same as the double double but tripled or quadrupled.
Even though the food served at In-N-Out Burger is of high quality, the prices are extremely affordable and this is what makes them so popular. For example, you will have to pay only around $5.5 for a combo and $2.5 for any regular burger or fries. So, you should definitely try something from their menu.
In-N-Out Burger FAQs
What are the opening hours of the In-N-Out Burger restaurant?
In-N-Out Burger restaurants open at 10:30 a.m. and close at 01:00 a.m. However, it depends on the location and it is recommended to check this information on their official website before going to the closest location.
In how many states will you find In-N-Out Burger locations?
You can find In-N-Out Burger restaurants in five states: Oregon, California, Texas, Nevada, Utah, and Arizona.
Why are the burgers served by In-N-Out Burger so tasty?
In-N-Out burgers are so tasty because they are freshly cooked and their patties are free of preservatives, fillers, and additives.
What is the Monkey Style at In-N-Out Burger restaurant?
The Monkey Style from In-N-Out Burger restaurant is a burger from their secret menu, which is topped with animal-style fries.
Does In-N-Out Burger restaurant serve bacon in their burgers?
No, In-N-Out Burger restaurant does not serve bacon in their burgers, but they offer different toppings you can choose from.
What type of oil does In-N-Out Burger use?
In-N-Out Burger uses 100% sunflower oil.
What types of shakes does In-N-Out Burger have in its menu?
In-N-Out Burger includes in their menu many different shakes made with real ice cream. Some of these include vanilla, strawberry, and chocolate.
Can I order online from In-N-Out Burger?
Yes, you can order online from the In-N-Out Burger restaurant. For more information regarding this aspect, you can visit their official website.
https://www.thepricer.org/wp-content/uploads/2022/03/in-n-out-burger-menu-prices.jpg
380
610
Alec Pow
https://www.thepricer.org/wp-content/uploads/2023/04/thepricerlogobig.png
Alec Pow
2022-03-15 10:48:26
2022-03-15 00:15:35
In-N-Out Burger Menu Prices