Iron Curtain Water Filter Cost
Last Updated on February 12, 2021 | Written by CPA Alec Pow
First Published on February 12, 2021 | Content Reviewed by

CFA Alexander Popivker
The Iron Curtain Water Filter, made by Hellenbrand, is a single water treatment system that aids to resolve a variety of water issues such as iron spots, iron-tasting water, or a rotten egg smell. Furthermore, the system also aids to extend the life of your water and heating system devices.
Just how much does an iron curtain water filter cost?
The expense of your Iron Curtain Water Filter System will considerably depend upon which shop or dealer you're buying it from, the specific design, if any special add-ons are required, along with the size and type of filter you will need. Typically, from what we could gather, individuals who have had this kind of system set up paid anywhere from $1,200 to $2,800.
You might also like our articles about the cost of commercial fire sprinklers, kitchen hood fire suppressors, or the cost to repair a water leak.
According to one forum member on a JohnDee.com thread, they were given a quote of $1,500 to $1,900, or $35 each month on an interest-free payment plan.
The iron decrease systems provided
ProMate 6 Storm
ProMate 6 Iron Curtain (IC) 2.0
ProMate 6 Iron Curtain Junior
Commercial H-125/ H-151 Iron Curtain Designs
Iron curtain water filter explained
The Iron Curtain Water Filter system is available in 4 sizes: single, twin, triplex, and quad, and the system will utilize 2 tanks: an air tank utilized for oxidization, and a clearing tank with special minerals to help get rid of iron, rust, smell and odor. Essentially, the two tanks are developed to filter and treat your water without using strong chemicals.
The clearing tank is layered with minerals according to different sizes. Larger minerals are put on top while smaller sized minerals are put towards the bottom, enabling all of the bed to be utilized as a filter, preventing any premature fouling.
Tips to keep in mind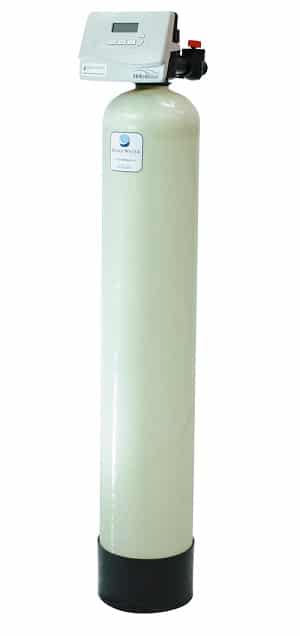 Before you will make the purchase, you should always have your water checked first. Some businesses will provide no-obligation water analysis where an employee will come to your house or business facility to check your water and figure out the very best system that you should get. You can get a totally free water check at this moment. After the preliminary test and if you want to move forward with the purchase, one of the business professionals will set up the system in your home or facility.
These filters need no chemicals, salt, air injectors, micronizers, or venturis.
The Hellenbrand site has a shop or dealer locator on one of its pages. You can utilize this to find a shop closer to you.
You might hear a flushing sound in the middle of the night. This will happen regularly when the Iron Curtain backwashes the filter tank to drain pipes or release any trapped pollutants while bleeding off the utilized air and reintroducing oxygen-rich air back to the tank.
You will know it's time to get a filter like this if the water is staining toilets or washing machines, leaving a red rust-like color.
How can you save some money?
If you believe you'll only be using the Iron Curtain Water Filter system for a couple of months, then you can rent one instead of purchasing a completely new system. Rental rates typically begin at $30 each month.
Think about a payment plan provided straight by the business as they do have interest-free payment plans available periodically.
https://www.thepricer.org/wp-content/uploads/2021/02/Iron-Curtain-Water-Filter-Cost.jpg
380
610
Alec Pow
https://www.thepricer.org/wp-content/uploads/2023/04/thepricerlogobig.png
Alec Pow
2021-02-12 07:56:26
2021-02-12 07:56:26
Iron Curtain Water Filter Cost