How Much Does a Leonberger Cost?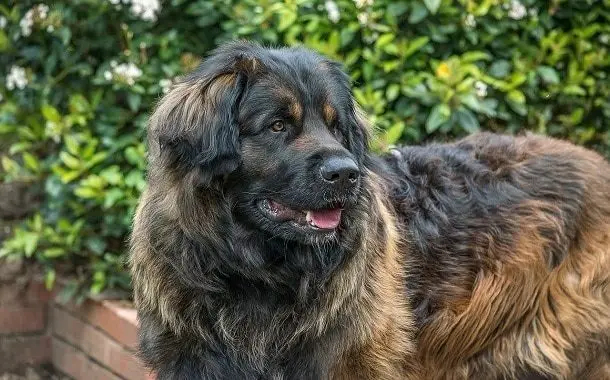 The Leonberger is a very popular type of dog, having lion-like hair all around its neck, as well as a very large, muscular body. It is a mountain dog. Its origins are in Germany, being the result of a mix between a Landseer Newfoundland dog and a Long-haired St. Bernard. Later on, the resulting mix was crossed with a Great Pyrenees dog.
Considering the breeds that were used to create this amazing dog, it's no wonder that the Leonberger is among the largest dog breeds in the world.
A female Leonberger is known to reach a height of about 29.5 inches, while the male will get 31.5 inches tall with a weight of about 170 pounds.
Initially, the Leonberger was intended to pull carts and be a farm dog, although most people keep it nowadays as a lovable family pet with a very gentle and affectionate temperament. It will need a lot of socialization but ultimately, it will become the furry companion you always hoped for.
How Much Does a Leonberger Cost?
The average Leonberger cost is somewhere between $2,500 and $4,000. So yes, this breed is considered a more expensive one when it comes to dog breeds, although there are some even more expensive than that, like the Samoyed or the Tibetan Mastiff that are priced at over $4,500.
It is an expensive dog mostly because it is quite hard to find but aside from its rareness, other factors also influence the price, like the age of the dog, as well as the breeder, their reputation, and location.
A cheaper option would be to try to get a Leonberg from a rescue, as the price of a Leonberger in adoption centers should be a maximum of $500. Keep in mind, though, that finding Leonbergers in a shelter ready to be adopted will be really hard, as this isn't a very common breed.
Other One-Time Costs
Aside from the initial of the dog, there are also some expenses you will have to consider when you bring your dog home for the first time, and let's go over some of the most important ones.
Important accessories

Before you can take your dog home, you will have to make sure you include the necessary accessories in the cost of ownership. These would include things like a leash, a collar, a crate, as well as food and water bowls.
When looking for bowls for food and water, it is very important to get quality ones that are easy to clean and durable enough.
The easiest to clean and most durable are bowls made of stainless steel according to vets. Bowls made of plastic, on the other hand, should be avoided, as they can foster a lot of bacteria and are also known to be less durable. Some of them are also made of harmful chemicals like BPA (Bisphenol A).
Of course, the market is full of different food and water bowls that are made of all kinds of products in all kinds of styles to suit both your preferences and the preferences of your pet. These have prices that can vary between just $1 and $100, although the usual set of stainless-steel bowls that have enough room for a Leonberger's food should be somewhere between $10 and $25.
You will also need a comfortable cage for your pet dog. You will mostly use it while going on vacations or other journeys, but also for housetraining or for giving your furry companion its own place, away from all the noise.
Keep in mind that an adult Leonberger will require quite a big cage, considering his impressive size. You should look for one that is at least 50″ x 32″ x 35″. A cage of this size is likely to cost somewhere between $50 and $175, depending on the brand and the particular style you're going for.
As for their personality, most Leonberger dogs are very active and wouldn't waste an opportunity to engage with all kinds of other pets and people. This is why you should consider getting a collar and a leash that are strong enough to keep him in check before you take him for a walk. This is mostly to ensure that you keep your pet away from any injury or conflicts with other animals.
Depending on the material and any additional features you want it to have, a heavy-duty harness that is large enough for this type of dog will cost somewhere between $35 and $75. There are some cheaper models out there that are somewhat as durable that you can buy for as low as $6, but you will have t spend quite some time shopping before finding one strong enough in this price range.
How Much Do Leonbergers Cost in Recurring Expenses?
Of course, you will also have some repeating costs that you have to consider, aside from any initial fees of getting a purebred Leonberger and preparing his future home (adoption fee or purchasing price, accessories, cage, and so on).
The Cost of a Leonberger's Food
Among the most important expenses related to the nutrition of the dog will be its food, but also its supplements and vitamins. Keep in mind that there are a lot of brands out there when it comes to feeding your dog, but the food itself doesn't have to be expensive to be high-quality. You will find enough minerals and nutrients for your pet's needs in most grade A and B dog foods.
Keep in mind that your Leonberger shouldn't be fed with too much protein, as this can increase his risk of developing arthritis once he gets heavy for his joints. If you don't know how much protein or other nutrients your dog needs, it's always a good idea to talk to a vet to get help developing the pet's diet.
You might also like our articles about the cost of a Viszla dog, a Greyhound, or a Xoloitzcuintli Dog.
You will find high-quality foods for dogs in 30 to 35-pound bags for an average price of $35 to $75.
It's up to you whether you give a healthy dog vitamins or not. They are only a must if you have a pet that has a medical or health condition. Don't give your dog any supplements before confirming with your vet that this is the right approach.
The cost of supplements will depend on factors like the number of needed doses, the dosage size, and the supplement type, but most supplies needed for a one-month cure have an average cost of around $25.
Toys & entertainment
You can buy and use toys as a way of helping your dog get over boredom, get mental and physical stimulation, and avoid stress. There are all kinds of dog toys, made for comfort, exercising, or just chewing.
Medical Expenses
The Leonberger dogs are known to be prone to a few medical issues including hip dysplasia, arthritis, entropion, as well as bloat (or gastric torsion). As for its lifespan, it is quite limited, as the dogs are only known to live 8 to 10 years, a lot less than most breeds, although rather usual for large breeds of dogs.
These are the reasons why proper healthcare is very important for these dogs.
You should make sure that the dog will get proper dental care, as well as great coat-related grooming and all of the necessary vaccinations.
Most vaccinations cost around $10 to $50 per needed vaccine, depending on its type. You can try to save a few dollars by hunting for offers on bulk vaccinations. For example, Health Pets USA has different packages between $50 and $120. Consult a professional regarding the type of vaccines that your pet needs.
Dental care is a must because there are some very tough diseases that can develop due to poor dental hygiene in a dog.
As for dog grooming, it is as important as all other medical needs. Proper grooming will help prevent your dog from developing skin-related infections and diseases.
A professional dog groomer will charge at least $50 to $80 for a large dog breed like the Leonberger when it comes to grooming and bathing services. You will also spend roughly $20 to $30 on flea treatment and nail trimming.
And that's not all. You will surely need yearly health examinations for your dog, to make sure that you prevent diseases from ever happening or getting worse. Most vet visits shouldn't cost more than $60.
Where to Get a Leonberger Dog
If you want to search on trusted websites for Leonberger puppies for sale, then you could try Petfinder. or the American Kennel Club (AKC) market directly.
The Leonberger Club of America also has a list of trustworthy Leonberger breeders (together with their contact info and addresses) offered on its site.
Of course, if you don't want to buy a Leonberger from a breeder, then you can always consider adopting one.
There are quite a few websites where you can adopt Leonberger puppies or adults, such as the Leonberger Rescue Pals and Leonberger Rescue.
Purchaser's Guide to Getting a Leonberger
Now that you have a general idea of just how much you are most likely to pay to get and keep a Leonberger, here are a couple of things to think about when getting one:
The Breeder
Among the most essential things that you must know before purchasing a family, pet is the breeder.
If you are getting one from a well-known and trusted breeder, then you do not need to stress about it too much. However, if you are uncertain, there are some indications that might tell you if you are working with a trustworthy breeder or not.
The first things that you should look for are the official documents. A qualified breeder will have the full files of the dog. These files need to include the registration certificate, the pedigree or heritage paperwork, and medical records.
Reputable breeders will also be experienced in the breed they are offering. This does not mean that they have the best understanding of the pet dog, however, they must at least be able to address your basic concerns relating to the breed.
They should also be able to give you a diet plan sheet, images of the young puppy's parents, and training and socializing suggestions. Dog breeders are not generally required to offer these, however, respectable and trustworthy ones generally do.
Also, ask your breeder if the dog was trained and correctly socialized, as this will usually be required to avoid most behavioral issues. This can work as a testimony that the breeder is a good one who actually puts effort into raising its pet dogs.
Another important thing to remember is that the Leonberger is not recommended for an apartment, due to its impressive size. It is considered a working breed that should be raised in a yard that gives it enough room to run freely.
The Condition of the Pet Dog
It is very important that you first check the condition of the pet you are getting.
You should ask about its illnesses, if any, and the risks of any future medical issues (this info needs to also be included in the pet's medical records). A skilled, credible breeder will never try to conceal anything from you and will reveal all of the pet dog's past and existing medical issues.
In Conclusion
The Leonberger is among the biggest pet breeds, however, it is also among the gentlest. It's really sweet and caring, particularly towards its family. It might be a bit difficult to train, however, be firm, work with it regularly, and offer it the love it is worthy of and it will mature to be a charming buddy.
https://www.thepricer.org/wp-content/uploads/2021/01/Leonberger-dog-Cost.jpg
380
610
Alec Pow
https://www.thepricer.org/wp-content/uploads/2023/04/thepricerlogobig.png
Alec Pow
2021-01-08 11:36:03
2023-04-17 23:45:25
How Much Does a Leonberger Cost?