Blended medication mouthwash, often described as "magic mouthwash," according to the American Academy of Nursing, is frequently utilized to help avoid and even deal with oral mucositis, however, it can also aid to alleviate canker sores and even an aching throat.
Normally compounded by a drug store, typically including anticholinergic substances, such as diphenhydramine, and an anesthetic, such as viscous lidocaine, in addition to an antacid or mucosal covering substance, this mouthwash is typically recommended by your dental expert.
While it might supply some relief for some, Timothy J. Moynihan, M.D. says that it's uncertain how efficient it is.
Just how much does a magic mouthwash prescription cost?
The cost of magic mouthwash will depend upon a couple of aspects, like the brand name and the drug store you utilize (if needed). According to our own research, the expenses of an eight-ounce bottle tends to be in the $35 to $65 range.
Given that magic mouthwash isn't seen as a prescription drug, rather a mix of different medications, your insurance coverage might cover it depending upon your policy limitations. Some drugs might be covered, however, to be sure, talk to your insurance provider and regional drug store to understand what you might be accountable for.
You might also like our articles about the cost of a cortisone shot, a dental cleaning, and a well-baby doctor visit.
On a Cancer.org online forum thread, for instance, one member noted that they paid $69, however after insurance coverage, it was lowered to $2, while another member on this very same online forum noted that they paid $79 for their prescription.
Somebody on CancerCompass stated that they were given a quote of $60 a bottle with a prescript, while another person on the very same forum stated they only had to pay $30.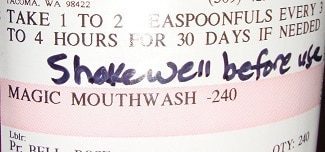 Non-prescribed mouthwash, nevertheless, which tries to mimic the results of a prescription mouthwash, will have prices that vary anywhere from $11 to $22 per eight-ounce bottle and will depend upon where you buy it from and which brand name you opt for. Do keep in mind, nevertheless, that a non-prescribed mouthwash will not have the active components that a recommended mouthwash has, which means it might not work for your ailment/condition.
The American Academy of Nursing, mentioned above, carried out a study, going through the expenses of different magic mouthwash brand names on the market and noticed that the typical eight-ounce compounding package might cost anywhere from $34 to $50. When utilized 4 to 6 times a day, the typical prescription for this kind of mouthwash would only last for 2 days or less, meaning that you need to be prepared to budget about $17 a day to get the mouthwash.
Magic mouthwash additional info
According to the Mayo Clinic, there are numerous types of magic mouthwash on the market, with some offered in a pre-measured package that's blended by a pharmacist, while others are "ready to buy" through a pharmacist. In any case, if your medical professional or dentist thinks magic mouthwash is best for your individual case, then they will write a prescription, and it will be similar to that of any other mouthwash that can be found in liquid form.
A lot of prescriptions are meant to be utilized every 4 to 6 hours, and like over the counter mouthwash, it needs to be kept in your mouth for about one to 2 minutes. You need to also prevent drinking or ingesting anything at least thirty minutes before taking the mouthwash to make certain it offers the best results. As all magic mouthwash brand names can differ, be sure to check out the label carefully to learn more about how to utilize it correctly and also talk with your physician for additional information.
Active ingredients
Regardless of which brand you go for, it must consist of a minimum of 3 of the following active ingredients:
An antibiotic that aids to eliminate the germs around the mouth sore
An antihistamine or a kind of anesthetic to help in reducing any type of pain and/or discomfort
An antifungal that helps in reducing any fungal growth
A corticosteroid to deal with swelling
An antacid to ensure all of the other substances in the mouthwash coat the inside of your mouth
Magic mouthwash side effects
Typical adverse effects might consist of a burning/tingling sensation, sleepiness, constipation, queasiness, and diarrhea according to the Mayo Clinic. While the mouthwash needs to numb your mouth, if it ends up being too unpleasant, then you will need to talk with your physician right away to go for an alternative.
https://www.thepricer.org/wp-content/uploads/2020/11/magic-mouthwash-cost.jpg
380
610
Alec Pow
https://www.thepricer.org/wp-content/uploads/2023/04/thepricerlogobig.png
Alec Pow
2020-11-20 11:29:04
2020-11-20 11:29:04
Magic Mouthwash Cost