If you are thinking about starting your own business in a commercial center, the ideal solution would be a kiosk located in the mall because of the starting costs and its size. These businesses are mainly located alongside the corridors that a lot of clients walk by while going from one shop to another. In commerce, the area where your store is located can make the difference between success and bankruptcy. Because street spaces are hard to find, especially in the central areas of cities, more and more retailers are starting to look for a place in a new shopping center.
The cost of renting a kiosk at the mall may vary depending on the location of the mall (in big cities it is higher than in the small one), and the location of the kiosk inside the commercial center.
What is the cost of renting a kiosk at the mall?
The average cost paid to rent a kiosk at the mall is somewhere between $600 and more than $6,000. A kiosk in the mall will cost much more depending on where it is located, how big it is, and whether or not that location has a lot of foot traffic. For example, if you have an entrance-facing kiosk with easy access to a food court then this can demand higher monthly rates than one which faces into a dead-end hallway. Also, during November and December when people are most likely going from store to store shopping for holiday gifts, you may pay a greater price for rent.
Instead of asking for a certain monthly rate, some shopping centers may require a fixed percentage from sales, so you could pay a rent of $3,000 per month or 15% of your monthly sales.
According to Entrepreneur.com, you could rent a kiosk located in the Mall of America for the price of $2,300 per month or 15%of your monthly sales. Moreover, they are requesting a "key money" fee of $1,500.
You might also like our articles about the cost of launching a business, the price of mall advertising, or billboard advertising.
Also, one of the Los Angeles Times articles mentioned the fact that someone who started a business with a jewelry kiosk located in Santa Monica's Third Street Promenade was paying $3,500 per month for rent.
Details on mall kiosks
If you are interested in owning and operating a mall kiosk, the first thing that you will need to do is find out if there is vacant space available for rent. Also, most malls have specific requirements regarding the type of product or service that can be offered through their stores. It's important to know what kind of products and services you want to offer so they fit with local laws as well as any stipulations set forth by organizations such as malls that may not allow certain items on-site but still would like them sold nearby.
If you want to start your own kiosk, head on to the leasing office. They'll be able to help set up a contract and give you an idea of what type of space they have available for rent. This meeting can help in drawing up plans for your business and signing contracts – so keep that in mind. Some malls may deny your application if they do not think it fits their mall guidelines; however, this doesn't mean you should give up on getting permission just yet. The leasing officer's main concerns are what kind of experience you have as well as why customers would want to choose your product or service over others. They also offer information such as how much foot traffic there might be at the location where one wants their respective kiosks set up along with tips about reaching goals.
A mall tenant can sign a contract that ranges from less than one month to more than 12 months. The duration of the contract depends on what is stipulated in their lease agreement.
After submitting your application and paying an administrative fee, you will be given a contract with start date details as well as monthly rent information that includes all fees (such as taxes when applicable), security deposit requirements, and other terms of the agreement. Once approved by the management at the mall or shopping center where your store would be located, most malls require you to provide documentation, including a business license/permit along with a tax identification number.
Which are the additional costs?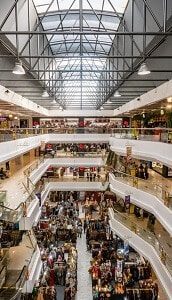 Before you go to negotiations, you need to know that in order to get a space in a new mall, you need more than rent money. In order to reserve a place for your kiosk, you will have to pay an initial fee that varies from $800 to $2,500. The owners of malls and shopping galleries also charge a series of other fees. In general, all amounts paid are expressed, as well as the value of the rent, in dollars/sqm/month.
Those who move to a mall under construction will have to pay a one-time fee, related to the marketing and promotion of the mall, before its launch. The fee is intended to cover expenses related to advertising and events organized at the official opening.
Regardless of the time of rental, all traders must pay a series of fees related to the maintenance of common areas, parking lots, and outside of the mall. To these are added the costs related to cleaning, electricity, water, etc.
It is important to remember that the spaces in the shopping centers that are under construction are handed over not finished yet. This gives you the advantage of being able to customize and arrange the store according to your desires, but it also comes with the disadvantage that it involves another additional cost that must be taken into account. For example, a cash register alone costs anywhere from $100 to $500.
In fact, the arrangement of the space is the obligation of the tenant, and he must take measures to finish the works before the date of the inauguration of the shopping center. This is to avoid the situations in which the mall is open, but the visitors are disturbed by the construction works taking place.
In addition to the taxes already mentioned, more recently, shopping centers have begun to charge an additional rent – "turnover rent". This represents a percentage (generally between 7% and 10%) of the turnover achieved by the tenant retailer.
Important things to consider
If you're thinking about opening a kiosk at the mall, be sure to do your research. Do they have any other businesses that sell similar products? How often does foot traffic flow through this area of the mall and how much are people spending per visit? These will all factor into whether or not it's worth setting up shop in an unfamiliar market space.
Tips to save money
You may be able to save money on your rent if you negotiate with the mall. Most places don't have set rental prices, so it isn't an exaggeration to ask for a lower one. In general, longer contracts can give you better deals because malls typically want to attract longer-term tenants.
One great way to start your business is by renting a space for one month at the mall. This will give you enough time to evaluate if sales are what they should be and then make an educated decision whether or not this is worth going into more debt with leasing property before committing financially for 12 months.
https://www.thepricer.org/wp-content/uploads/2021/08/mall-kiosk-cost.jpg
380
610
Alec Pow
https://www.thepricer.org/wp-content/uploads/2023/04/thepricerlogobig.png
Alec Pow
2021-08-09 10:14:14
2021-08-02 21:44:15
Mall Kiosk Cost