Michaels Custom Framing Cost
Michaels, among the leading arts and crafts shops, has personalized framing departments in every shop to aid with your framing requirements.
This personalized framing can be any shape, size, color, or material that you desire, and it can be matted or fill the entire frame.
Just how much does custom-made framing cost at Michaels?
With any custom-made framing project, the expenses will depend upon the kind of frame you go for, the glass, matting, design, and the size of the photo. Based on what we have gathered from online sources, a lot of Michael's customized framing projects are going to be anywhere between $125 to $250 for a basic double-matted frame made from mid-grade products. Remember that bigger tailored tasks that utilize higher grade products can cost substantially more. For instance, a photo the size of a full wall might cost $350 to $500 to frame.
You might also like our article about the cost of becoming a photographer.
We collected a couple of quotes we were able to find online and included our findings in the table below:
| Type of Michaels Framing Job | Price They Paid |
| --- | --- |
| 2 ' x 4', including 60% discount coupon | $450 |
| 10″ x 12″, matted and metal frame | $75 |
| 17″ x 22″ | $350 |
| 48″ x 48," including 60% discount coupon | $700 |
| 35″ x 35″ | $500 |
| 18″ x 24″ | $330 |
| 44″ x 29," including 60% discount coupon | $275 |
| Diploma with a simple frame and some matting | $85 |
| 14″ x 16″ | $130 |
| 8″ x 10″ during a holiday sale | $49 |
| 14″ x 16," including 70% off coupon | $200 |
If you are looking for a real, exact price quote, head into a regional shop with either your photo or an exact description of what you want along with exact measurements, or you can try to contact them online. The sales personnel will have the ability to give you a quote right over the phone.
On one Gardenweb.com online forum thread, a member claimed that they had actually paid $75 for a 10 × 12 frame. On that very same thread, another member stated that they were charged $350 for a 17 × 22 picture.
Custom-made framing at Michaels summary
On a particular MetaFilter.com thread, members went over just how much they spent at a regional Michaels for custom-made framing. A couple of members mentioned that they had actually paid anywhere from $175 to as much as $400 for a simple job. A different member mentioned that they paid $175 for a 16 × 30 and 18 × 24. Both of these frames were double matted.
Michaels provides more than 480 matte colors to pick from and over 540 frame designs almost always in stock.
The typical task, as long as you do not pick the expedited choice, will take a maximum of 2 weeks.
The shop utilizes state-of-art preservation innovations that are executed by their licensed framing professionals.
If you are not pleased with the work, the shop is more than happy to repair it for no additional charge.
What are the additional expenses to expect?
The custom-made frame express alternative, which can frame an image in less than 7 days, will usually cost more.
If the frame will need to be engraved, the expenses can vary from $15 to $30 depending upon the type of letters that need to be added.
There are some individuals that like to have their photos expertly hung. This will guarantee that they are uniformly spaced, straight, and visually appealing in your house.
Tips to keep in mind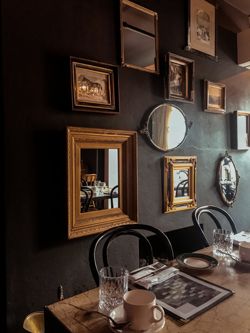 Every Michaels is going to be different when it comes to the framing. Because they do the framing at home, one task might be a lot different than the other. Before getting a photo framed, make sure to ask the worker what type of experience they have and for how long they have actually been doing it.
According to business policy, the shop will not have the ability to make any cuts to artwork, particularly if it has a signed autograph on it. If you want your photo cut to a particular size or shape, you will need to do this yourself before you take it to have it framed.
If you are framing something pretty simple like a household image, you are much better off buying a frame and getting the job done yourself. If something were to happen to the photo, you can easily print another copy. Nevertheless, if the piece you are framing is a masterpiece or something of high value, you need to stick to custom-made framing. Michael's will utilize acid-free products and matting to make sure that the image remains in mint condition.
How can you save some money?
Michaels will usually offer discount coupons in its shop advertisements and online through e-mail and text advertising. You should always try to make sure that you search for a discount coupon before getting anything framed. The most typical discount coupon is 60% off your framing order. On Coupons.com, you can typically find this type of voucher.
Michaels is not always the least expensive alternative you will find around you. Make sure that you get at least 3 to 5 quotes before going for Michael's framing. You can even browse on Yelp or even Google to find trustworthy experts such as PictureFrames.com.
Bulk discount rates might apply for bigger or bulk orders.
If you have a smaller price quote in other places, the shop might be able to match it if it is within its price limits.
The shop is able to frame materials with the standard frames in stock. If you use the basic frames, the expenses will be considerably lower.
If the initial quote is too expensive, try to negotiate with them to see if they can bring the rate down, or try to buy clearance frames.
It is possible to do the framing task yourself and still have it look pretty professional. You can get the premade frame of your choice, purchase matting at Michael's or another craft shop, and then cut the image if need to make it fit. Getting the job done yourself can save you at the very least 50% of the price.
https://www.thepricer.org/wp-content/uploads/2021/03/michaels-framing-cost.jpeg
380
610
Alec Pow
https://www.thepricer.org/wp-content/uploads/2023/04/thepricerlogobig.png
Alec Pow
2021-03-19 10:09:38
2021-03-19 10:13:55
Michaels Custom Framing Cost