Hobby Lobby Custom Framing Cost
Hobby Lobby is an American retail company that was founded in 1972 as a home-based framing business. In time the company extended and there are more than 900 stores which offer the same services as the initial one did. At each location, you can find a professional framer who can help with your framing needs.
How much does custom framing cost at Hobby Lobby?
The cost of Hobby Lobby custom framing is influenced by a few factors such as the size of the art you are looking to have framed, the mat, the glass, the framing style, and whether or not there are any coupons or promotions at that moment, that you can take advantage of. According to our research, the costs would be anywhere between $85 and $410, if not more when taking into consideration the factors we presented.
It is pretty difficult to estimate the framing costs as there are so many factors to consider. However, we were able to find some online reviews regarding the framing costs charged by Hobby Lobby. In the table below you will find the average costs for different types of art.
| Type of Art | Price Quoted |
| --- | --- |
| Jersey framed w/ acid-free matte and UV protected glass | $400 |
| 12×12 w/ basic black frame | $75 |
| 27×40 w/ simple black frame and UV glass | $225 |
| 20×30 print w/ no glass | $125 |
| 15-1/2×13 print w/ custom mat and UV clear glass | $136 |
The framing options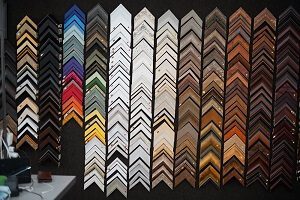 Hobby Lobby offers its customers more than 350 moldings and 300 mat-board options with various colors they can choose from.
The custom frame's molding refers to the material from which the original frame is cut. In general, this is made from milled wood or plaster.
The custom frame's mat is the material that is added to make a border between the object inside and the frame, separating it from the glass. If you want your item to pop more, you can place the mat behind the item.
In order to protect your work, all of the custom mats are lignin-free, archival-quality, and acid-free.
Also, in order to protect the artwork from harmful UV rays, all the glazing options are UV protected. You can choose between Museum Glass, Conservation Reflection Control, and Conservation Clear.
You might also like our articles about the cost of framing a jersey T-shirt, custom framing at Michaels, or PSA card grading.
Every location has the store's most popular mat-board colors on stock at any given moment. After you choose the one you like you will have to pay for it and wait while your piece of art is framed.
How long would it take to have a custom framing done at Hobby Lobby?
According to the company's website, you can place your order and shop around while waiting for your job to be done.
Though, according to a former employee from one of the Hobby Lobby stores, usually this is not the case because there may be many orders at a time and not enough staff available to do this job.
In most cases, it would take anywhere between one week and a month, or even more to have a custom frame created at Hobby Lobby. Though sometimes the project is done earlier and you will get a call from the store to go and pick up your order.
The amount of time needed to make a custom frame depends on the complexity of the project.
Important things to consider
In case you are not sure which option you want to choose for your art, the sales associates will be able to help you browse through the mats and frames in the store. Also, they can give you information on the differences between the available options.
According to the official website of the company, at every location, you will find a certified framer who is able to offer a free quote for your framing needs and customize your framing experience. He or she will know which materials to choose so your item is preserved from any damaging elements and how to mount it without causing problems.
How can I save money?
Almost always you will be able to find a coupon on the official website page of Hobby Lobby and this will help you to save some money. For instance, at the time this article was written, the company was offering a discount of 50% for all of the custom frames.
Another way to save money with your framing is by bringing a frame you already have and customizing it according to your needs. All you have to pay is a refitting fee.
For a cheaper option take a look at Hobby Lobby's basic frame selection.
https://www.thepricer.org/wp-content/uploads/2022/03/Hobby-Lobby-Custom-Framing-Prices.jpg
380
610
Alec Pow
https://www.thepricer.org/wp-content/uploads/2023/04/thepricerlogobig.png
Alec Pow
2022-03-16 06:46:37
2022-03-15 23:26:25
Hobby Lobby Custom Framing Cost