Last Updated on September 13, 2023 | Written by CPA Alec Pow
First Published on August 23, 2021 | Content Reviewed by

CFA Alexander Popivker
Oak is one of the most common and majestic trees when it reaches a large size. Familiar with parks or forests, it is used in our gardens only when there is space. Oak comes in a large number of varieties, and some of them are ideally suited for smaller gardens.
How much does an oak tree cost?
There are many varieties of oak trees according to the State of Minnesota representatives. For example, the Black Oak is a beautiful tree that can be found throughout the state. It usually ranges from 6-18 feet tall and the cost for one of these trees will depend on size, ranging anywhere between $20-$30.
The price for a Pin Oak varies somewhere between $18 and $110.
For a Burk Oak, you will usually pay $25 or even $110.
 A Cherrybark would usually be priced between $17 to $30.
The Chestnut Oak costs anywhere from $15 to $40.
The price for a Southern Red Oak starts at $10 and can go up to $55.
On the other hand, you may pay $20 or even $70 for a Northern Red Oak.
A Sawtooth Oak retails for $12 to $100.
The cost of a Nuttall Oak starts at $25 and can go up to $45.
A Swamp Oak is valued at $25, but the price can go up to $75.
The price of a Willow Oak starts at $15 and may arise at $40.
You may pay for a Water Oak anywhere from $20 to $35.
The cost of 100 Oak seeds ranges from $3 to $15.
You may pay $1,000 or even more for a mature oak tree, taller than 10 feet, depending on its diameter.
Types of oak trees
White Oak Trees
Chinkapin, pot oak, blur oak, and white oaks are just a few of the species that are placed in this category. The leaves are elegantly shaped with a smooth surface which gives them their signature look. Acorns can mature in one year's time before they fall off the branches. As soon as they land on the ground, you'll be able to see sprouts coming out from within their shell.
Red Oak Trees
The willow, black, Japanese evergreen oak, water oaks, and pin oaks are all red-leafed trees that have pointed lobes with tiny bristles on the tips. Acorns can take up to two years to mature before they fall from their tree's branches in late autumn. Many people enjoy these acorns as a snack or sweet treat.
Evergreen Stone Oak Trees
The evergreen stone giant, like a movie classic, has a wide, sparse crown with sparse branches, a large diameter trunk with gray bark, and deep cracks. The leaves of stone oaks are small – up to 3.14 inches. They are distinguished by a yellowish or white substrate, sometimes hairy. The tree is not pretentious to the conditions of the habitat: it grows on any soil and in any light. It is suitable for floral decorations.
What are the extra costs?
Online nurseries may charge an additional fee for shipping. Larger trees come with a greater cost, but they typically have more branches and can withstand heavy winds better than smaller ones.
If you want to plant a tree in your yard, it's best if it is done by someone with experience. For this, you may pay a few hundred dollars. Different online sites can help you to find professionals nearby.
If you may need to remove your oak tree in the future it would cost you on average $160 to $1,550, depending on its size and distance to where you want to move it.
As it grows beyond 20 feet an oak tree must be trimmed and the price for this operation starts somewhere at $200 and goes up to $1,000.
Important things to remember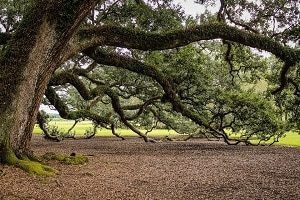 The oak tree is considered to be long-lasting, often associated with wisdom and durability. And for good reason. The lifespan of an oak is up to 5 centuries, although throughout history there have been trees that lived more than 1000 years.
The oak is a deciduous tree. The size of the oak is impressive. Its average height is about 115 feet, although sometimes there are giants of 197 feet. The thickness of the oak can also be impressive. The trunk of an oak tree is on average about 5 feet in diameter, covered with dark bark, pierced by cracks, and wrinkled.
The shape of a tree leaf depends on the type of oak. Oak leaves can be lobed, toothed, or of other shapes. Oak branches can be indirect and curved. This sinuosity is due to the fact that the oak is very receptive to the sun's rays. As they grow, the shoots extend to the light and therefore change direction depending on the season, weather and time.
You might also like our articles about the cost of Bamboo, Dogwood trees, or Japanese Maple trees.
This king of the forest is very popular in construction because its wood is hard, very resistant to air and water, and above all elastic. It will be found in all places of a household, from barrel staves to the best furniture, but also more important in shipbuilding. A beautiful example in this sense is the city of Venice whose houses are on oak piles, the gondolas on the canals being also of the same material.
Through its components: bark, leaves, acorns, mistletoe and donuts on the leaves, oak can be considered a cure for all diseases, there is no other tree so valuable in this regard. For example, in northern Italy oak leaves were harvested in the morning of the summer solstice to obtain the oil called St. John's, which heals wounds caused by sharp objects.
It's important to make sure the soil is fertile enough before planting an oak tree. A pH test will show you if your land can grow a mighty oak or not and how much sun the tree needs at minimum for healthy growth.
How can I save money?
Consider purchasing your plants from a nursery that offers the most competitive prices. You might have to drive around to find the one offering the lowest prices, but you'll be able to save money in the end.
The cost of a tree is directly correlated to the size. But if you have time and patience, planting one from an early age will save you money down the line.
https://www.thepricer.org/wp-content/uploads/2021/08/oak-tree-cost.jpg
380
610
Alec Pow
https://www.thepricer.org/wp-content/uploads/2023/04/thepricerlogobig.png
Alec Pow
2021-08-23 07:43:18
2023-09-13 12:23:57
Oak Tree Cost