The dogwood tree is a very beautiful plant. It is commonly planted in residential and public areas as an ornamental tree. It is usually admired due to its beautiful colors and the way in which branches usually grow widely.
It can reach ten meters in height and will often be wider than its height, when mature. The leaves of a dogwood tree are around four to six cm long and turn into a rich red-brown color in fall.
The maximum lifespan of this type of tree is around eighty years. In wild areas, it is found at the edges of forests and most commonly on dry ridges. This tree usually has white, pink, or true red color bracts.
How much does the Dogwood tree cost?
There is a wide range of varieties of dogwood trees among the most common being the Celestial shadow, the ones with pink flowering, red flowering, the Red twig, the White twig, the White Koussa, Cloud 9, and Cherokee chief. Since there are so many varieties to pick from, the cost is mostly dependent on which variety you choose to buy.
On average, you can expect to anywhere pay between $50 to $150 for a three to five feet tall Dogwood tree. When talking specifically about the costs of the ones featuring either red or pink flowers, then the costs can be slightly higher, between $80 and $170 for a three to five feet tall tree. White twig and white Koussa trees can cost anywhere between $70 and $120.
You might also like our articles about the cost of Japanese maple trees, Bonsai trees, or Palm trees.
The Cherokee chief and the Celestial shadow can cost between $80 to $120 for a three feet tall tree.
You can buy a 5.5-gallon pink flowering at Lowe's for about $60.
How much will Dogwood cost in the online marketplaces?
Dogwood trees are easily available in online marketplaces. At the time of writing this article, these trees are available in online markets for prices between $80 to $150 for two to five feet long specimens. The Red flowering variety is available at $60 for a one to two feet tall plant. You can buy a range of flowering to twigs dogwood trees from online marketplaces. Drop-shipping charges vary from region to region. When you buy it online, you have to pay extra on drop shipping charges. Always buy suitable dogwood trees variety according to your region, when considering buying online.
What are the extra costs?
You will usually have to spend extra on delivery fees and the cost of labor for the landscaper.
The cost of labor to hire a landscaper will usually depend on the size of the tree and your location. You can expect to pay anywhere between $30 to $60 to hire a professional landscaper.
Delivery charges can vary according to your location and the distance from the shop. You can expect to pay somewhere between $30 and $50 in delivery charges. Buying larger quantities will usually help you avoid any delivery charges.
Product overview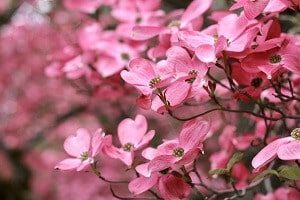 The dogwood tree is a beautiful, ornamented tree having more than 30 species. These trees originate from China, Asia, and North America. If we differentiate them according to their types, they can be divided into two groups: the flowering group and the twig.
The flowering group has clusters of flowers surrounded by leaves. They can have different colors of flowers like pink, red and dark red. These flowering Dogwood trees look very appealing. For example, the Cornus Florida is a species of the flowering dogwood tree, which is native to North America and northern Mexico. The flowering group occupies a wider area than its height. It means they grow wider than taller.
Another example of the flowering variety is the Cornus Koussa. It is a small tree in the flowering plant family. This plant is native to East Asia, including Korea, China, and Japan.
The second group is twig which consists of trees having white flowers without bracts. The Twig group includes the Cardinal red twig, which grows in winters and in the coldest parts of the country. It is found in the northwest Pacific. The white twig is another very important tree that belongs to the non-flowering twig family.
Pink flowering, red flowering, red twig, White twig, White Koussa, cloud 9, and Cherokee chief are also important varieties of the Dogwood tree.
This tree can grow up to a maximum height of 40 feet and can live for about 80 years. All Dogwood trees are considered all-season plants but they are the most appealing during the fall with their hot red leaves.
Things you may need to know
Most Dogwood trees grow in very specific environments. They are mostly region-specific. You should do complete research before purchasing this type of tree, especially when buying from online marketplaces.
When you purchase a Dogwood tree locally, there are zero chances to buy trees that belong to other regions, and shipping charges are also noticeably smaller. So, purchasing a tree locally is considered to be best practice.
Do not try to transport a wild tree as it could be diseased or contaminated by bugs and allergens. It can cause other plants in your yard to get contaminated.
Try to keep your tree healthy by providing the proper nutritious substances along with the needed water, so that it is and looks healthy.
The roots of your plant should be covered by soil. If the soil isn't enough, try to add some more.
If you find a rotten or diseased plant, do not add it to your garden or yard, as it could be dangerous for other plants as well.
If you find any symptoms of allergies on the plant, remove it immediately to avoid further complications.
How can I save money?
If you want to save money, consider buying directly from the nursery rather than any shop. In this way, you can buy plants at cheaper rates. You can find nurseries that offer free shipping if you buy the products in larger quantities.
You can also save money if you buy plants when they are on sale. These discounts are usually around 40% off. You can choose a variety at a reasonable price if you have a tight budget, as there are many varieties available on the market.
https://www.thepricer.org/wp-content/uploads/2021/07/dogwood-tree.jpg
380
610
Alec Pow
https://www.thepricer.org/wp-content/uploads/2023/04/thepricerlogobig.png
Alec Pow
2021-07-16 08:37:19
2021-07-16 08:37:19
Dogwood Tree Cost