Oheka Castle Wedding Cost
Last Updated on September 14, 2023 | Written by CPA Alec Pow
First Published on January 5, 2022 | Content Reviewed by

CFA Alexander Popivker
One of the top wedding venues in America, Oheka Castle is a gorgeous private residence built in 1923. With its turrets and gothic architecture, there is no wonder that this country estate has been used for celebrations throughout history.
The beautiful, spacious rooms at this venue make it an ideal place for hosting your dream wedding. You'll find plenty of outdoor spaces to take pictures and enjoy the fresh air, all while being able to accommodate up hundreds of guests with ease.
How Much Does an Oheka Castle Wedding Cost?
There are many wedding packages you can choose from and their costs depends on the time of the year and the day of the week. Expect to pay anywhere between $7,500 and $14,000 just to secure the castle for your date. Besides the reservation cost, you will have to pay for the catering anywhere between $220 and $470 for each person. Also, the minimum number of guests required is 200 on Saturday, 150 Friday and Sunday, and 125 on weekdays (Monday to Thursday).
According to NYTimes.com, if you want to have your wedding at the castle you will have to pay on average around $105,000.
Also, a bride to be from the LIWeddings.com forum said that she received a price offer of $12,000 for venue reservation and $225 for each guest.
According to the wedding-spot.com website, the facility fee is anywhere between $10,000 and $14,000 for a reception and includes five hours of event time. Also, the food and beverages costs per person range from $250 to $350. The set-up fee for a ceremony is $1,500 for every half hour. It must be said that these costs are available during the peak of the season (April to October) and off-season the cost may be lower.
The price estimates presented above will ensure that the designated areas are reserved for exclusive use and only one wedding per day can be held.
Venue options
If you're looking for an outdoor space, the Terrace Lawn and Formal Gardens are both perfect options.
The castle's three indoor rooms are perfect for receptions. The Grand Ballroom, Formal Dining Room, and Terrace Room offer different settings that can be tailored to your event needs with many possibilities.
You might also like our articles about the cost to organize a wedding at the Rosecliff Mansion, the Rainbow Room, or Mar a Lago.
Whether hosting a wedding or any other kind of event, all rooms are ready to accommodate up to 36 guests but can easily handle 700 if needed. Either location you choose, outdoor grounds with beautiful views or indoor ballroom space where an elegant reception will be set up, everything will be according to your expectations.
What are the extra costs?
All outside vendors are subject to a rigorous process before being allowed on site. Only those who meet all of the requirements will be considered, and it's important that you check with them first to make sure you know all of the rules your guests will have to follow.  The approval fee will be around $550.
Gratuities are an additional fee. They're discretionary and not part of the package rates. Gratuity guidelines vary by industry, but it is common practice to leave 15% as a tip for your server or host if they have provided excellent customer service.
The floral arrangements and decorations are not part of the package, but they can be ordered on request.
To make sure that your guests are comfortable while they're at the venue, you need to check with the castle staff ahead of time about any accommodations they can offer.
In case you want to change or upgrade the menu of the basic catering packages you will have to pay an extra fee.
Oheka Castle does provide a wedding consultant, but this person will not help you to organize the whole wedding. So, if you need someone to take care of all the wedding setup, like hiring photographers, ordering flowers, or sending the invitations then you will have to hire a professional.
If you are thinking about booking the entire hotel, be prepared to pay the buyout rates that can be anywhere between $8,500 and $14,000, depending on the time of the year and the day of the week.
Important things to consider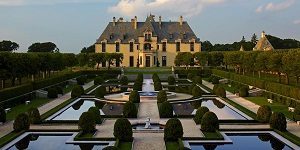 There will be only one wedding ceremony organized per day.
You can book an appointment to see the venue for your dream wedding. The castle offers appointments seven days a week and is perfect if you want something out of this world.
The amenities offered by the Oheka Castle include two banquet managers, a bride's dressing area, one lady in waiting for the bride, one butler for the groom, full kitchen facilities, two-bathroom attendants, a dance floor, piano, security, and many more.
There are some restrictions such as:
smoking is allowed only outside,
the music must stop by 1:00 p.m.,
catering is provided by the venue,
all food and beverages are handled by the venue,
valet parking or shuttle service is required.
How can I save money?
You can save up to 40% if you choose to book your wedding during the week.
https://www.thepricer.org/wp-content/uploads/2022/01/Oheka-Castle-wedding-cost.jpg
380
610
Alec Pow
https://www.thepricer.org/wp-content/uploads/2023/04/thepricerlogobig.png
Alec Pow
2022-01-05 06:53:29
2023-09-14 12:52:15
Oheka Castle Wedding Cost