The outboard motor is an external power source that provides the boat with propulsion. This type of engine differs from in-boat motors, which are built into a space within or on top of the body.
How much does an outboard motor cost?
Usually, an outboard motor will cost somewhere between just $900 and over $25,000, depending on several factors. Some of the elements that will have an impact on the cost will be its horsepower, where you purchase it from, and the brand that made it.
Below you will find a chart that will give you an insight into the price of an outboard motor based on its horsepower:
| Horsepower (HP) | Price Range |
| --- | --- |
| 350 | $21,000 to $25,000 |
| 300 | $20,000 to $23,000 |
| 250 | $17,900 to $20,000 |
| 225 | $16,700 to $19,500 |
| 200 | $14,500 to $17,500 |
| 175 | $11,000 to $13,500 |
| 150 | $10,300 to $12,100 |
| 115 | $9,100 to $10,100 |
| 90 | $8,200 to $9,200 |
| 75 | $7,300 to $8,300 |
| 70 | $7,200 to $8,000 |
| 60 | $6,500 to $7,500 |
| 50 | $6,000 to $7,000 |
| 40 | $5,000 to $6,000 |
| 25 | $3,400 to $4,000 |
| 20 | $3,200 to $3,800 |
| 15 | $3,000 to $3,500 |
| 10 | $2,600 to $3,300 |
| 8 | $2,100 to $2,900 |
| 6 | $1,600 to $2,300 |
| 4 | $1,300 to $2,000 |
| 2.5 | $900 to $1,500 |
Remember that this chart only takes into account the horsepower factor, but a motor will also have a different price based on its weight, length, starting system, or brand. These are also just ranges based on our research, so you might find a motor you like for a cost slightly outside of this range.
The PDB Magazine has researched the costs of popular brands such as Evinrude, Honda, and Yamaha. They found that a 40 h.p motor will have an average price of $6,671 while a 250 hp outboard motor can easily reach prices of $22,000 or more.
Outboard motor details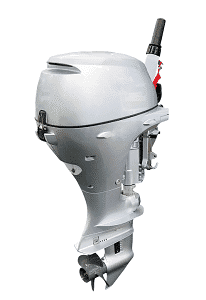 The outboard motor is an engine that sits at the stern of a boat or ship. With its own propeller, it can power up smaller vessels easily.
Outboard motors provide boat owners with a powerful way to propel their vessels. A typical outboard motor will have a certain horsepower, weight, and a number of cylinders, start type (electric or manual), and fuel type which can be gasoline. The average motors will range from 15-115 h.p., but some may go even higher at 350 hp.
You might also like our articles about the cost of boat upholstery repair, fiberglass boat repair, or airboats.
The common shaft lengths for these types of motors are 15, 20, and 25 inches. Popular brands that offer these units include Mercury, Honda, Evinrude, Tohatsu, and Yamaha.
Any additional expenses to prepare for?
Installing a new outboard motor can be an expensive process. Prices to install a new engine vary depending on size and location of purchase as well as professional installation needs. On average, expect to pay anywhere from $400-$1,200 for installation alone.
If you purchase it online, be prepared for additional fees. Beyond the initial price tag and more complex delivery process, there may also be added shipping charges depending on where you live. In addition to this, budget for things like tune-ups, maintenance, or repairs.
Important things to consider
Boat enthusiasts are often faced with the decision of choosing between an inboard or outboard motor. Inboards are lighter, making them quicker than outboards; however, people who have experience working on motors will find that they can do more work on the outboard motor if there is a problem because they are easier to access than the ones that are incorporated in the boat.
An outboard unit will work great especially for fishermen with smaller boats that are tired of rowing to reach their perfect fishing spot.
Is there any way to spend less?
For the savvy bargain hunter, you might be able to land a slightly used outboard motor from eBay for 40% off, or in some cases, even more. But as with any purchase of second-hand gear, it's wise to test it in person and check its condition before making your decision. If buying from a dealer (and you should always do this), make sure that they include a limited warranty, so if anything does happen after your purchase, you are protected.
https://www.thepricer.org/wp-content/uploads/2021/08/outboard-motor-cost.jpg
380
610
Alec Pow
https://www.thepricer.org/wp-content/uploads/2022/01/thePricer.png
Alec Pow
2021-08-11 10:57:55
2021-08-04 12:05:45
Outboard Motor Cost