How Much Does Shoe Repair Cost? – Cobbler Estimates
Last Updated on October 8, 2023 | Written by CPA Alec Pow
First Published on July 2, 2021 | Content Reviewed by

CFA Alexander Popivker
Shoe repair is the process of fixing an issue of the shoe that can be aesthetic or affect its functionality. Resoling, heel replacement, and other repairs can be done to make the shoes as good as new.
How much does shoe repair cost?
Shoe repair services will have varying prices between $5 and more than $80, on average. During our research, we were able to gather information about the most common repairs and their costs at local cobblers and you can find all this info in the table below.
You might also like our articles about the cost of wedding shoes, UGG boots, or fall ankle boots.
The cost of shoe repair is not a one-size-fits-all. The price will vary based on the company you choose, what needs to be repaired, and your actual location.
With new rubber heels and soles for both men and women, the cost can range from $15 to $50. Shoe stretching or adding sole guard protection, on the other hand, costs only a little bit more at around $30-$40; replacing any parts of your shoes like heeled portions is also possible with just an additional charge of about $10 per shoe.
Red Wing Shoes, a company known for its durable shoes and repair services, provides premium repairs at the manufacturing facility. The cost of this service varies depending on what type of shoe you need to be repaired but ranges from $7 for a simple lace replacement to as much as $100 if you want your soles replaced. At least according to their official website.
| Type of Repair | Cost Estimate |
| --- | --- |
| Stretching Shoe | $16.50 to $38.50 |
| Heel Liner | $49.50 to $82.50 |
| Cleaning or Shining | $11 to $27.50 |
| Shoe Zipper | $44 to $71.50 |
| Sewing | $13.20 to $27.50 for average sewing repairs |
| Sole Protectors | $11 to $38.50 |
| Soles (leather or rubber) | $48.40 to $107.80 |
| Insoles | $27.50 to $55 |
| Welt | $16.50 to $38.50 |
| Sock Liner | $27.50 to $38.50 |
| Heels (rubber or leather) | $16.50 to $66 to replace |
| Cowboy, riding, or hiking boots (additional) | + $16.50 to $44 more |
Shoe repair details
When you bring your shoe into a repair shop, the cobbler will first evaluate it. They'll look at types of materials and damage done to determine how much work needs to be done as well as what material is needed for repairs. Once they've determined this information, they can come up with an estimate that includes both labor costs and the cost of materials used in making the shoes whole again.
Replacing a worn-out heel and sole is one of the most common repairs that can be done to an old shoe. A cobbler can also clean, dye, replace golf spikes on shoes, waterproof your shoes to prevent stains, and even repair chew marks. You can replace or repair just about any part of a shoe, just like you would do with a car.
The shoe repair time varies depending on what kind of repairs you require done, whether it involves materials ordered/shipped out etc., and how complex the job is – all jobs should take about 72 hours maximum barring any complications arising during execution (it may even take less than 24 hours). If you need to have your repaired shoes shipped back to you instead of picking them up yourself then expect some delay.
Any additional expenses to prepare for?
Shipping the shoes back to the company that made them may be costly, but it is worth checking on this option. Some manufacturers will provide free repairs for their products.
The higher prices of these shoes can largely be attributed to the complexity when manufacturing them. For example, the Rockport Birkenstock has some very expensive shoes, that will incur some pretty high prices for repairs.
Important things to consider
Shoe repair may not be as durable when compared to brand new shoes, but it will still allow you to get more use out of those old kicks.
If you want to enjoy your favorite pair of shoes for a very long time, it's worth taking the time and effort to have them repaired. Quicken Loans says if you take care of high-quality footwear by having repairs done on an as-needed basis, they could last over 20 years. You can also resole your shoe up to three times in a row, on average.
Is there any way to spend less?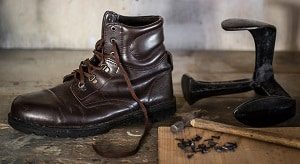 Shoes should be repaired if they are worth being fixed. It would be silly to spend $30 on repair services if the shoes were purchased for $50 unless there is a sentimental value associated with them. Repairs should only be done if they don't exceed 50% of the shoes' original price.
For a shoe purchase that can last you for years, it is worth checking to see if they have any kind of warranty or guarantee from the company. Some companies will pick up the bill and repair your shoes within one year after purchasing them.
The old saying "You get what you pay for" is definitely true when it comes to shoes. If your cobbler thinks that the quality of a shoe doesn't justify repairing it, they may recommend buying a new pair instead; but if they can, chances are high that their repair will last much longer than getting a cheap pair instead.
The steel shank and high-quality material are not the only points of interest when considering a shoe's arch support. The proper fit is just as important, so make sure to try on shoes before purchasing them. These are all recommendations by The Shoe Service Institute of America.
https://www.thepricer.org/wp-content/uploads/2021/07/shoe-repair-cost.jpg
380
610
Alec Pow
https://www.thepricer.org/wp-content/uploads/2023/04/thepricerlogobig.png
Alec Pow
2021-07-02 14:27:36
2023-10-08 13:11:17
How Much Does Shoe Repair Cost? – Cobbler Estimates