Cost of Ski Instructor Courses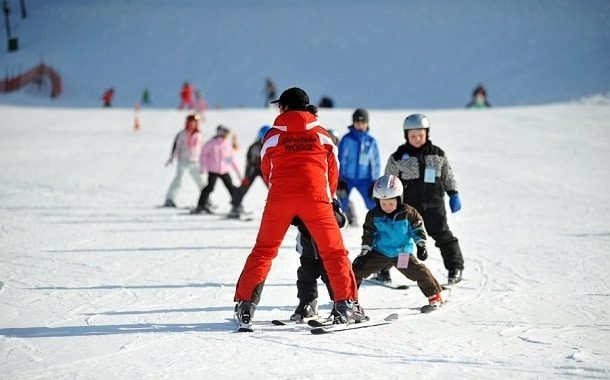 Ski instructing is being paid to teach skiing. A ski instructors' job is to slide all day long and teaching people how to ski or how to improve their skiing.
PSIA, meaning Professional Ski Instructor Association, trains ski instructors in movements, techniques, teaching methods, and modern technology. It's the United States' main professional ski instructing organization and it's also recognized internationally.
Every profession has a certification ladder that one must climb in order to become one of the best. A ski instructor's profession has level 1, level 2, and level 3 certification. After you reached level 3, considered the full cert in the US, you can become an examiner, trainer, or even demo team member. Being a certified ski instructor implies many hours of rigorous ski training and teaching exams, which is not an easy task.
Average prices:
A 4-week ski instructor training course is around $6,400.
A 6-week ski instructor training course is around $7,900.
An 11-week ski instructor training course is around $9,900.
Do You Like To Take Pictures? Then You Could Become A Professional Photographer
There's no room for routine when you are a ski instructor, one day you might teach a group of 7 to 10 years olds how to do turns on the bunny hill, and the next day you might be with a group of teenagers dodging trees and hucking cliffs. Your instructing skills should be about responding to the guest's needs and about creating a customized lesson for each of them.
As a ski instructor you have 3 main responsibilities:
It all depends on you, as a ski instructor, to teach a beginner what to do and what to avoid in terms of safeness. In some cases, with some demanding clients, you'll have to put your foot down because, for example, a beginner should never ever try to straight line a bump run until the instructor considers they have the necessary skills to do it.
The main condition to be a ski instructor is to know how to ski, not to be the best skier in the world. In general, ski schools hire instructors who know how to teach skiing and have the necessary patience.
There aren't two people alike, nor two lessons. The ski instructor must have the ability to personalize each lesson depending on the client. It is very important to know a lot of tricks to improve your attendants' skiing abilities, like how to tip, turn, pressure, or balance on their skis. People want to learn or to improve their skiing, and that is why a ski instructor should know how to teach skiing.
Looking For Adrenaline At The Work Place? Then You Could Become A Pilot
In general, ski instructors can work either part-time or full time, excepting the holidays. During The winter season or periods like Christmas, Spring Break, Presidents Weekend, most resorts need them to work full time. It might be overwhelming to work 20 days from 9 to 7, sometimes, but it compensates will the slow times.
In the beginning, a ski instructor earns on average $9 per hour.
A professional ski instructor qualified and passed through a few seasons cat get to earn around $30 per hour.
A career-oriented ski instructor can make over $300 a day with tips.
In order to be a successful ski instructor you must have the proper training and certifications and before you teach experts try to help many beginners.
Should the average working Joe take ski instructor courses?
If you really like to ski and you are a patient person looking for a job, then becoming a ski instructor could be a great choice. Remember that this is a job that's dependant on cold seasons so don't expect to make a lot of money if you plan to work in an area where you can only count on 1-2 months of snow, or even less.
https://www.thepricer.org/wp-content/uploads/2016/02/ski-instructor-cost.jpg
380
610
Alec Pow
https://www.thepricer.org/wp-content/uploads/2023/04/thepricerlogobig.png
Alec Pow
2016-02-09 06:47:36
2020-08-15 20:37:19
Cost of Ski Instructor Courses